Another fabulous recipe by Monica of Foodlab, served at our recent Los Angeles Foodlab potluck.
She writes: "The olive bread is just Pamela's Amazing Wheat-Free Bread Mix, using the egg-free instructions, with the flax meal egg sub, and adding about 1/2 cup of oil-cured olives, very coarsely chopped. I used the bread maker instead of the stand mixer, but just had it 'knead' for 10 minutes (instead of mixing for 2 minutes in a stand mixer) then rest for an hour and bake for 60 minutes. I used olive oil for the vegetable oil called for on the package."
Pamela's Amazing Wheat-Free Bread Mix
INGREDIENTS: Sorghum Flour, Tapioca Flour, Sweet Rice Flour, Brown Rice Flour, Organic Natural Evaporated Cane Sugar, Chicory Root, White Rice Flour, Millet Flour, Honey and Molasses; Rice Bran, Sea Salt, Xanthan Gum, Yeast Packet.
1 slice of bread (1/16th of loaf) has 25 usable grams of carbs (29 total minus 4 fiber).
I didn't get to see the bread made, but I pulled it out of the bread maker. Never having seen it before, I thought it was worth a picture. Here's the bottom: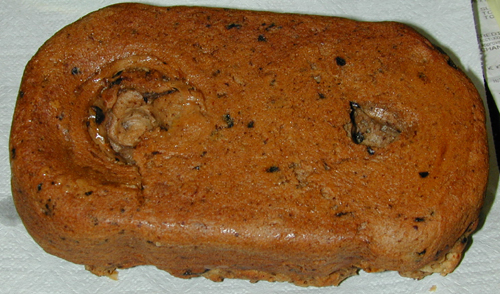 And here's the same bread from the top: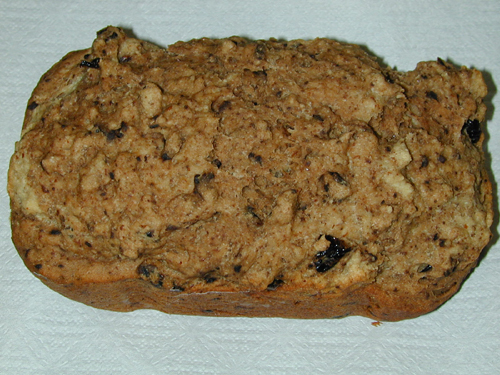 This stuff was amazing. I swear, I still have fantasies about it. If it weren't so carby, I'd run out and buy a bread maker and a case of mix. It was a very moist and soft bread. I'm not sure how it would hold up in a sandwich, though part of that may be that we ate it while it was still warm. It went very well with Jessica's curry.