Making your own soup stock is easy peasy, costs practically nothing, and tastes so much better than anything you can buy (unless you get it from a restaurant). Now that I have an Instant Pot, making stock is even easier.
Instructions
Save trimmings for the stock pot in freezer
Dump trimmings in Instant Pot (or stovetop pot)
Add seasoning or extra veggies
Cover with drinking water
Pressure cook for 40 minutes with natural release (or simmer on stove for a couple hours)
Strain and squeeze out veggies
Pour into storage containers and freeze
Ingredients to Freeze
I keep a couple zipper bags in my freezer so, when I'm prepping veggies for meals, I can just toss in the trimmings. While there are animal products you can use for stock, I'm only going to cover the vegan choices here.
DO USE: Onion/garlic skins, tough ends of leeks, carrot and other veggie ends that are dried or misshapen, cores and outer leaves of cabbage, mushroom stems that are too tough to eat, carrot tops, peels that are edible but you've chosen to remove them (carrot, beet, potato), root veggies that are still edible but got woody or tough.
Extra fresh herbs (I toss in herb stems as well, like basil or rosemary or sage). Ginger pieces I discarded because they were all skin or dried out. Asparagus ends. Broccoli stems and cauliflower cores.
DO NOT USE: Anything that is dirty or moldy, parts you've removed because they're not healthy (potato eyes), peels from waxed produce (cucumber). Most hard peels (winter squash is okay). Previously cooked foods or grains.
Fruit. There are exceptions (I like an occasional unwaxed lemon peel) but, in general, stock doesn't really benefit from banana peels or apple cores.
BALANCE YOUR FLAVORS: When I got some carrot tops I washed and rough chopped them and put them into their own freezer bag so I could dole them out over several stockmaking sessions. Otherwise it would be too much. Some people warn about too much onion/etc, but I haven't found that to be a problem. I do find that too much cabbage family items throws the flavor off.
Ingredients to Add
Bay leaf (I use 3 leaves per batch)
Lemongrass (fresh sliced in half or rough cut dried)
Dried peppers (just one or two)
Whole spices (but go easy on things like peppercorn)
Ginger root (if not already in the frozen pile)
Any fresh vegetables you want to balance what you have frozen (carrot, celery, onion, garlic, cabbage, etc). This is a good time to cull old produce from your fridge, as long as it's not moldy
Salt is optional! I was salting my stock but then I stopped so I could have more control over the salt levels in the finished soup.
Cooking the Stock
In a 6 quart Instant Pot, I loosely added frozen vegetables to the max line (I'd do less if I packed stuff in) and added 3 quarts of filtered water.
Use the pressure cooker setting on high for 40 minutes and let the pressure release naturally. Cool to a safe temp before straining.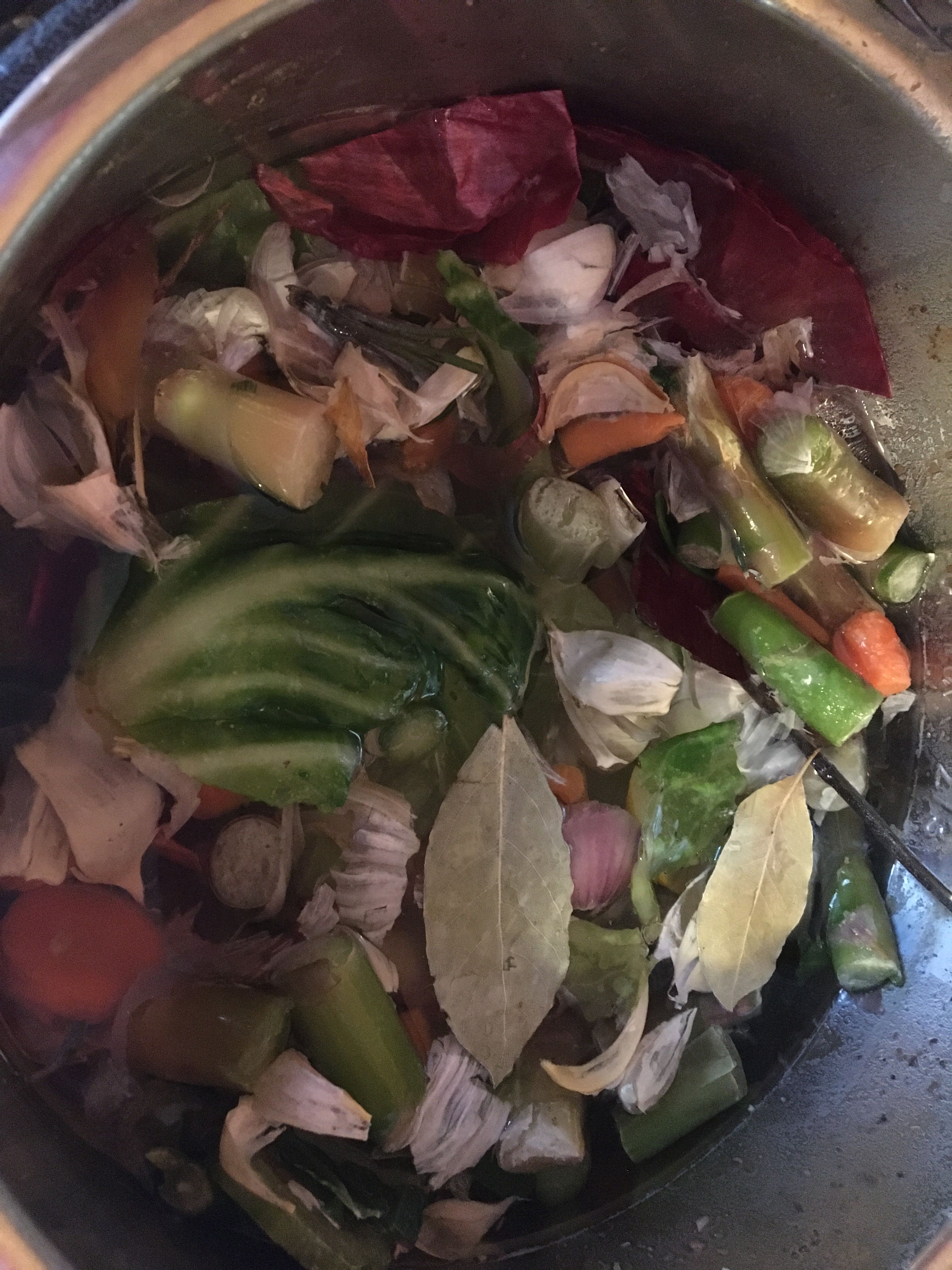 Straining the Stock
When cool enough to handle, pour the stock into a collander that is inside a large bowl.
Squeeze the liquid out of one handful of vegetables at a time and discard (compost loves it).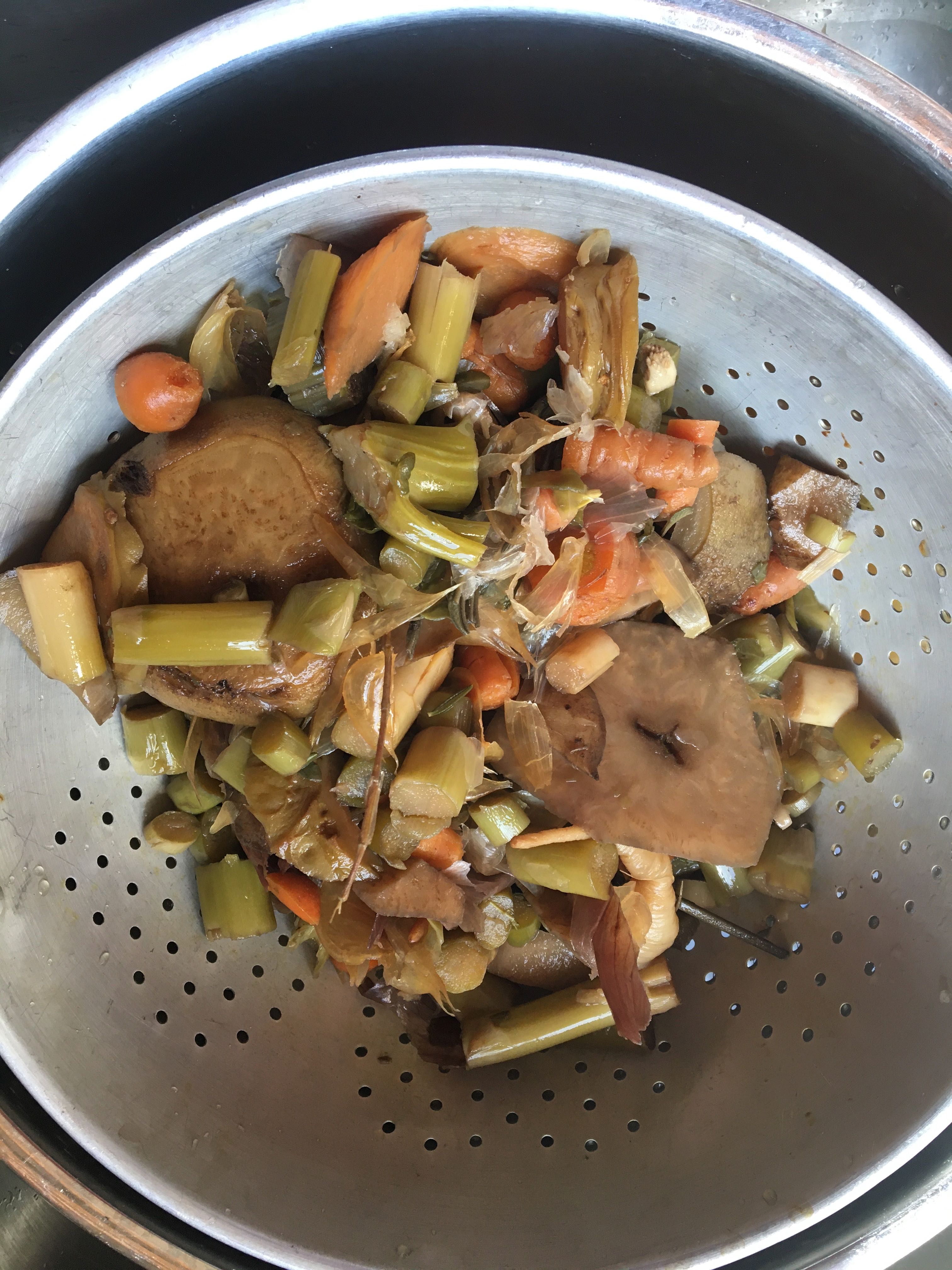 Storing the Stock
I use 3 quarts of water in my stock because that gives me "4 quarts" of stock. In quotes because it's really 3 quarts but I use mason jars and you need to under-fill quart ones or they can break as they freeze. If you use plastic or metal containers, then the amount you end up with doesn't matter. Though I've found that 3 quarts is about the right amount to get the pot to just under the max line, since the vegetables will take up the rest of the space.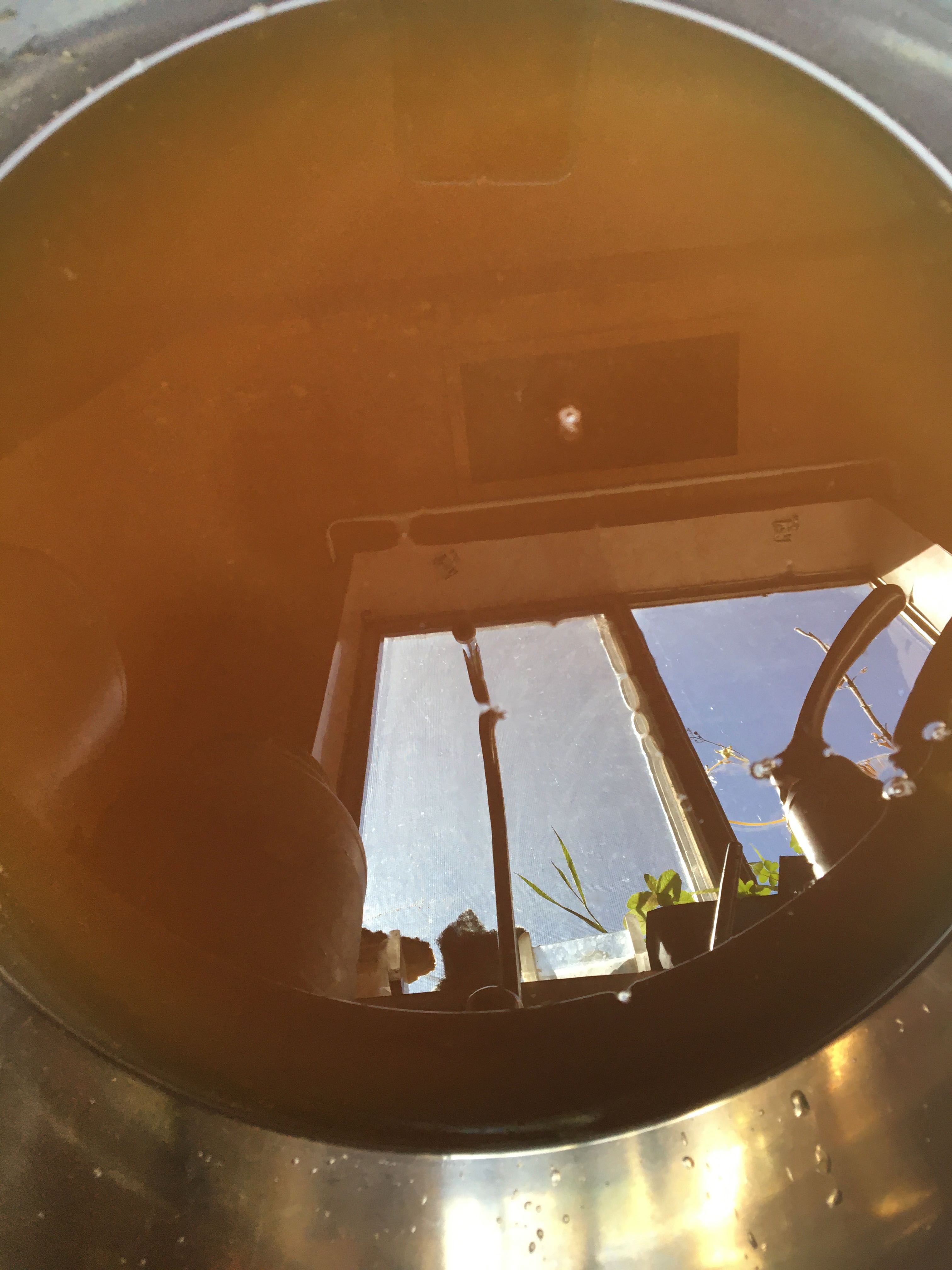 Using Stock
I generally use 2 quarts (remember, they're under-filled) of stock for a pot of soup that ends up being 4-6 quarts. If my soup is going to be mostly broth, I may throw in another pint or quart.
Defrost in the fridge the day before you need it. Or remove the lids and defrost in the microwave. The stock can go into the soup pot frozen. You just need to defrost it enough to get it out of the jars.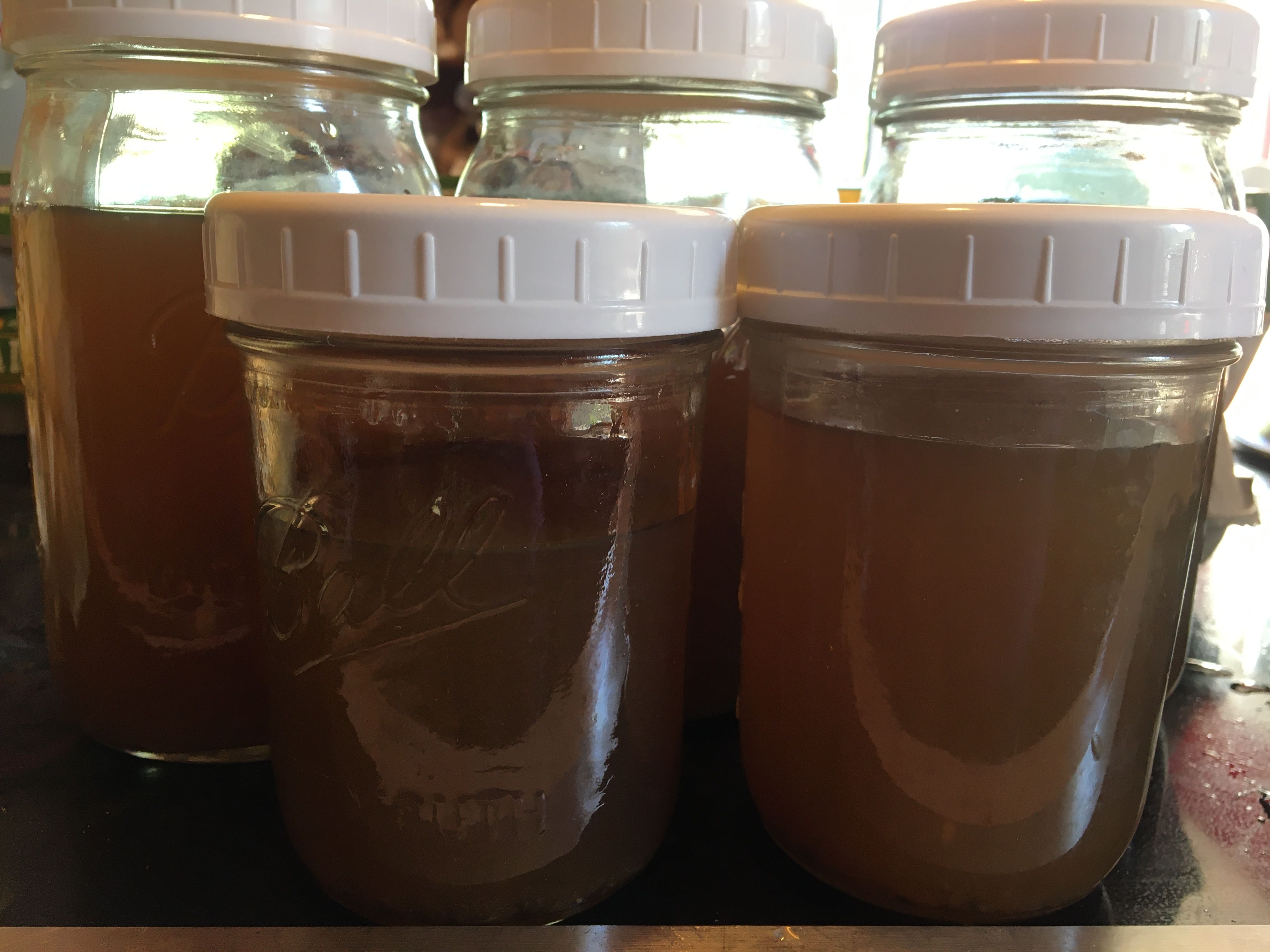 Recipes