I've seen some oddnesses in my time exploring cemeteries, but this one is new to me.
This is the cemetery walking distance from my house and its hilly paths and century and a half of burials make it an enjoyable walk when parks are closed or crowded.
Cypress Hill Memorial Park Cemetery, Petaluma, California.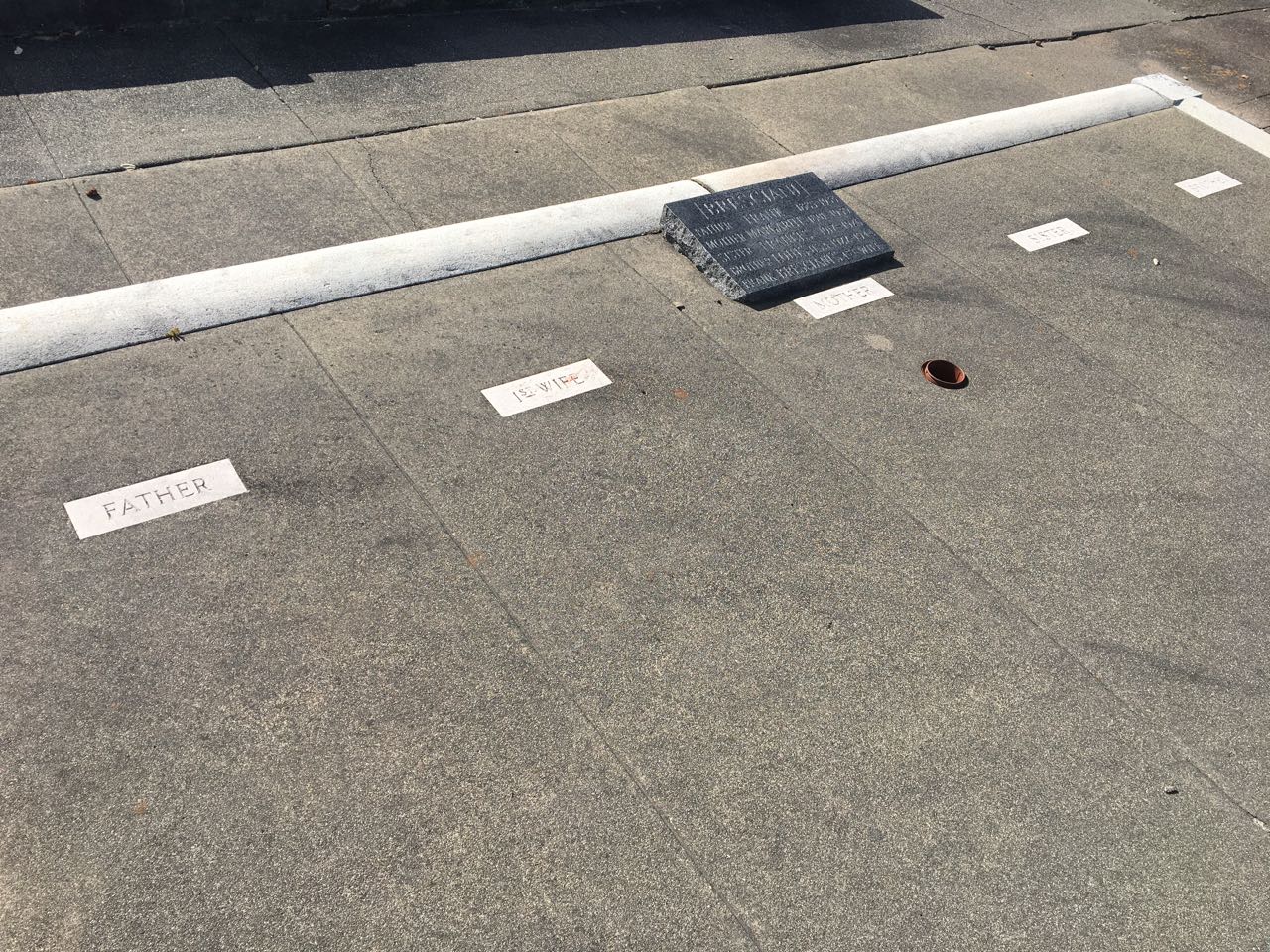 We have a family plot, something common in this cemetery and elsewhere. Each grave is labeled only with a family moniker and then there is a single plaque to list names and dates.
The graves are (from left to right): Father, 1st Wife, Mother, Sister, Brother.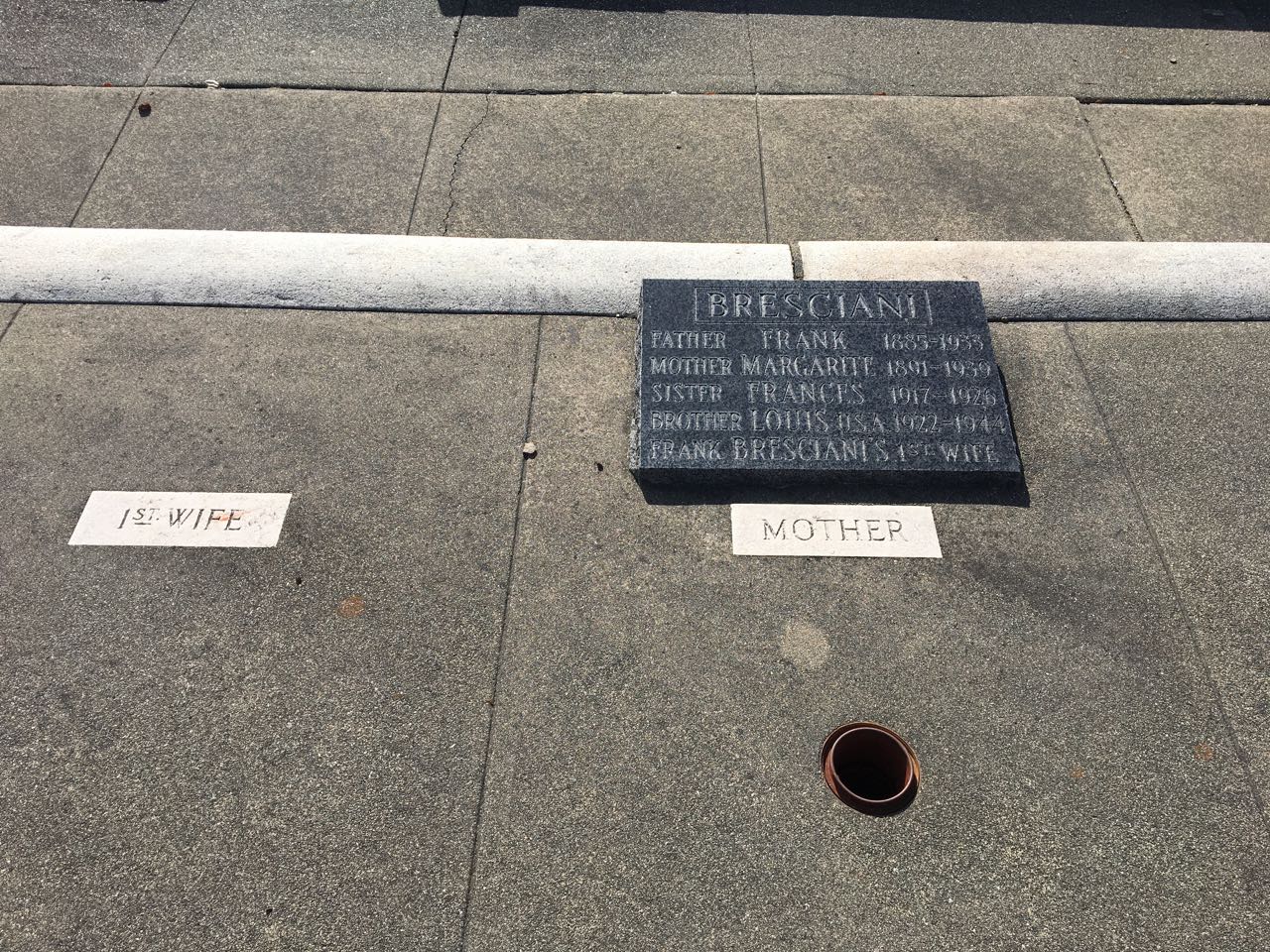 The plaque reads:
BRESCIANI

Father Frank 1885-1933
Mother Margarite 1891-1939
Sister Frances 1917-1926
Brother Louis U.S.A. 1922-1944
Frank Bresciani's 1st Wife
So many questions!
Did they really expect anyone would believe that the family would bury a woman but not know her name or the year she died (which is presumably the same year they buried her)?
If the family hated her this much, why not buy her a separate plot?
When did she die? Were she and Frank divorced then she died after his death, so he could not be the one to bury her properly? Or did she die young then the family carried out Frank's deathbed command to re-inter her in the family plot, but did so in the meanest way possible?
Was the social cut by Margarite? Or by her son Louis? Or was it some other family member (they had other sons)? The graves are not in order by year of death and the plaque would have been made after they all passed away (since the brother died as a young man, presumably a soldier in World War II based on his age, the year, and the "USA" note).
If she was re-interred, her old grave would have had her name and dates of death and probably birth. If there was no stone or the stone was faded, the cemetery records would have had these things (how could they have found her grave without her name?).
A quick search gives us Frank's obituary.
Frank Bresciani, well known Chileno Valley rancher, who had been ill for less than a week, passed away Sunday morning at the Petaluma General Hospital. Death was caused from a throat infection.

Friends learned with regret of the sudden death of the well known rancher who was apparently recovering when he took a change for the worse.

The late Mr. Bresciani, because of his genuine worth and affable nature won a high place in the regard of his friends. He worked hard in operation of his ranch. In Chileno Valley where he had resided for many years, his death bringing sorrow to his friends on the neighboring ranches.

Born in Italy, he was only 48 years of age when he died. He was the beloved husband of Mrs. Margaret Bresciani and loving father of James, Frank Jr., Louis and William Bresciani, and devoted brother of Peter Bresciani. He leaves a mother, brother and sister, residing in Italy.

Since his arrival in the state 31 years ago, he had been engaged in the dairy business in Sonoma and Marin counties.

The funeral will take place from the Blackburn & Sorensen funeral chapel Tuesday morning at 9:30 o'clock, thence to St. Vincent's church where a requiem mass will be celebrated for the repose of his soul commencing at 9:45 o'clock. The interment will be in Calvary cemetery.

Petaluma Argus-Courier, Petaluma, California, 22 May 1933, Mon • Page 7
Frank's second wife, Margaret Bresciani, died in a car accident August 20, 1939. Her maiden name was Cadera and she was also an Italian immigrant.
In the 1910 Census, Frank was a hired man working on a dairy ranch in the town of Sonoma (same county as Petaluma). He was 24 and single and had immigrated from Italy in 1903 (it's common for dates to be off in the census so don't rely on them to be exact).
In the 1920 Census, Frank and Margaret were living in San Antonio, in Marin County just south of Petaluma, where he owned a dairy ranch. With their children Frances and James and Frank's brother Pete. Frank was 36, and was in the process of establishing citizenship after immigrating from Italy in 1902. Margaret was 24 and had immigrated from Switzerland in 1913 (both her parents were also Swiss but they all spoke Italian as their native tongue).
In the 1930 Census, Frank and Margaret were still in San Antonio on Chilano Valley Road, on the border of Petaluma, so it may be where they lived when he died, as he still owned his dairy farm. They had been married for 13 years at that point (so 1917). He was 44 and a US citizen, having immigrated from Italy in 1905. Margaret was 33 and an naturalized, Italian-speaking, 1913 immigrant from Switzerland. They lived with their children James, Frank Jr., Louis, and William, plus Frank's brother Petro and a boarder.
I couldn't find marriage records for Frank and Margaret and there is no mention of the elusive first wife, nor of any children that might have come from her.
Perhaps someone with more knowledge will share the background for this mystery but, at this point, I can only speculate.
A social cut so deep that it's literally etched in stone for all to see.