These days we're deep into the shelter-in-place order for the Covid-19 pandemic and we're trying to use up items from the pantry and freezer. We still shop, but a lot less often, so we don't always make it to the store as we're planning upcoming meals.
I've been making soup stock and a variety of vegan soups with my Instant Pot for a while now. Some have come out better than others, but mostly it's been a great experience. Because me and carbs are often not on speaking terms, I don't make bean soups very often, which is a shame, because I love them. Here is a bean soup that helped clear my pantry and came out exceptionally well.
I used Black Calypso heirloom beans because I bought two bags of them last year at the Heirloom festival from Community Grains. Turns out, they're amazing in soup. They cook down to a rich thick broth while at the same time maintaining their shape and some of their color.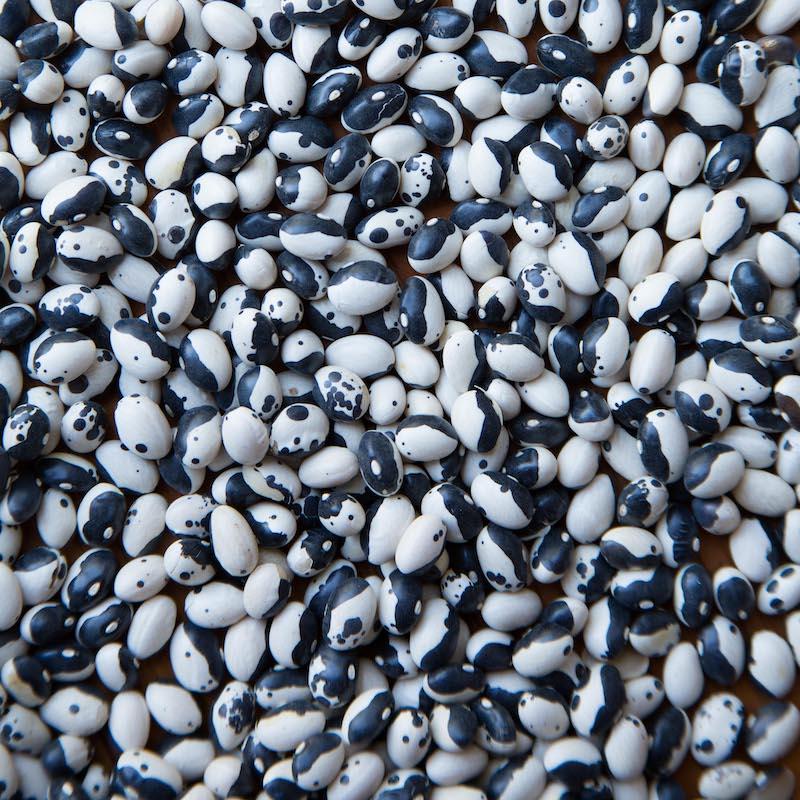 This is a post though about using what's in your pantry and fridge so any dried bean that works in soup will work here. The size of the bean matters, because you may need to adjust your cooking. The first time I made this soup, I soaked the beans a couple hours then put everything in at once and pressure cooked for 40 minutes with natural release. The beans were ever so slightly undercooked. A couple hours on the slow cook setting took care of that, but then the vegetables were a bit overcooked.
This time I soaked the beans overnight (you can skip this step with a pressure cooker but it may change your cook time and there are some other reasons to soak), drained the beans and pressure cooked them with fresh water for 20 minutes on manual release. Then I added the other ingredients and pressure cooked on natural release for 40 minutes.
Smaller beans (like turtle aka black beans) won't need the extra cook. Very large beans might need more. Also, you can cook the beans in water or in stock. I used water because I didn't want to lose all the stock flavors with that extra cook, but I ended up with more ingredients than would fit in the pot under the max line and the flavor of the finished product wasn't as intense. I removed 2 cups of liquid to add back after the cook.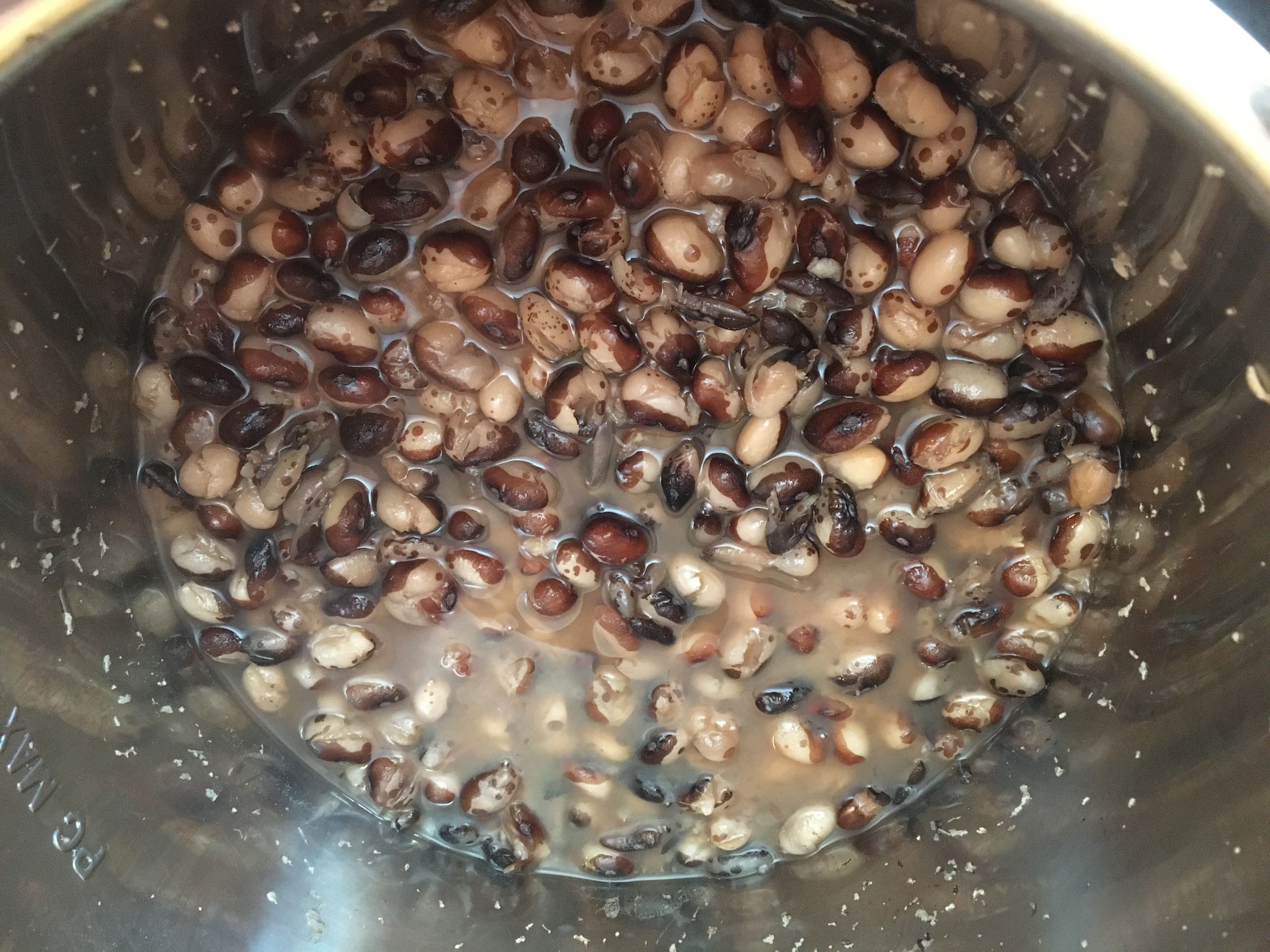 The other ingredient that makes amazing soup and goes well with beans is shiitake mushroom. I had a big bag of dried ones that had sat in my pantry for years after buying them at an Asian market.
Soak the mushrooms for around 10 minutes in water to loosen them enough so you can wash off any dirt left from before they were dried. Discard that water and put them back to soak in fresh drinking water. Warm or hot water works great but cold is just fine. Let them sit (I put a plate over the bowl to keep them submerged) for a couple of hours.
Drain and squeeze them but keep the liquid. Now remove the stems (they're too hard to eat) and discard or throw into your stock bag (vegetable bits in the freezer to make soup stock with).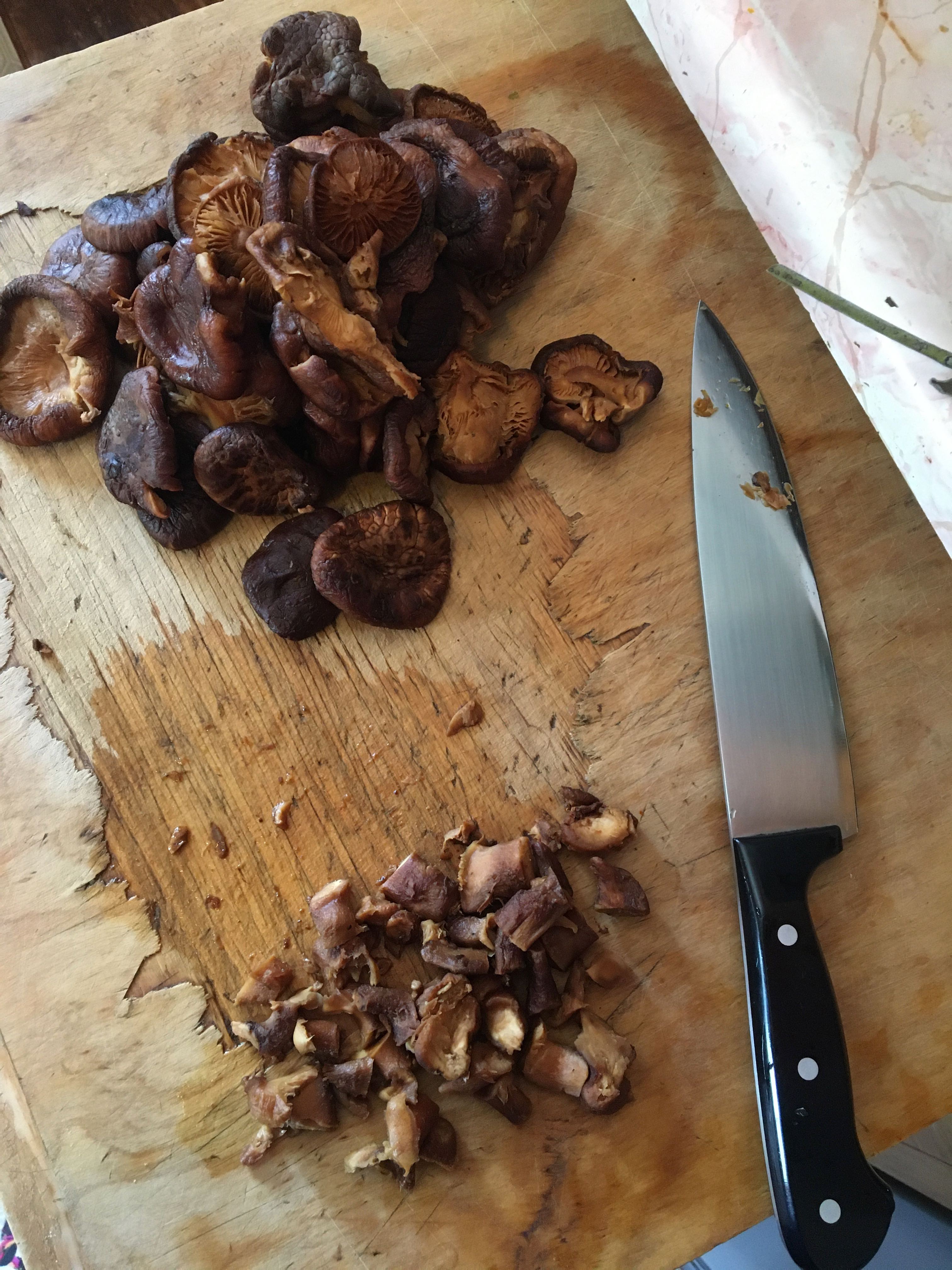 Slice the remaining mushrooms thinly. Too thick still tastes good but it makes the soup a bit more chewy than you might like. I started off with 5-6 cups of whole dried mushrooms and ended up with 3 cups of deep brown soaking water and 2 cups of sliced rehydrated mushrooms.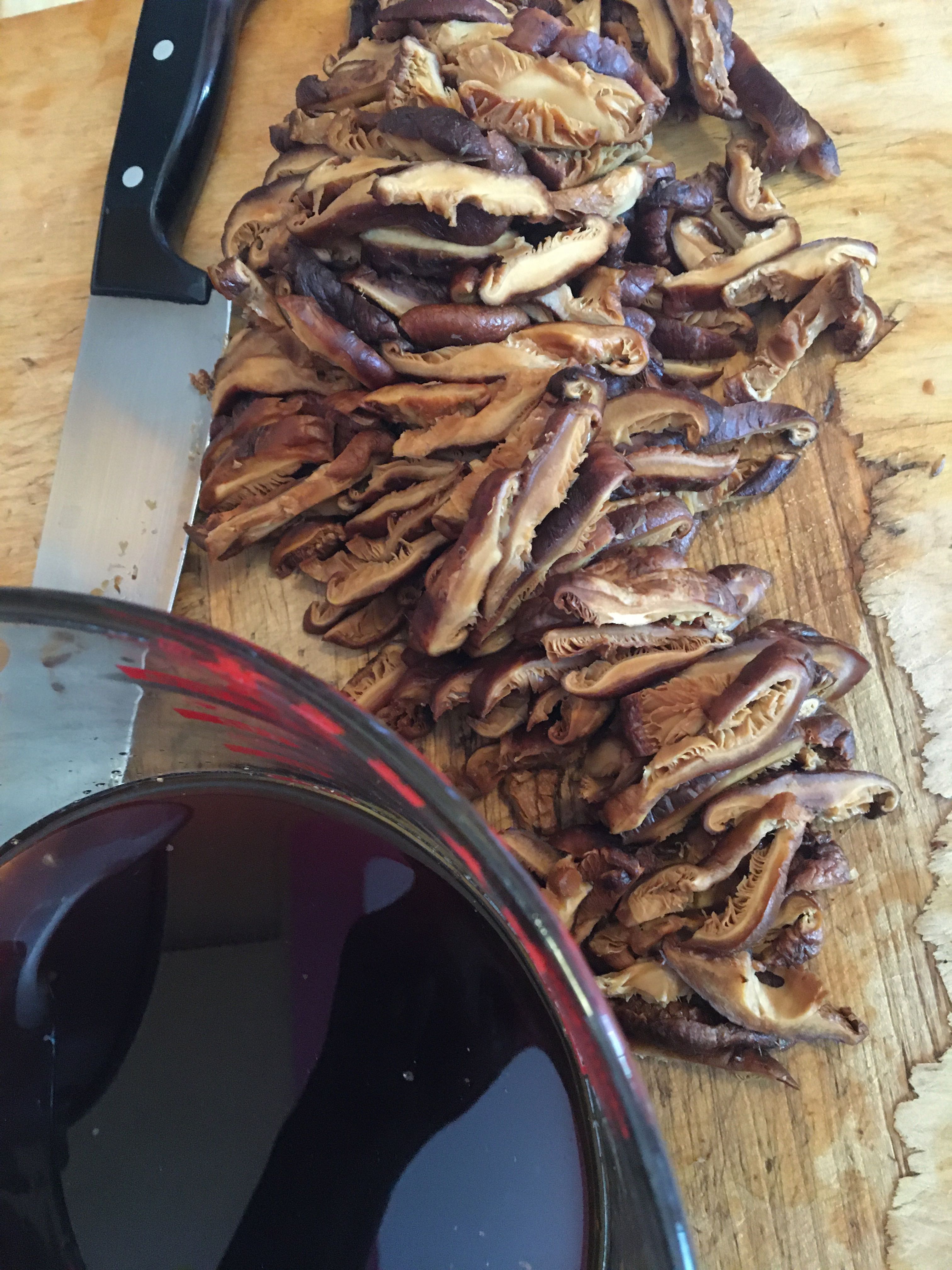 Last time I added a cup of caramelized onions to the pot (I make them in bulk and freeze them in half pint jars) and some chopped carrots. This time I had the carrots but no precooked onions. But I did have some daikon radish we used as a substitute for the missing horseradish at last week's Passover seder.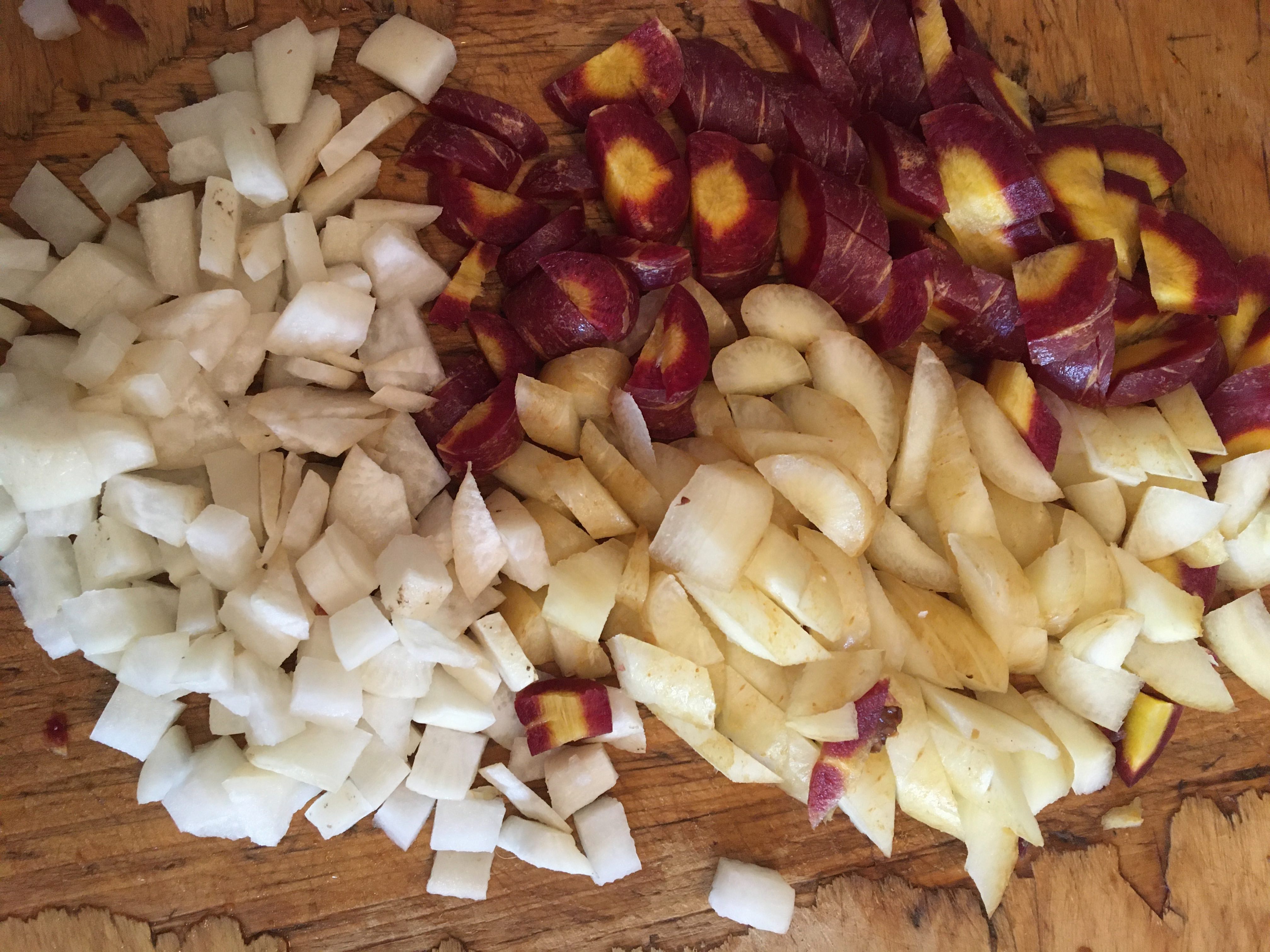 It all went into the pot along with several grinder twists of salt (don't add if your broth has salt and go easy, you can always add more salt later). For good measure, I tossed in the leftover sage I'd picked to cook with the seder's main course.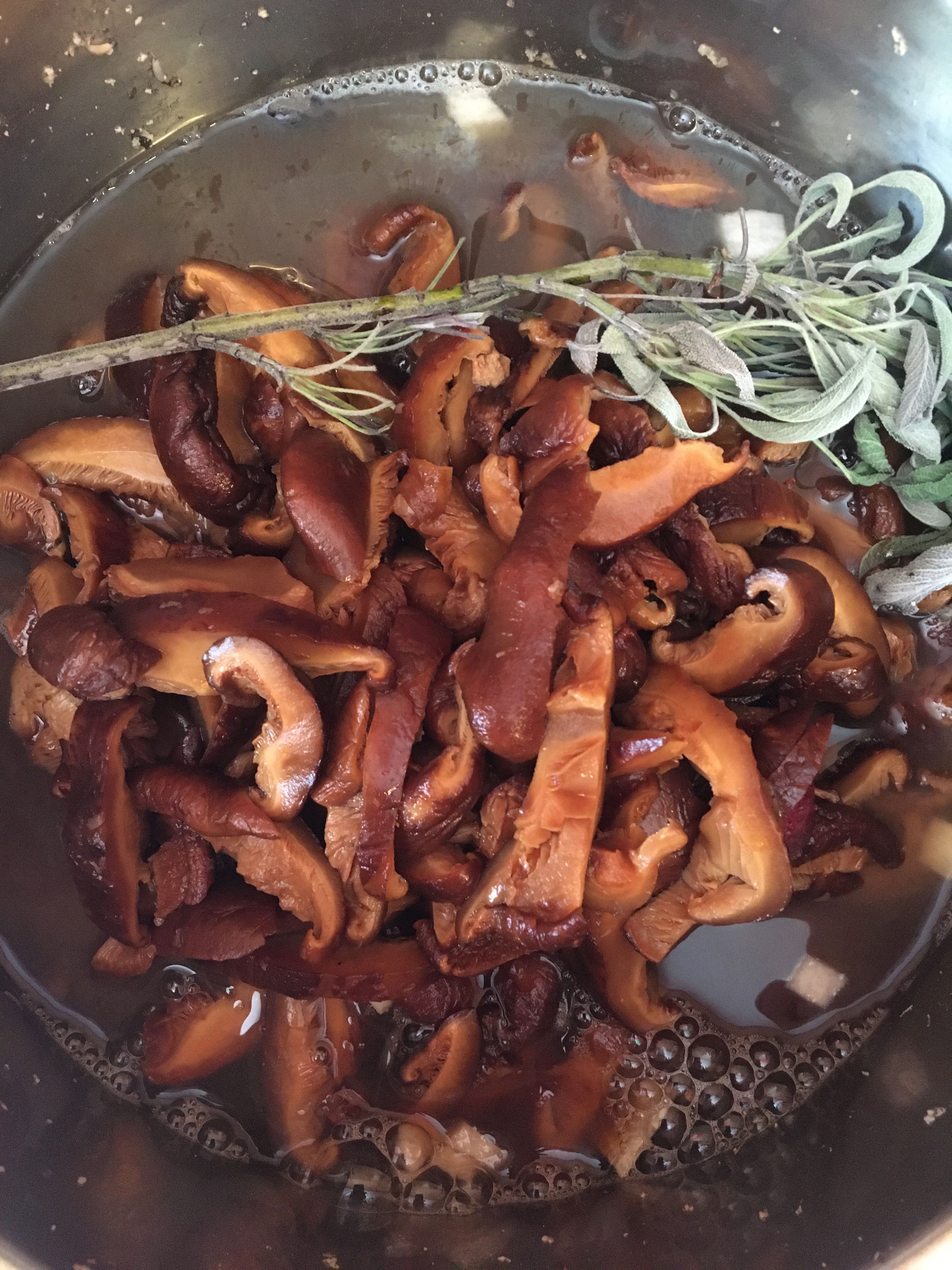 Ingredients
Dried beans, 1 lb (2 cups)
Shiitake mushroom, 5+ cups whole dried or 2 cups fresh/reconstituted sliced
2-3 cups root vegetables (carrot, daikon radish, onion, garlic, leek, potato, parsnip, etc)
2 quarts broth (I use homemade vegetable broth but you can use any kind you like)
Enough liquid to cover, up to the max line in the pressure cooker (6 quarts total on mine). I used the mushroom soaking water and plain water
Salt to taste (unless broth has salt)
Herbs if desired (if you are using water instead of broth, add some bay leaf and other easy to fish out herbs to add flavor to the soup and/or things like onion, garlic cloves, ginger root, lemongrass, etc)
Instructions
Night before, soak your beans (can shorten or skip) and set your stock to defrost (if frozen)
A few hours before, soak dried mushrooms for 10 minutes to remove dirt, then soak for a couple hours in fresh drinking water
Drain beans, put in Instant Pot with enough liquid to cover
Pressure cook 20 minutes then immediately release the pressure
While beans are cooking, drain and squeeze mushrooms, save liquid
Remove stems from mushrooms, discard
Slice mushrooms thin
Chop/prep vegetables and any other ingredients you wish
Add all ingredients to the cooked beans still in the Instant Pot
Pressure cook 40 minutes with natural release
This soup lasts several days in the fridge or you can freeze it. Makes 6 quarts.