I have two sets of really good knives (wedding presents from 2005) I keep on my counter. I added a couple parers and a fish knife. It has basic knives of different sizes, a bread knife, a honer, and scissors.
I also have a knife drawer and various other drawers I recently cleaned out and sorted. Now all "things that cut" are together. More or less. While some are ones I bought, most are things I inherited from my mother.
Some of the knives I use regularly or at least once in a while. Some are duplicates of ones I use (and I'll get rid of them). Some I know what they are but don't need them. Others are a mystery. Then there are the ones that scare me.
Let's start easy.
Butter knifes. Fancier than the basic flatware ones I have. Designed for spreading things on to bread or crackers. Nothing weird.
This one's a little weird. It cuts and it spreads. But I can deal.

These are butter knives/spreaders with pointy tips. Why? I guess to cut a piece of cheese and pick it up?
I use the pizza cutter. I used to use the cheese cutters when I ate cheese. The cake cutter I bought but it didn't cut my cake at all. Must be for some type of cake I don't eat. [Edit: the "cake cutter" is actually a cake leveler; the one my friend showed me has two parallel wires not the one mine does.]
These cut cake. And pie. And tarts and quiche and so forth. Nice normal stuff, most of which I actually use.
Steak knives. I grew up with the set on the left and they're still usable. I mean I don't eat steak but they're great for slicing tomatoes and for teaching children how to cut.
Paring knives. Nice and easy. I just have better ones now. Sorry knives. [Edit: The longer ones on the left are called utility knives.]
I love my cleaver. I got it decades ago when I took a Chinese cooking class. The 3 chefs knives I used before I got married. I don't understand what the one with the dark handle is for with that funny shape. Raw meat maybe? [Edit: Yes.] I used to have 3 extra bread knives but I gave one to my synagogue's kitchen after I hosted a meal with 4 dozen bagels that all had to be cut without a bread knife.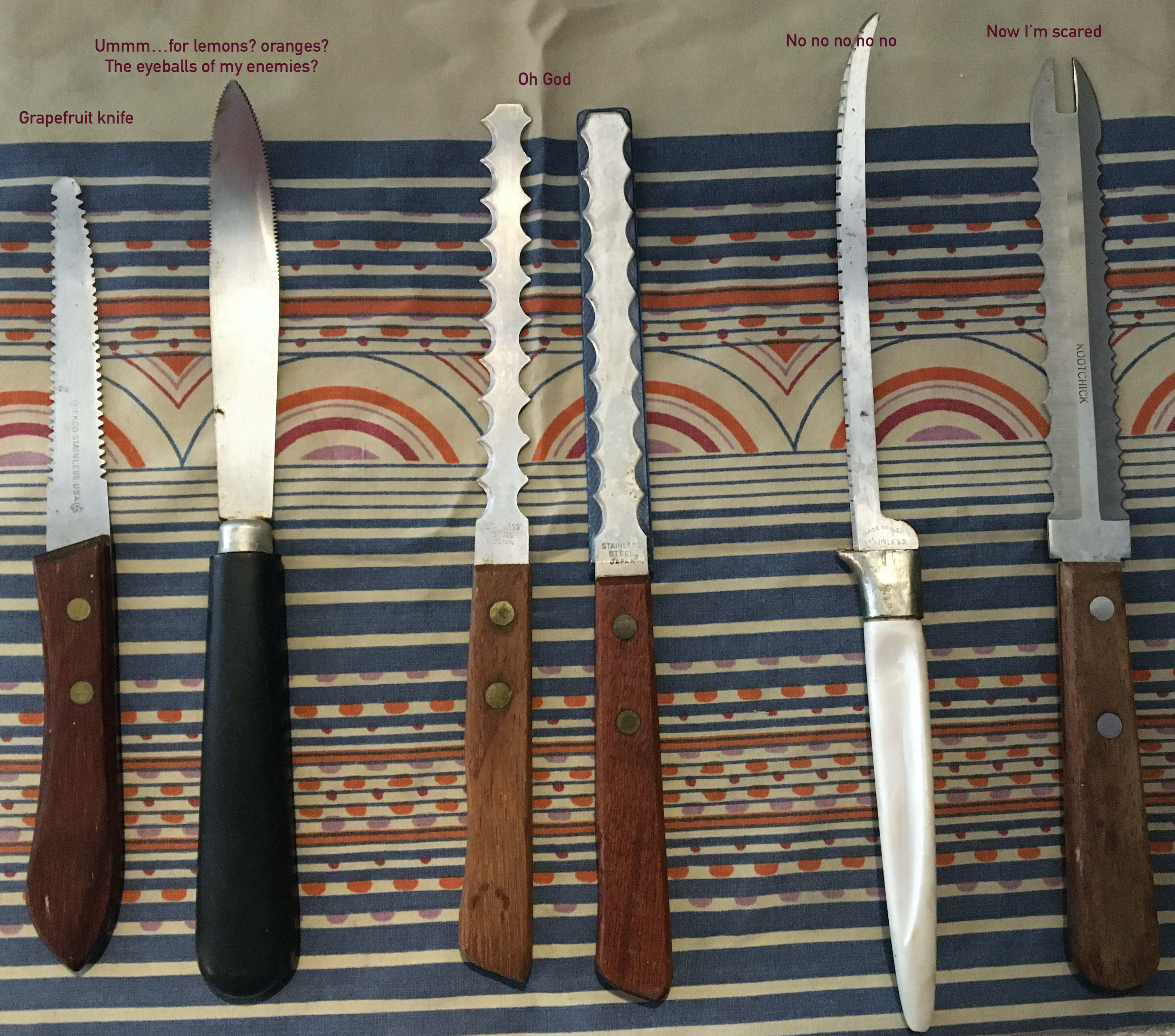 Now we're getting into the weird territory. We start with a grapefruit knife. I doubt my kid has a clue what it is, but I recognize it, even if I never use it. Next could be another grapefruit knife, or for segmenting oranges or lemons or I don't know.
The next ones just scare me. I mean I guess they're for preparing or carving meat…but why do we have all this three-sided pointiness? Why is there a knife too flimsy to cut anything but long and curved and sharp?

[Edit: the sharp forked tips are for picking stuff up (cheese, meat, tomato slices). The knife on the far right is a saw and raker blade, a heavy-duty knife used for cutting frozen foods. I have no idea why it has a fork on the end.]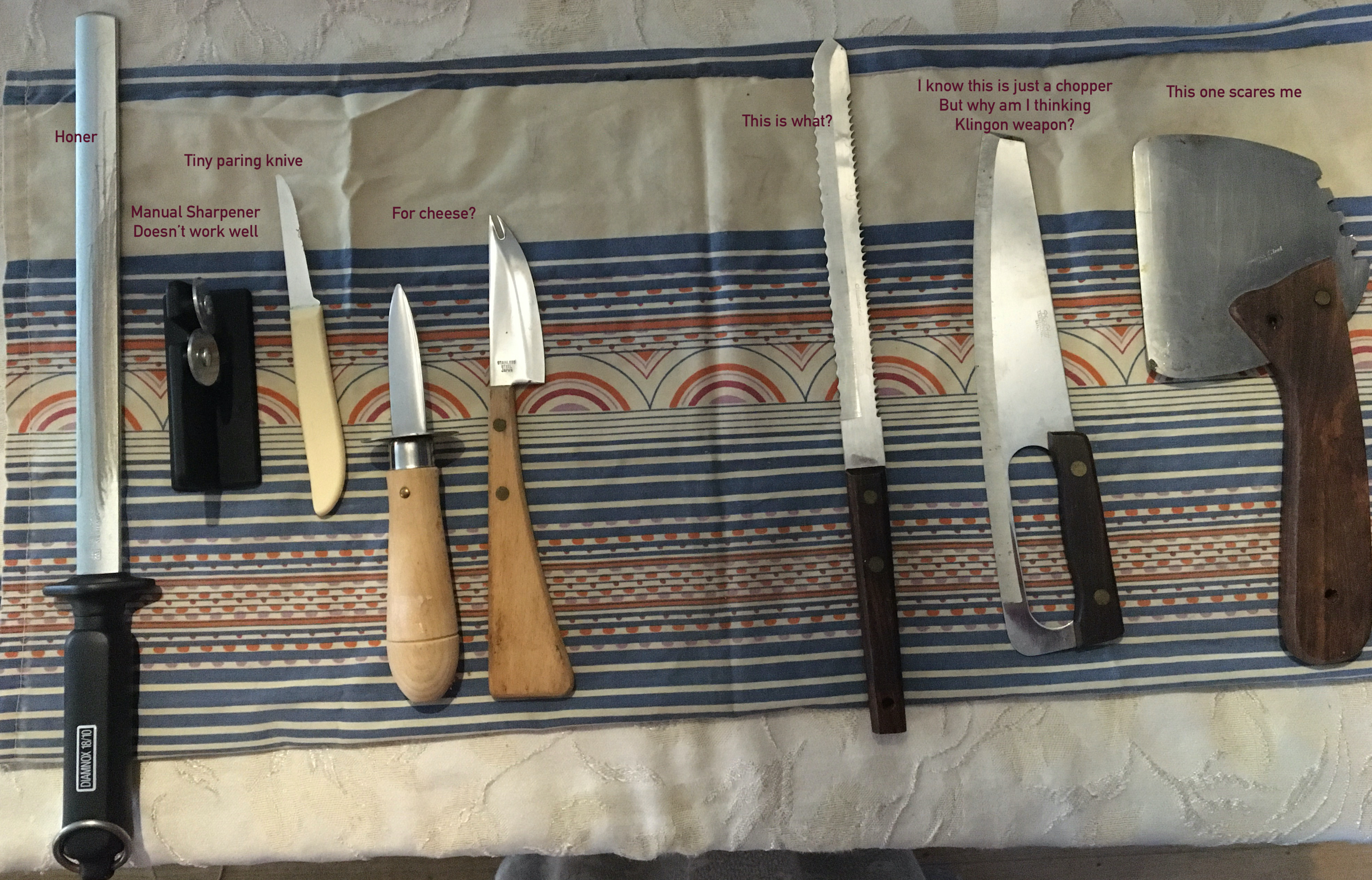 I saved the best for last. Okay, it starts normal. A nice honer and a useless manual sharpener. A tiny paring knife. Two cheese knives. Or at least I assume that's what that elegant pokey thing is with the double spikes. [Edit the one with a fork at the tip is indeed a cheese knife. But the one just to its left, with the flange to protect your hands, appears to be an oyster knife.]
Then we have the large version of the 3-sided knife. A chopper that rocks as you use it but looks like something from Star Trek.
And then there is the cleaver. Not a lovely balanced rectangular cleaver like the one I use all the time. Nope. This one looks like a mini throwing axe. And then it has the cutouts on the other side. Is that for bonking? It's not a tenderizer or a serrated blade or even useful for cutting twine. What is it?
If you can tell me more about any of these knives and similar tools, please leave a comment. I love funny kitchen tools. Even when they scare me.
In the meantime, here's a great article showing different knives.