Jewish Cemetery in Žilina, Slovakia
Sorted by Surname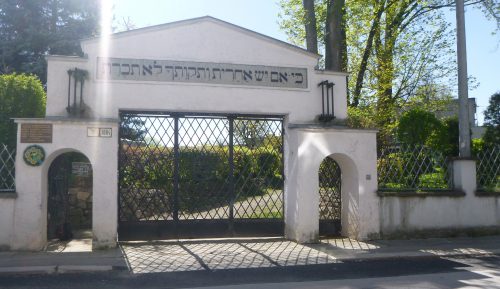 I visited the very well-kept Žilina cemetery in May 2017.  At the entrance are two framed maps of the cemetery, painstakingly hand drawn to scale, each grave listed with the name found on the headstone.  This document is my transcription of these maps.
The cemetery is divided into 4 blocks and each block has multiple numbered rows.  Using the same orientation as the map, we have:
The first map shows blocks 2 and 1 and the second map shows blocks 4 and 3.  For the transcription, I've preserved the map order by block (2, 1, 4, 3).  Then I have done each row, which all go from front to rear (left to right).  Within the rows, the transcription goes from top to bottom.
There will be errors!!
I guarantee you there are errors.  First of all, as careful as the mapmaker was, there are errors in the documents.  Then there are my errors.  Some are ordinary mistakes but others come because the maps can be confusing.  Because the graves span a large period of time, there are differences in how names appear.  In some, women's surnames have "ova" on the end.  In most, they do not.  Some graves give the maiden name for married women and these may or may not be on the map, but aren't indicated as such, so I had to guess (many women may be listed with their maiden names).  Some women had no given names on the map (they may or may not be on the stones) but were "Pani" ("Mrs.") with their husband's names.
One common practice for stones made during or just after the Holocaust was to include the names of family members who died in the Shoah and could not be buried.  The map includes these but it's unclear at times which name is that of the person buried there and also which surname belongs to which given name.  It's clear on the graves but the map had limited space to work with.
Some of my photos have blurry parts and some of the handwriting on the maps is unclear (though most is impeccable).  Unfortunately, some of the graves are so old that the information on the stones is lost forever.  A large percentage of graves have "not given" for the surname and/or given name.  These were blank (or numbered) on the map.  In some cases, the grave was not used but, for most of these entries, the headstones are just so worn that there is nothing left to read.  I don't know if the cemetery has this information in their books.
Yes I did walk the entire cemetery while I was there.  Mostly it's easy to navigate with clear rows.  In some places the rows are narrow and crooked and it's not always clear which row a grave belongs to (my choices from those sections may not always match what the mapmaker intended, or what the cemetery records show).  I took many photos, but only of graves with surnames from my family or those of my cousins who accompanied me on the trip.  I have not matched these photos with the information the maps.  My transcriptions are solely of the maps.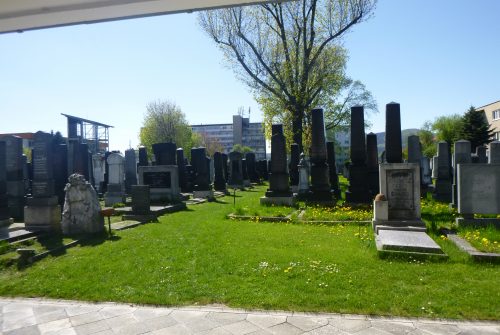 Žilina Cemetery Statistics
1420 — Individual names listed on headstones
480 — Graves that are missing a surname
Total Entries = 1900
Surnames with at least 10 entries:
ADLER 11
BAUMHORN 10
BOCK 10
BRAUN 24
BRICHTA 15
DONATH 12
GLASEL 32
GROSS 24 (including 6 for GROSZ)
HOFFMANN 20 (including 2 for HOFFMAN)
HOLZMANN 10
KLEIN 32
KOHN 37
LANGFELDER 13
LEIMDORFER 12
LOWY 11
MARMORSTEIN 12
MULLER 15
NEUMANN 22 (including 1 for NEUMAN)
PICK 12
POPPER 21
PORJES 15 (including 7 for PORGES)
ROTH 12
SCHLESINGER 21
SPITZER 15
STEIN 11
STEINER 17
TROSTLER 13 (including 2 for TROSZTLER)
WEIL 24 (including 2 for WEILL)
WEISS 15 (including 5 for WEISZ)
---
If you'd like my original Excel document, it is below.  Note the two sheets inside it, one for sorting by plot location, one for sorting by surname.
Jewish Cemetery in Žilina, Slovakia
Sorted by Surname
Block
Row
Number
Surname
Given Name
Notes
3
20
R
?NA
Armin
4
17
?STIEN
David
Shared grave (Weider
& Frankl & ?Stien)
4
17
?STIEN
Pavel
Shared grave (Weider
& Frankl & ?Stien)
1
4
(not given)
Jak
3
22
R 66
(not given)
Jonas
Shared grave (Jonas &
Jozef with unknown surname)
3
22
R 66
(not given)
Jozef
Shared grave (Jonas &
Jozef with unknown surname)
3
3
ADAMER
Emil
3
30
ADLER
(not given)
4
5
ADLER
Antonia
Shared grave Michal,
Ilona, Zigo, Josef, Leo, Armin, Antonia, Donald)
4
5
ADLER
Armin
Shared grave Michal,
Ilona, Zigo, Josef, Leo, Armin, Antonia, Donald)
4
5
ADLER
Donald
Ronald? Shared grave
Michal, Ilona, Zigo, Josef, Leo, Armin, Antonia, Donald)
1
22
ADLER
Ignaz
4
5
ADLER
Ilona
Shared grave Michal,
Ilona, Zigo, Josef, Leo, Armin, Antonia, Donald)
4
5
ADLER
Josef
Shared grave Michal,
Ilona, Zigo, Josef, Leo, Armin, Antonia, Donald)
2
12
ADLER
Julius
4
5
ADLER
Leo
Shared grave Michal,
Ilona, Zigo, Josef, Leo, Armin, Antonia, Donald)
4
5
ADLER
Michal
Shared grave Michal,
Ilona, Zigo, Josef, Leo, Armin, Antonia, Donald)
4
5
ADLER
Zigo
Shared grave Michal,
Ilona, Zigo, Josef, Leo, Armin, Antonia, Donald)
3
18
ALEXANDROVIC
Zigmund
2
13
ALTMANN
David
Shared grave (Netti &
David)
3
28
ALTMANN
Felicita
2
13
ALTMANN
Netti
Shared grave (Netti &
David)
3
25
ALTMANN
Roza
4
13
ANBROS
Julius
4
13
ANBROSOVA
Anna
1
7
back
APRINGOT
Roska
Surname hard to read
2
1
ARANYOS
Etela
Mrs.
3
32
ARANYOS
Ludevit
3
28
AUERBACH
Berthold
3
28
AUERBACH
Sara
Mrs.
3
26
AXELRAD
Jakub
Block
Row
Number
Surname
Given Name
Notes
3
10
BACK
Armin
4
30
BALASZ
Rudolf
2
4
BAMBERGER
Jlles
3
23
BARTOLONES
Wiener
1
3
BAUMHORN
Bertalan
Shared grave (Hermann,
Lina, Bertalan)
2
10
BAUMHORN
Elsa
2
10
BAUMHORN
Erzsi
1
19
BAUMHORN
Hani
1
3
BAUMHORN
Hermann
Shared grave (Hermann,
Lina, Bertalan)
4
10
BAUMHORN
Izidor
2
11
BAUMHORN
Josef
1
3
BAUMHORN
Lina
Shared grave (Hermann,
Lina, Bertalan)
1
22
BAUMHORN
Samuel
1
6
BAUMHORN
Walter
3
15
BEDRICH
Valeria
Shared grave (Bedrich
& Bielik)
3
30
BEIM
Ethel
Shared grave (Nathan,
Ethel, Jeschol, Helena)
3
30
BEIM
Helena
Shared grave (Nathan,
Ethel, Jeschol, Helena)
3
30
BEIM
Jeschol
Shared grave (Nathan,
Ethel, Jeschol, Helena)
3
30
BEIM
Mrs. Nathan
3
30
BEIM
Nathan
Shared grave (Nathan,
Ethel, Jeschol, Helena)
1
5
BELLAK
Marie
2
11
BELLAK
Moritz
3
21
BERGER
Gizela
Shared grave (Zigmund
& Gizela)
3
25
BERGER
Gizela
3
21
BERGER
Zigmund
Shared grave (Zigmund
& Gizela)
3
29
BERGEROVA
Katarina
Mrs.
2
5
BERKES
Josefine
Shared grave (Sigmund
& Josefine)
2
5
BERKES
Sigmund
Shared grave (Sigmund
& Josefine)
4
33
BERKOVIC
(not given)
4
22
BIEL
Antonia
1
2
BIEL
Cecilie
2
10
BIEL
Edith
1
4
BIEL
Erzsebet
1
7
BIEL
Jakob
1
16-17
BIEL
Jakob
4
30
BIEL
Rosalia
3
15
BIELIK
Ivan
Shared grave (Bedrich
& Bielik)
3
4
BIELILOVE
(unreadable)
4
5
BIELOVA
(unreadable)
Shared grave (Maria &
Unknown Bielova, Majerova)
4
5
BIELOVA
Maria
Shared grave (Maria &
Unknown Bielova, Majerova)
3
21
BIRNBAUM
Zigmund
3
27
BLAU
Imre
Shared grave (Regina
& Imre)
3
27
R
BLAU
Regina
Shared grave (Regina
& Imre)
1
21
BLECH
Rachel
3
18
BLEIER
Michal
Shared grave (Michal,
Serena, Moric)
3
18
BLEIER
Moric
Shared grave (Michal,
Serena, Moric)
3
18
BLEIER
Serena
Shared grave (Michal,
Serena, Moric)
2
14
BLITZ
Julia
3
17
BLUMENFELDOVA
Regina
1
11
BOCK
Anna
3
27
(crossed out)
BOCK
Aranka
Shared grave (6 Bocks)
3
27
(crossed out)
BOCK
Edith
Shared grave (6 Bocks)
1
1
BOCK
Ella
3
27
(crossed out)
BOCK
Elza
Shared grave (6 Bocks)
3
27
(crossed out)
BOCK
Hugo
Shared grave (6 Bocks)
3
27
(crossed out)
BOCK
Ilonka
Shared grave (6 Bocks)
1
21
BOCK
Jeanette
3
27
(crossed out)
BOCK
Marin
Shared grave (6 Bocks)
3
27
(crossed out)
BOCK
Nan
Shared grave (6 Bocks)
4
27
R
BORECKA
Blanka
2
4
BORGER
Israel
3
9
BRAND
(not given)
3
9
BRAND
Rodina
1
13
front
BRATMAN
Ilonka
4
20
BRATMANN
Alexander
Shared grave (Bratmann,
Hollander, Rodanova)
4
20
BRATMANN
Julius
Shared grave (Bratmann,
Hollander, Rodanova)
4
20
BRATMANN
Rudolfina
Shared grave (Bratmann,
Hollander, Rodanova)
1
17
BRAUN
Abraham
3
29
BRAUN
Adolf
1
6
BRAUN
Alfred
2
6
BRAUN
Anna
1
13
BRAUN
Eva
2
1
BRAUN
Gisela
2
10
BRAUN
Heinrich
2
14
BRAUN
Helene
4
4
R
BRAUN
Hermina
3
22
BRAUN
Ida
1
6A
BRAUN
Jakab
1
2
BRAUN
Josef
2
14
BRAUN
Kathie
3
19
BRAUN
Max
2
10
BRAUN
Mrs. Heinrich
3
15
BRAUN
Oskar
2
17
BRAUN
Rosa
1
17
BRAUN
Rosa
3
22
R
BRAUN
Rudolf
1
7
BRAUN
Salamon
4
17
BRAUN
Salamon
1
7
BRAUN
Sarah
3
2
BRAUN
Stefan
3
32
BRAUN
Vilhelm
2
20
BRAUNBERG
Anna
Shared grave (Anna &
Emanuel)
2
20
BRAUNBERG
Emanuel
Shared grave (Anna &
Emanuel)
2
15
BRAUNBERG
Katalin
2
6
BREITHER
Mandor
3
8
BRIBRAMOVA
Blanka
Shared grave (Solar &
Bribramova)
3
22
BRICHTA
Ester
4
4
BRICHTA
Eudovit
4
22
BRICHTA
Fanny
4
27
BRICHTA
Filip
3
27
BRICHTA
Jozef
4
16
BRICHTA
Katarina
2
9
BRICHTA
Laura
Shared grave (Samuel
& Laura)
1
1
BRICHTA
Leo
2
7
BRICHTA
Leop.
4
29
BRICHTA
Marie
4
27
BRICHTA
Max
1
16-17
BRICHTA
Moritz
4
27
R
BRICHTA
Rozaria
2
9
BRICHTA
Samuel
Shared grave (Samuel
& Laura)
2
7
BRICHTA
Terizia
3
8
BRODYOVA
Klara
3
27
BRONNER
Bartolomej
3
23
BRONNER
Ernestina
Shared grave (Leopold,
Ernestina, Vojtech)
1
18
BRONNER
Ignaz
3
23
BRONNER
Leopold
Shared grave (Leopold,
Ernestina, Vojtech)
2
1
BRONNER
Samoli
3
23
BRONNER
Vojtech
Shared grave (Leopold,
Ernestina, Vojtech)
2
1
BRUNNER
Nani
3
24
BRYLINSKI
Bogdan
4
1
R
BUCHER
Iloka
4
1
R
BUCHLER
Geza
3
21
BUCHLER
Henrik
3
21
BUCHLER
Malvina
Wife of Henrik
4
4
BUSTINOVA
Johana
1
7
BUXBAUM
Julius
2
10
BUXBAUM
Markus
4
27
BUXBAUN
Ignac
Block
Row
Number
Surname
Given Name
Notes
3
28
CHARAD
Gejza
1
6A
CSILLAG
Hermann
2
17
CZIGLER
Tiwi
4
28
CZINNNER
Berta
4
28
DATTNER
Hugo
4
28
DEUTELBAUM
Marcus
1
21
DEUTSCH
Fradl
1
19
back
DEUTSCH
Theres
3
19
DEUTSCHBERGER
Moric
4
21
DIENER
Arpad
2
14
DIENER
Mano
3
12
DONAT
Ludovit
3
16
DONATH
Bartolonus
3
14
DONATH
Dr. Alojz
Doctor
3
20
DONATH
Franciska
2
14
DONATH
Gabor
Shared grave (Gabor &
Rosa)
2
14
DONATH
Josef
3
11
DONATH
Jozef
4
3
DONATH
Juliz
1
2
DONATH
Kathi
4
30
DONATH
Mrs. Samuel
2
14
DONATH
Rosa
Shared grave (Gabor &
Rosa)
2
1
DONATH
Samuel
3
14
DONATHOVA
Gizela
3
30
(crossed out)
DONSCH
Palko
Shared grave (Donsch
& Schlesinger)
3
30
DONSCH
Stela
Shared grave (Donsch
& Schlesinger)
3
30
DONSCH
Vojtech
Shared grave (Donsch
& Schlesinger)
1
15
DULDNER
Samuel
2
16
DUSCHNITZ
Jakob
1
7
EBNER
Netty
4
7
ECKSTEIN
Hermann
4
29
EICHEL
Ernestine
1
20
EICHEL
Lotti
3
32
EICHENENUTZ
(not given)
3
30
EINHORN
Ignac
3
3
EISENBERG
Arnold
Shared grave (Arnold,
Erzika, Jozef)
3
3
EISENBERG
Ernest
3
3
EISENBERG
Erzika
Shared grave (Arnold,
Erzika, Jozef)
3
3
EISENBERG
Frantiska
Shared grave (Markus
& Frantiska)
3
3
EISENBERG
Jozef
Shared grave (Arnold,
Erzika, Jozef)
3
3
EISENBERG
Markus
Shared grave (Markus
& Frantiska)
3
30
ELIAS
Adolf
3
32
ELIASOVA
Mrs.
4
26
ELLBOGEN
Izidor
2
9
ELLENBOGEN
Elsa
4
24
ELSZASZ
Dezider
1
16
ENGEL
Emilie
4
16
ENGEL
Henrik
4
4
ENGEL
Imrich
4
15
ENGEL
Katarina
1
25
ENGEL
Moriz
1
6
ENGEL
Pal
4
4
R
ENGELOVA
Ida
2
15
ERDODI
Sandor
1
KB
ERNYEI
Alice
2
1
ERNYEI
Janka
Shared grave (Netti &
Janka)
2
1
ERNYEI
Netti
Shared grave (Netti &
Janka)
4
11
EUGEN
Dr. Gregor
Doctor.

 

Given name & surname may be
reversed
Block
Row
Number
Surname
Given Name
Notes
4
10
FABIAN
Ahton
4
10
FABIANOVA
Sadie
4
16
FEIFFER
Mrs. Ludevit
2
4
FEINGOLD
Emanuel
4
26
FEITL
Samuel
4
26
FEITL
Terezia
3
26
FEUERMANN
Berthold
Shared grave (Feuermann
& Hochfederova)
3
26
FEUERMANN
Franz
Shared grave (Feuermann
& Hochfederova)
3
26
FEUERMANNOVA
Terezia
Shared grave (Feuermann
& Hochfederova)
4
4
FEVERMANN
Johanna
4
2
FIALOVA
Ella
Shared grave (Hoffmann,
Neumann, Fialova, Klement)
4
21
FILLOVA
Martina
Shared grave (Folkman
& Fillova)
3
8
FINDL
Emil
Shared grave (Emil &
Maria)
3
8
FINDLOVA
Maria
Shared grave (Emil &
Maria)
3
13
FISCHER
Albert
Shared grave (Helena,
Albert, Tibor)
1
22
FISCHER
Bele
1
4
FISCHER
Bodog
3
13
FISCHER
Helena
Shared grave (Helena,
Albert, Tibor)
3
13
FISCHER
Tibor
Shared grave (Helena,
Albert, Tibor)
3
30
FISCHMANN
Karol
Shared grave (Karol &
Vojak)
3
30
FISCHMANN
Vojak
Shared grave (Karol &
Vojak)
4
25
FISHER
Maria
4
13
FLECK
Koloman
4
13
FLECKOVA
Irena
3
31
FLESCH
Kati
Mrs.
3
13
FODOROVA
Helena
4
21
FOLKMAN
Evelyne
Shared grave (Folkman
& Fillova)
4
21
FOLKMAN
Moric
Shared grave (Folkman
& Muller)
1
13
back
FOLKMANN
Marci
4
19
FRANK
Gabriela
4
1
FRANKL
Andrei
Shared grave (Samuel,
Tibor, Andrei, Ruzena)
4
17
FRANKL
Divia
Shared grave (Weider
& Frankl & ?Stien)
2
7
FRANKL
Gabriela
3
25
FRANKL
Gizela
4
1
FRANKL
Ruzena
Shared grave (Samuel,
Tibor, Andrei, Ruzena)
4
1
FRANKL
Samuel
Shared grave (Samuel,
Tibor, Andrei, Ruzena)
4
17
FRANKL
Stefan
Shared grave (Weider
& Frankl & ?Stien)
4
1
FRANKL
Tibor
Shared grave (Samuel,
Tibor, Andrei, Ruzena)
4
17
FRANKL
Vilma
Shared grave (Weider
& Frankl & ?Stien)
2
4
FREIER
Chajim
1
14
FREIER
Fani
4
19
FREIER
Mrs. Samuel
2
11
FREIER
Samuel
4
19
FREIER
Samuel
2
11
FREIER
Wr. Sam.
4
23
FRELLER
David
4
23
FRELLER
Mrs. David
3
13
FRIED
Adela
Shared grave (Dr. Artur
& Adela)
3
12
FRIED
Artur
Shared grave (Artur Fried
& S Rodinov)
3
13
FRIED
Dr. Artur
Doctor. Shared grave (Dr.
Artur & Adela)
1
11
FRIEDL
Leopold
2
20
FRIEDMANN
Dr. David
Doctor. Shared grave (Dr.
David & wife)
4
1
FRIEDMANN
ML. Rabin Dr. David
Rabbi (initials before
Rabin uncertain), Doctor
2
20
FRIEDMANN
Mrs. Dr. David
Shared grave (Dr. David
& wife)
2
12
FRIEDMANN
Natali
Given name in Hebrew:

ניטלי

1
1
FRIEDMANN
Samuel
3
32
FRIEDMANN
Samuel
4
1
FRIEDMANNOVA
Mrs. Dr. David
4
8
FRIEDNER
David
1
18
front
FRIEDNER
Helene
Shared grave (Leimdorfer
& Friedner)
4
8
FRIEDNER
Mrs. Dr. David
3
20
FRITUSILOVA
Josefina
3
23
FROHZEITIG
Armin
Shared grave (Armin &
Julia)
3
23
FROHZEITIG
Julia
Shared grave (Armin &
Julia)
3
30
FRUNT
(not given)
4
33
FUCHS
Erno
1
6
FUCHS
Marcel
3
4
FUCHS
Zoltan
Block
Row
Number
Surname
Given Name
Notes
4
3
GADOR
Hugo
3
13
GALIK
Desider
4
10
GANIK
Hugo
4
10
GANIK
Karol
Shared grave (Karol Ganik
& Haasova)
2
4
GANZEL
Mandor
2
5
GEIGER
Jozsi
4
33
GELLER
(not given)
1
2
GERO
Armin
4
21
GERO
Fanny
3
22
GERO
Hedy
Shared grave (Juliusl,
Pavel, Hedy)
3
22
GERO
Julius
Shared grave (Juliusl,
Pavel, Hedy)
3
22
GERO
Pavel
Shared grave (Juliusl,
Pavel, Hedy)
2
7
GERVAI
Alois
4
16
GERVAI
Rudolfina
1
24
GLASEL
Aron
Shared grave (Aron &
Jeanette)
2
16
GLASEL
Bernat
3
21
GLASEL
Berta
4
5
GLASEL
Blanka
1
10
GLASEL
Bodog
4
7
GLASEL
David
Shared grave (David &
Sidonia)
4
19
GLASEL
Dr. Armin
Doctor. Shared grave (Dr.
Armin & wife)
4
5
GLASEL
Dr. Arpad
Doctor
1
13
back
GLASEL
Ernestine
Shared grave (Jeanette,
Ernestine, Flora)
1
13
back
GLASEL
Flora
Shared grave (Jeanette,
Ernestine, Flora)
2
21
GLASEL
Hermina
Shared grave (Markus
& Hermina)
3
20
GLASEL
Hermina
Shared grave (Samuel
& Hermina)
2
16
GLASEL
Hermine
4
22
GLASEL
Jakub
1
13
back
GLASEL
Jeanette
Shared grave (Jeanette,
Ernestine, Flora)
1
24
GLASEL
Jeanette
Shared grave (Aron &
Jeanette)
2
14
GLASEL
Josef
1
16-17
GLASEL
Josephine
4
30
GLASEL
Leni
3
31
GLASEL
Maria
Mrs.
2
21
GLASEL
Markus
Shared grave (Markus
& Hermina)
4
19
GLASEL
Mrs. Dr. Armin
Shared grave (Dr. Armin
& wife)
4
21
GLASEL
Regina
2
10
GLASEL
Rosa
4
22
GLASEL
Rosalia
3
20
GLASEL
Samuel
Shared grave (Samuel
& Hermina)
4
7
GLASEL
Sidonia
Shared grave (David &
Sidonia)
3
28
GLASEL
Terezia
3
18
R
GLASEL
Valer
2
6
GLASER
Juraj
Shared grave (Oskar,
Pavla, Juraj)
2
6
GLASER
Oskar
Shared grave (Oskar,
Pavla, Juraj)
2
6
GLASER
Pavla
Shared grave (Oskar,
Pavla, Juraj)
4
10
GLUCKSTHAL
Ignac
Shared grave (Vrma &
Ignac)
4
10
GLUCKSTHAL
Vrma
Shared grave (Vrma &
Ignac)
4
10
GLUKSTAL
Ruzena
1
23
GOLDBERGER
Jonas
3
31
GOLDMAN
Adolf
3
31
GOLDMANN
Helenre
Mrs.
3
24
GOLYA
Richard
Shared grave (Roth &
Golya)
1
20
GRAUNA
Fanny
4
2
GREGOROVA
Alica
Shared grave (Dr. Eduard
Orvan & Alicia Gregorova)
3
14
GRESKOVA
Anna
4
5
R
GRONSKA
(not given)
4
5
R
GRONSKY
(not given)
3
24
R 110
GROSS
Alexander
4
21
GROSS
Auguste
4
27
GROSS
David
3
32
GROSS
Erna
1
15
GROSS
Felix
4
23
GROSS
Gizela
Shared grave (Gross &
Robineonova)
3
24
GROSS
Ivan
Shared grave (Ivan &
Jolana)
3
24
R 109
GROSS
Jolana
May be in next grave with
Ivan
3
24
GROSS
Jolana
Shared grave (Ivan &
Jolana)
4
25
GROSS
Jozef
3
27
GROSS
Julia
4
22
GROSS
Julie
4
29
GROSS
Max
3
30
GROSS
Michal
1
22
GROSS
Mindl
4
23
GROSS
Samuel
3
26
GROSS
Vilhelm
4
21
GROSS
Zigmund
1
1
GROSSFELD
Hani
1
KB
GROSSMAN
Erno
3
21
GROSSMANN
Arnold
3
24
GROSSMANN
Chajim
1
24
GROSSMANN
Jakob
4
2
GROSSMANN
Josef
3
21
GROSSMANN
Josefina
2
15
GROSSMANN
Lizi
3
21
GROSSMANN
Mrs. Arnold
3
32
GROSZ
(not given)
2
11
GROSZ
Adolf
2
8
GROSZ
Armin
1
5
GROSZ
Armin
1
7
GROSZ
Berta
3
8
GROSZ
Emil
3
30
GRUN
Dr. Hermann
Doctor
2
21
R 97
GRUN
Julius
3
26
GRUN
Zigmund
2
13
GRUNAUER
Cecilia
3
10
GRUNBAUM
Ella
3
10
GRUNBAUM
Lodovit
1
21
GRUNBAUM
Mathilde
1
25
GRUNBAUM
Rebbe Josef
Rabbi
4
26
GRUNSBERG
Filip
3
25
GRUNSTEIN
Izidor
1
2
GRUNWALD
Jakob
1
10
GRUNWALD
Jos. Hor
3
13
GRUNWALD
Julia
2
15
GRUNWALD
Mariska
1
2
GRUNWALD
Mrs. Jakub
1
2
GRUNWALD
Netti
3
13
GRUNWALD
Sigmond
4
17
GRUNWALD
Sigmund
3
29
GRUNWALD
Terezia
2
2
GUTTER
Anna
2
2
GUTTER
Henrjk
3
13
GUTTMAN
Emanuel
Block
Row
Number
Surname
Given Name
Notes
2
17
HAAS
Fanni
Shared grave (Jakob &
Fanni)
2
17
HAAS
Jakob
Shared grave (Jakob &
Fanni)
4
30
HAAS
Leni
4
30
HAAS
Leopold
4
25
HAAS
Roza
2
8
HAAS
Sali
4
10
HAASOVA
(not given)
Shared grave (Karol Ganik
& Haasova)
1
6B
HAASZ
Max
4
26
HADASI
Margita
1
4
HAIMAHN
Heinrich
1
3
HAIMAHN
Karoline
4
20
HAIMANN
Tobias
4
19
HAJMANN
Berta
4
2
HALDANOVA
Nely
Shared grave (Ilona
Hoffmann & Nely Haldanova)
3
25
HANDL
Albert
4
29
HARTMANN
Ignac
Shared grave (Neu &
Hartmann)
2
9
HAUS
Dorothea
4
26
HAVAS
Dr. Jozef
Doctor
2
8
HAVAS
Hermine
4
18
R 43
HAYN
Johann
3
28
HEBER
Karolina
2
21
HECHT
Anna
4
17
HECHT
Armin
1
4
HECHT
Betti
Shared grave (Betti &
Jakob)
1
4
HECHT
Jakob
Shared grave (Betti &
Jakob)
2
20
HECHT
Markus
3
13
HECHT
Palo
Shared grave (Eva &
Palo)
3
13
HECHTOVA
Eva
Shared grave (Eva &
Palo)
4
28
HEDA
Hermine
3
2
HEITUNGER
Rudolf
3
19
HELLER
Arnost
2
15
HELLER
Josef
Shared grave (Mano, Rosa,
Josef)
1
6
HELLER
Laczika
2
15
HELLER
Mano
Shared grave (Mano, Rosa,
Josef)
2
15
HELLER
Rosa
Shared grave (Mano, Rosa,
Josef)
2
17
HELLER
Rosa
4
6
HERCKYOVA
Berta
3
15
HERLINGEROVA
Jozefina
4
30
HERMANN
Gottlieb
4
27
HERMANN
Paula
2
1
HERSCH
Sarolta
Shared grave (Sigmund
& Sarolta)
2
1
HERSCH
Sigmund
Shared grave (Sigmund
& Sarolta)
4
19
HERZ
Jakob
3
18
HERZ
Julia
Wife of Jakub
4
24
HERZ
Mrs. Bernat
1
16-17
HERZKA
Fani
2
20
HERZKA
Mrs. Adolf
4
29
HERZKA
Regina
1
25
HERZOG
Regina
3
27
HERZTKA
Gejza
4
19
HEXNER
Moritz
3
22
HOCHFELDER
Jozef
3
29
HOCHFELDER
Katarina
3
22
HOCHFELDER
Rozalia
Wife of Jozef
1
10
HOCHFELDER
Samuel
3
29
HOCHFELDER
Terezia
1
21
HOCHFELDER
Wolf
3
26
HOCHFELDEROVA
Hagda
Shared grave (Feuermann
& Hochfederova)
1
18
back
HOFFMAN
Joska
3
12
HOFFMANN
Alexander
4
23
HOFFMANN
Anna
2
20
R 96
HOFFMANN
Ferdinand
4
23
HOFFMANN
Georg
2
19
HOFFMANN
Hermann
Shared grave (Rosa &
Hermann)
4
2
HOFFMANN
Ilona
Wife of Julius. Shared
grave (Ilona Hoffmann & Nely Haldanova)
4
2
HOFFMANN
Jelana
Shared grave (Hoffmann,
Neumann, Fialova, Klement)
1
22
HOFFMANN
Josef
4
2
HOFFMANN
Julia
Shared grave (Julia &
Ruzena Hoffmann, Dr. Haldan Laco)
3
12
HOFFMANN
Margit
1
18
HOFFMANN
Marie
4
2
HOFFMANN
Oskar
Shared grave (Hoffmann,
Neumann, Fialova, Klement)
4
2
HOFFMANN
Risi
Shared grave (Hoffmann,
Neumann, Fialova, Klement)
2
19
HOFFMANN
Rosa
Shared grave (Rosa &
Hermann)
4
2
HOFFMANN
Ruzena
Shared grave (Julia &
Ruzena Hoffmann, Dr. Haldan Laco)
4
32
HOFFMANN
Taube
4
9
HOFFMANN
Viktor
Shared grave (Viktor
Hoffmann & Irena Lenesova)
4
12
HOFFMANOVA
Flora
1
23
HOFMANN
Tani
Fani?
3
12
HOLCMAN
Lobl
Shared grave (Holcman
& Ponstein)
3
17
HOLLANDER
Dr. Moric
Doctor
4
20
HOLLANDER
Elza
Shared grave (Bratmann,
Hollander, Rodanova)
2
5
HOLZMANN
(not given)
3
20
HOLZMANN
Artur
4
8
HOLZMANN
Dr. Emil
Doctor
3
12
HOLZMANN
Emil
Shared grave (Emil, Syn,
Walter)
3
29
HOLZMANN
Filip
1
6A
HOLZMANN
Jelnetic
3
20
74
HOLZMANN
Ludovit
1
6
HOLZMANN
Rosa
3
12
HOLZMANN
Syn
Shared grave (Emil, Syn,
Walter)
3
12
HOLZMANN
Walter
Shared grave (Emil, Syn,
Walter)
2
21
HONIG
Josef
3
4
HORAK
Alica
3
4
HORAK
Ladislav
4
14
HORN
Otto
3
10
HORNANSRY
Viliam
4
14
HORNOVA
Hermina
2
5
HOROWITZ
Salam
3
24
HRABOVCOVA
Mrs.

 

1
5
HRUSCHKA
Bernat
3
31
HRUSKA
Jakub
2
5
HUCK
Wiliam
Block
Row
Number
Surname
Given Name
Notes
4
21
IOMASCHOFF
Arnold
4
21
IOMASCHOFF
Mrs. Arnold
3
10
IVANOVSKA
Terezia
3
31
JAKUBOVIC
Dr. Moric
Doctor
4
26
JAKUBOVIC
Jozef
3
31
JAKUBOVIC
Max
3
28
JAKUBOVIC
Roza
4
30
JASSNIGER
Jetti
3
14
JELENCIK
Helena
Shared grave (Jacub &
Helena)
3
14
JELENCIK
Jacub
Shared grave (Jacub &
Helena)
3
14
JELENCIKOVA
Helena
3
13
JUCOVICOVA
Alica
2
17
KAHN
Ivka
Shared grave (Kahn &
Ring)
4
33
KALOS
(not given)
3
3
KAPP
Aladar
3
3
KAPPOVA
Azanka
3
21
R
KARACH
Regina
3
21
KARACH
Zigmund
4
4
KARDOS
Dr. Ignac
Doctor
4
4
KARDOS
Dr. Juraj
Doctor
1
6
KARDOS
Jozsika
4
27
KARPATI
Mrs. Max
4
28
KASZRIEL
Mrs.
4
29
KELLERMAN
Elizabeth
4
24
KELLERMANN
Sonja
3
31
KERNER
Luiza
Mrs.
3
24
KESZTLER
Hermann
2
18
KLAUBER
Pal. Lipot
Shared grave (Klauber
& Steiner)
3
9
KLEIN
Berci
3
26
KLEIN
Cecilia
3
10
KLEIN
Dr. Dezider
Doctor
4
7
KLEIN
Ernestina
4
24
KLEIN
Fanny
3
31
KLEIN
Gustav
4
6
R
KLEIN
Herman
2
19
KLEIN
Ilona
4
1
KLEIN
Jakub
2
4
KLEIN
Jeno
2
1
KLEIN
Julie
1
9
KLEIN
Kalman
3
13
KLEIN
Koloman
4
29
KLEIN
Kornelie
3
13
KLEIN
Ladislav
3
15
KLEIN
Ludovit
3
15
KLEIN
Marcel
4
6
R
KLEIN
Martin
3
4
KLEIN
ML Dr. Viliam
Doctor
4
7
KLEIN
Moric
1
8
KLEIN
Moriz
3
29
KLEIN
Mrs. Ignac
2
5
KLEIN
Netti
4
26
KLEIN
Saly
3
17
KLEIN
Wiliam
3
17
KLEINOVA
?A
4
2
KLEINOVA
Ada
3
10
R
KLEINOVA
Dr. Anna
Doctor
4
6
R
KLEINOVA
Ella
4
6
R
KLEINOVA
Fana
4
1
KLEINOVA
Mrs. Jakub
3
13
KLEINOVA
Sarlota
4
2
KLEMENT
Pavel
Shared grave (Hoffmann,
Neumann, Fialova, Klement)
4
2
KLEMENT
Viola
Shared grave (Hoffmann,
Neumann, Fialova, Klement)
3
17
KLOPSTOK
Aliam
Shared grave (Alzbeta
& Aliam)
3
17
KLOPSTOK
Alzbeta
Shared grave (Alzbeta
& Aliam)
2
6
KOHN
Adolf
Shared grave (Adolf &
Regina)
2
7
KOHN
Adolf
3
16
KOHN
Adolf
4
33
KOHN
Alex
4
25
KOHN
Alzbeta
3
26
KOHN
Anna
4
26
KOHN
Arnold
2
6
KOHN
Blanka
Shared grave (Desider
& Blanka)
4
24
KOHN
David
2
6
KOHN
Desider
Shared grave (Desider
& Blanka)
3
32
KOHN
Elizabeta
2
10
KOHN
Ella
Shared grave (Moritz
& Ella)
1
19
KOHN
Fani
3
27
KOHN
Frantis
Shared grave (Simon &
Frantis)
1
10
KOHN
Hermine
Shared grave (Ludwig,
Hermine, Karl)
1
8
KOHN
Jakob
1
21
KOHN
Jakob
2
15
KOHN
Josef
Shared grave (Kovacs
& Kohn)
2
19
KOHN
Jozsef
1
10
KOHN
Karl
Shared grave (Ludwig,
Hermine, Karl)
2
7
KOHN
Katharina
4
23
KOHN
Katharine
2
12
KOHN
Leontine
1
10
KOHN
Ludwig
Shared grave (Ludwig,
Hermine, Karl)
3
31
KOHN
Michal
2
10
KOHN
Moritz
Shared grave (Moritz
& Ella)
2
15
KOHN
Mrs. Jozef
4
3
KOHN
Mrs. Jozef
4
13
KOHN
Pavol
1
24
KOHN
Reg.
2
6
KOHN
Regina
Shared grave (Adolf &
Regina)
1
13
front
KOHN
Robined
3
16
R
KOHN
Sarlota
3
27
KOHN
Simon
Shared grave (Simon &
Frantis)
3
31
KOHN
Terezia
4
33
KOHN
Veronika
4
3
KOHN
Wilhelm
3
17
KOHNOVA
Ruzena
4
11
KOLEGAROVA
Dina
Shared grave (Srammova
& Kolegarova)
3
17
R
KOLKA
Robert
4
14
KOLOMAN
Anna
Shared grave
(Rauchwerberger & Anna Koloman)
4
25
KONIG
Moric
4
11
KORIN
Tibor
4
11
KORINOVA
Gabriela
2
15
KOVACS
Dr. Ede
Doctor. Shared grave
(Kovacs & Kohn)
4
8
KOVACZ
Mrs. Dr. Alexander
1
23
KRAMER
Lotti
4
25
KRAUS
Dora
2
18
KRAUSZ
Rosa
1
22
KRIESER
Dr. Eduard
Doctor
1
21
KRIESER
Fanny
1
22
KRIESER
Freidl
1
25
KRIESER
Jakob
1
6B
KRIESER
Sigmund
4
15
KUCERA
David
4
4
KUCERA
Hugo
1
21
KUFFLER
Jentl
2
21
KUFFLER
Rezso
2
15
KUGEL
Adolf
2
15
KUGEL
Janette
4
23
KUGEL
Julie
4
18
KULKA
Bernat
4
18
KULKA
Cecilia
3
16
KULKA
Leopold
3
17
KULKOVA
Anna
Shared grave (Anna &
Dezider)
3
17
KULKOVA
Dezider
Shared grave (Anna &
Dezider)
3
17
KULKOVA
Leopoldina
3
16
R
KULKOVA
Margita
3
8
KUSTRA
Oskar
3
8
KUSTROVA
Friderika
2
20
KUX
David
Shared grave (Rosalia
& David)
2
19
KUX
Dr. Wilmos
Doctor. Shared grave (Dr.
Wilmos & Ida)
2
19
KUX
Ida
Shared grave (Dr. Wilmos
& Ida)
2
20
KUX
Rosalia
Shared grave (Rosalia
& David)
Block
Row
Number
Surname
Given Name
Notes
4
2
R
LACO
Dr. Haldan
Doctor. Shared grave
(Julia & Ruzena Hoffmann, Dr. Haldan Laco)
1
24
LACZKO
(not given)
May be double grave
2
4
LAMPEL
Sig.
4
17
R 38
LANG
Armin
Shared grave (Karl &
Armin)
4
17
LANG
Karl
Shared grave (Karl &
Armin)
4
12
LANGER
Ernest
4
12
LANGEROVA
Vilma
2
12
LANGFELDER
Arthur
1
15
LANGFELDER
Irma
2
12
LANGFELDER
Jakob
1
KB
LANGFELDER
Lili
4
23
LANGFELDER
Margit
2
12
LANGFELDER
Mariska
Shared grave (Sofie &
Mariska)
2
12
LANGFELDER
Markus
3
11
LANGFELDER
Michal
2
12
LANGFELDER
Mrs. Jakub
1
KB
LANGFELDER
Piroska
1
19
front
LANGFELDER
Samuel
2
12
LANGFELDER
Sofie
Shared grave (Sofie &
Mariska)
3
11
LANGFELDER
Stefka
3
15
LANGSNER
Jakub
2
16
LANYI
Samuel
1
3
LAUFER
Markus
1
3
LAUFER
Rosa
2
15
LAZAR
Adolf
2
10
LAZAR
Heinrich
2
2
LAZAR
Lotty
3
23
LEIMDORFER
Adolf
2
18
LEIMDORFER
Dr. Bela
Doctor
3
23
R
LEIMDORFER
Ernestine
1
4
LEIMDORFER
Eugen
1
5
LEIMDORFER
Fany
2
18
LEIMDORFER
Heinrich
2
9
LEIMDORFER
Jetti
3
19
LEIMDORFER
Leona
1
16-17
LEIMDORFER
Lina
1
18
front
LEIMDORFER
Moritz
Shared grave (Leimdorfer
& Friedner)
3
19
LEIMDORFER
Oskar
1
13
front
LEIMDORFER
Steffi
4
9
R 27
LENESOVA
Irena
Shared grave (Viktor
Hoffmann & Irena Lenesova)
2
7
LEVAI
Armin
4
26
LICHTENSTEIN
Ludevit
4
33
LIF?ER
Margita
2
9
LILIENTHAL
Flora
3
13
LILIENTHAL
Jozef
3
14
LILIENTHALOVA
Stefania
1
11
LINDENSTEIN
Anna
2
16
LINDENSTEIN
Rosalia
1
15
LINDENSTEIN
Therese
1
4
LINDENSTEIN
Zsigmond
2
5
LINDNER
Nathan N.
3
12
LINKSZ
Erno
Shared grave (Leopold
& Erno)
3
12
LINKSZ
Leopold
Shared grave (Leopold
& Erno)
1
4
LINSENBERG
Maria
3
20
LIPNER
Mrs. Aron
4
22
LIPPA
Margit
3
1
R
LIPPA
Zigmund
Additional surname
FREIDERGER
2
19
LIPPNER
Aron
3
1
R
LIPPOVA
Blanka
Additional surname
FREIDERGER
2
18
LIPSCHER
Jawka
2
18
LIPSCHER
Loti Ekovis (hard to read)
Shared grave (Moritz
& Loti Ekovis)
2
18
LIPSCHER
Moritz
Shared grave (Moritz
& Loti Ekovis)
2
12
LIPSCHER
Sigm.
3
24
LIPSKI
Michal-Menase
4
25
LORBEER
Regina
1
7
LOWENBEIN
Danuel
2
11
LOWENBEIN
Ignatz
Shared grave (Netty &
Ignatz)
2
11
LOWENBEIN
Netty
Shared grave (Netty &
Ignatz)
3
8
LOWINGEROVA
Cecilia
2
15
LOWY
David
4
26
LOWY
Filip
3
23
LOWY
Filip
2
8
LOWY
Georg
4
29
LOWY
Jeanette
3
23
LOWY
Julia
Wife of Filip
3
17
LOWY
Margita
1
3
LOWY
Marie
4
26
LOWY
Sarlota
2
18
LOWY
Sigmund
3
15
LOWY
Simon
Block
Row
Number
Surname
Given Name
Notes
4
8
MAGNER
Dr. Olga
Doctor
4
8
MAGNER
Imrich
4
8
MAGNER
Jolana
4
5
MAJEROVA
(not given)
Shared grave (Maria &
Unknown Bielova, Majerova)
3
30
MANDL
Rozalia
1
2
MANNHEIMER
Sali
4
16
MARER
Beno
2
7
MARER
Markus Josef
Shared grave (Markus
Josef & Rosa)
4
16
MARER
Mrs. B. Beno
2
7
MARER
Rosa
Shared grave (Markus
Josef & Rosa)
4
27
MARER
Samuel
4
4
MARES
Elenir
Shared grave (Mrs. Jozef
Schwarz, Elenir & Eta Mares)
4
4
MARES
Eta
Shared grave (Mrs. Jozef
Schwarz, Elenir & Eta Mares)
3
28
MARKFELD
Dr. Julia
Doctor.

 

Mrs.
3
16
MARMORSTEIN
Anna
3
16
MARMORSTEIN
Eugen
1
21
MARMORSTEIN
Ezriel
2
17
MARMORSTEIN
Fanni
1
21
MARMORSTEIN
Gabriel
4
16
MARMORSTEIN
Hermann
4
22
MARMORSTEIN
Jakob
3
25
MARMORSTEIN
Matilda
4
16
MARMORSTEIN
Mrs. Gabor
3
21
R
MARMORSTEIN
Paula
4
22
MARMORSTEIN
Rosa
3
21
MARMORSTEIN
Samuel
2
8
MARTON
Dr. Julius
Doctor
2
20
MATRAJ
Jakob
3
25
MEINBERGER
Anna
3
12
MENCEROVA
Helena
3
29
METZR
Erich
4
12
MICHALLOVA
Ruzena
1
16
MILCH
Daniel
1
3
MILCH
Ernestine
3
29
MILCH
Julius
3
29
MILCH
Mrs. Julius
3
21
MOSKOVIC
Vojtech
1
8
MULLER
Anna
3
23
MULLER
Bela
Shared grave (Vojtech
& Bela)
2
13
MULLER
Bernhard
Shared grave (Josefine
& Bernhard)
4
16
MULLER
Betty
4
21
MULLER
F?na
Shared grave (Folkman
& Muller)
2
9
MULLER
Hermann
2
4
MULLER
Ignac
1
20
MULLER
Jakob
2
13
MULLER
Josefine
Shared grave (Josefine
& Bernhard)
1
10
MULLER
Leopold
1
14
MULLER
Rebeka
1
5
MULLER
Rosalia
2
7
MULLER
Sali
1
6B
MULLER
Salomon
3
23
MULLER
Vojtech
Shared grave (Vojtech
& Bela)
2
14
MUNK
Adolf
2
14
MUNK
Rosa
3
23
MUNK
Sandor
3
23
NEMES
Dezider
2
4
NESSELROTH
Oskar
4
29
NEU
Ignatz
Shared grave (Neu &
Hartmann)
3
30
NEU
Mrs. Moric
4
18
NEUBERGER
Berthold
Shared grave (Berthold
& Jozefina)
1
5
NEUBERGER
Heinrich
Shared grave (Heinrich
& Rosalia)
4
18
R
NEUBERGER
Jozefina
Shared grave (Berthold
& Jozefina)
1
5
NEUBERGER
Rosalia
Shared grave (Heinrich
& Rosalia)
3
30
NEUDORFER
(not given)
3
27
NEUDORFER
Izidor
3
22
NEUFELD
Berta
Wife of Alex
2
3
NEUFELD
Marie
4
21
NEUFELD
Samuel
3
28
NEUMAN
Alexander
Shared grave (Pikler
& Neuman)
4
28
NEUMANN
(not given)
1
15
NEUMANN
Frumed
1
18
NEUMANN
Henriete
1
13
NEUMANN
Hermann
4
24
NEUMANN
Hermann
4
19
NEUMANN
Illa
2
8
NEUMANN
Jakob
1
18
NEUMANN
Jakob
4
24
NEUMANN
Jozef
1
2
NEUMANN
Julie
4
2
NEUMANN
Julius
Shared grave (Hoffmann,
Neumann, Fialova, Klement)
1
6B
NEUMANN
Jzrael
2
3
NEUMANN
Leopold
1
19
front
NEUMANN
Marie
1
3
NEUMANN
Moses
3
19
NEUMANN
Mrs. Filip
4
18
NEUMANN
Paula
4
23
NEUMANN
Rosa
3
26
NEUMANN
Sali
4
11
NEUMANN
Vojtech
4
11
NEUMANNOVA
Sarlota
2
16
NEUWIRT
Emma
1
14
NEUWIRTH
Jakob
1
18
NEUWIRTH
Jakob
1
14
NEUWIRTH
Regina
2
13
NEY
Adolf
2
13
NEY
Julie
1
KB
NIEDERBERGER
Etelka
1
5
NIEDERBERGER
Nathan
1
7
front
NIEDERBERGER
Sarah
3
18
NORNBERG
Mrs. Armin
1
14
NOVAK
Arpad
3
28
NOVAK
Dr. Jozef
Doctor
2
6
NOVAK
Elisabeth
Shared grave (Moritz
& Elisabeth)
2
6
NOVAK
Moritz
Shared grave (Moritz
& Elisabeth)
2
7
NOVAK
Mrs. Zigmund
1
KB
NOVAK
Salma
2
7
NOVAK
Zigmund
2
19
NURNBERG
Jeschaje
2
10
NURNBERG
Laczi
4
19
ORMAI
Anna
Shared grave (Anna &
Ella)
4
19
ORMAI
Ella
Shared grave (Anna &
Ella)
4
20
OROVAN
Adolf
4
20
R 46
OROVAN
Dr. Valerie
Doctor
2
8
ORVAN
Arpad
4
2
ORVAN
Dr. Eduard
Doctor. Shared grave (Dr.
Eduard Orvan & Alicia Gregorova)
3
27
ORVAN
Jozef
4
16
ORVAN
Markus
4
15
ORVAN
Moric
4
15
ORVAN
Mrs. Moric
Block
Row
Number
Surname
Given Name
Notes
4
14
PALKO
Elias
Shared grave (Elias,
Kubicer, Jozef)
4
14
PALKO
Jozef
Shared grave (Elias,
Kubicer, Jozef)
4
14
PALKO
Kubicer
Shared grave (Elias,
Kubicer, Jozef)
3
20
PALMAI
Antonia
Wife of Arpas
2
5
PALMAI
Arpad
1
KB
PALMAI
Lacika
2
3
PARTOS
Fero
4
24
PAUKER
Arnold
4
23
PERL
Anna
3
27
PERL
Hermann
3
29
PESSL
Berta
3
9
PETRAS
Erika
Shared grave (Leo &
Erika)
3
9
PETRAS
Leo
Shared grave (Leo &
Erika)
1
6
PICK
Erwin
2
2
PICK
Eva
Shared grave (Eva &
Jozef)
1
KB
PICK
Geza
1
4
PICK
Jakab
1
4
PICK
Jakab
2
2
PICK
Josef
Shared grave (Eva &
Jozef)
3
18
PICK
Jozefina
Wife of Moric
1
5
PICK
Jzrael
3
18
PICK
Moric
3
11
PICK
Oscar
Shared grave (Oscar &
Valeria)
1
5
PICK
Rosa
3
11
PICK
Valeria
Shared grave (Oscar &
Valeria)
3
28
PIKLER
Elza
Shared grave (Pikler
& Neuman)
3
28
PIKLER
Moric
Shared grave (Pikler
& Neuman)
3
8
PLATZNER
Klara
Shared grave (Konrad
& Klara)
3
8
PLATZNER
Konrad
Shared grave (Konrad
& Klara)
3
22
R
POLACEK
Arpad
Shared grave (Arpad &
Hanzelooii)
3
31
POLACEK
Cecilia
3
22
POLACEK
Hanzelooii
(given name unreadable)
Shared grave (Arpad & Hanzelooii)
3
22
POLACEK
Viliam

 

Shared grave (Polacek & Susutzova)
1
19
back
POLACIEK
Jenuda
4
9
POLAK
Sigmund
3
9
POLAN
Alica
Shared grave (Alica,
Peter, Jozef)
3
9
POLAN
Dr. Jozef
Doctor. Shared grave
(Alica, Peter, Jozef)
3
9
POLAN
Pavel
3
9
POLAN
Peter
Shared grave (Alica,
Peter, Jozef)
3
24
POLITZER
Dr. Armin
Doctor
3
31
POLITZER
Hermann
3
13
POLITZER
Jozef
4
28
POLITZER
Veronika
1
19
POLLACSEK
Ludwig
2
4
POLLAK
Benjam
2
21
POLLAK
Dr. Josef
Doctor. Shared grave (Dr.
Josef & Sarolta)
4
22
POLLAK
Fanny
1
13
POLLAK
Leopold
1
16
POLLAK
Marie
1
5
POLLAK
Netti
2
21
POLLAK
Sarolta
Shared grave (Dr. Josef
& Sarolta)
4
22
POLLAK
Simon
3
32
POLLMANN
Ignatz
3
18
POLNER
Gejza
4
24
PONGER
Salamon
3
12
PONSTEIN
Julia
Shared grave (Holcman
& Ponstein)
1
24
POPPER
Abraham
1
3
POPPER
Aron
Shared grave (Aron &
Maria)
1
24
POPPER
Babette
1
19
POPPER
Berta
1
12
POPPER
Bertha
1
8
POPPER
Chajele
1
25
POPPER
Ignac
4
28
POPPER
Ignac
1
22
POPPER
Jakob
4
22
POPPER
Jozef
3
28
POPPER
Koloman
1
24
POPPER
Leni
1
8
POPPER
Leontin
1
24
POPPER
Liebe
1
3
POPPER
Maria
Shared grave (Aron &
Maria)
2
5
POPPER
Mazgitka
1
24
POPPER
Salomon
4
7
POPPER
Samuel
1
20
POPPER
Schlosme
1
24
POPPER
Schmul
1
24
POPPER
Zwi
4
21
PORGES
Bernath
2
6
PORGES
Debora
Shared grave (Debora
& Sigmund)
4
27
PORGES
Ignac
4
22
PORGES
Karl
4
21
PORGES
Saly
2
6
PORGES
Sigmund
Shared grave (Debora
& Sigmund)
2
9
PORJES
Dr. Arpad
Doctor. Shared grave
(Ilonka & Dr. Arpad)
3
16
PORJES
Emil
2
3
PORJES
Ernestine
2
9
PORJES
Ilonka
Shared grave (Ilonka
& Dr. Arpad)
2
15
PORJES
Jeanette
3
23
PORJES
Julia
Wife of Salamon
4
20
PORJES
Natan
3
23
PORJES
Salamon
3
16
PORJESOVA
Anna
2
9
PREIS
Franz
1
8
PREIS
Rosa
2
13
PREIS
Simon
1
6B
PREISSICH
Ede
1
21
PREISSICH
Mentl
1
4
PREISZ
David
4
17
PREISZ
Jakub
Shared grave (Vilma &
Jakub)
4
17
PREISZ
Vilma
Shared grave (Vilma &
Jakub)
3
26
PRESSER
Sari
4
18
PULLITZER
David
Shared grave (Pullitzer
& Singer)
Block
Row
Number
Surname
Given Name
Notes
3
21
R
RAJEK
Eduard
1
1
RASCHOVSKY
M.
4
6
RATHOVA
Estela
4
20
RATZOVA
Sanka
Shared grave (Heinrich
Rosenzweig & Sanka Ratzova)
4
14
RAUCHWERBERGER
(not given)
Shared grave
(Rauchwerberger & Anna Koloman)
3
15
REDNER
Anna
3
29
REDNER
Armin
3
10
REICH
Alfred
3
24
REICH
Dr. Manfred
Doctor
3
18
REICH
Jozefina
Wife of Markus
3
18
REICH
Markus
3
24
REICH
Truda
4
23
REICHER
Katharina
1
20
REICHER
Moische
2
19
REICHER
Mor
2
8
REICHER
Salamon
4
6
REICHOVA
Olga
4
29
REINITZ
Simon
3
11
REIS
Egon
Shared grave (Valy &
Egon)
1
24
REIS
Julie
3
11
REIS
Valy
Shared grave (Valy &
Egon)
3
26
REISZ
Feri
2
16
REISZ
Henrik
2
9
REMI
Heinrich
Shared grave (Heinrich
& Ilona)
2
9
REMI
Ilona
Shared grave (Heinrich
& Ilona)
2
12
RETTINGER
Artur
3
20
REVESZ
Aron
3
14
REVESZOVA
Rozalia
3
14
REZSO
Pogany
4
7
RIEGELHAUPT
Julia
4
7
RIEGELHAUPT
Zigmund
1
4
RIESZ
David
1
KB
RING
Aranka
2
21
RING
Dr. Mor
Doctor
2
13
RING
Hani
2
17
RING
Stephi
Shared grave (Kahn &
Ring)
2
17
RING
Valerie
3
22
RINGWALD
Alfred
Shared grave (Ringwald
& Tauspiger)
1
6
RINGWALD
Emilie
3
22
RINGWALD
Izidor
Shared grave (Ringwald
& Tauspiger)
3
22
RINGWALD
Josana
Shared grave (Ringwald
& Tauspiger)
2
16
RIPPER
Jakob
2
11
RIPPER
Katharina
Shared grave (Katharina
& Moritz)
2
11
RIPPER
Moritz
Shared grave (Katharina
& Moritz)
4
23
ROBINEONOVA
Evelina
Shared grave (Gross &
Robineonova)
1
3
ROBINSOHN
Mor
1
18
ROBINSOHN
Schlosme
1
3
ROBINSOHN
Zsigmond
4
20
RODANOVA
(unreadable)
Shared grave (Bratmann,
Hollander, Rodanova)
3
12
RODINOV
S
Shared grave (Artur Fried
& S Rodinov)
3
27
ROKAC
Alexander
3
32
ROKAC
Max
3
2
ROMAN
Adela
3
2
ROMAN
Martin
1
25
ROSENFELD
David
2
21
ROSENFELD
Ignatz
Shared grave (Ignatz
& Julie)
1
25
ROSENFELD
Jakob
Shared grave (Jakob &
Rosa)
2
21
ROSENFELD
Julie
Shared grave (Ignatz
& Julie)
1
24
ROSENFELD
Mindel
1
25
ROSENFELD
Rosa
Shared grave (Jakob &
Rosa)
1
2
ROSENTHAL
David Bernh
1
20
ROSENTHAL
Katherine
1
22
ROSENZWEIG
Feierl
1
19
back
ROSENZWEIG
Hani
4
20
ROSENZWEIG
Heinrich
Shared grave (Heinrich
Rosenzweig & Sanka Ratzova)
2
9
ROSENZWEIG
Rosa
2
7
ROSENZWEIG
Salam
1
21
ROSENZWEIG
Schmul
1
8
ROSENZWEIG
Wilhelm
4
33
ROTH
(not given)
4
33
ROTH
(not given)
2
16
ROTH
Arthur
4
15
ROTH
Dr. Frant.
Doctor
2
16
ROTH
Heinrich
3
25
ROTH
Helena
4
28
ROTH
Ing Karl
4
9
ROTH
Jakob
2
18
ROTH
Margit
3
24
ROTH
Rene
Shared grave (Roth &
Golya)
1
11
ROTH
Simon
4
13
ROTHOVA
Hermina
1
5
ROTHSTEIN
Maricka
4
6
ROVNA
Piri
4
24
RUMUTANT
E
Above first grave
3
31
RUSENZMEIR
Ernestina
4
25
RUSNAK
Ernestina
Shared grave (Rusnak
& Ungar)
Block
Row
Number
Surname
Given Name
Notes
3
29
SACHER
Roza
3
16
SALGO
(not given)
3
16
SALGO
(not given)
3
16
SALGO
(not given)
1
6B
SALZBERGER
Bernad
3
32
SALZBERGER
Ernestina
3
27
SALZBERGER
Jozef
1
3
SALZBERGER
Tini
4
26
SAMEK
Karol
2
4
SANDMANN
Saul
2
6
SARADINOVA
(not given)
3
27
SAUER
Jolan
1
2
SCHACHTER
Adolf
1
5
SCHACHTER
Julia
Shared grave (Julia &
Mark)
1
5
SCHACHTER
Mark
Shared grave (Julia &
Mark)
2
5
SCHACHTER
Moritz
1
21
SCHALER
Leontine
4
15
SCHARF
Karol
3
19
SCHARF
Mrs. Karol
4
3
R 6
SCHEER
(not given)
Shared grave (Jakob,
Rudolf, #6)
4
33
SCHEER
(not given)
4
24
SCHEER
Amalia
4
3
SCHEER
Jakob
Shared grave (Jakob,
Rudolf, #6)
2
10
SCHEER
Oskar
4
3
SCHEER
Rudolf
Shared grave (Jakob,
Rudolf, #6)
1
KB
SCHEINBERGER
Olinka
4
28
SCHINDEL
Augusta
1
6B
SCHIPF
Adolf
4
7
SCHLESINGER
Bartolomej
4
7
SCHLESINGER
Blanka
4
14
SCHLESINGER
Dr. Albert
Doctor
3
20
SCHLESINGER
Dr. Emil
Doctor. Shared grave (Dr.
Emil & K?ol)
4
19
SCHLESINGER
Eduard
3
30
SCHLESINGER
Elsa
3
20
SCHLESINGER
Filetta
Wife of Dr. Emil
3
31
SCHLESINGER
Hermann
2
3
SCHLESINGER
Hermine
1
18
front
SCHLESINGER
Joachin
Shared grave (Rosa &
Joachin)
3
30
SCHLESINGER
Jozef
Shared grave (Donsch
& Schlesinger)
3
20
SCHLESINGER
K?ol
Shared grave (Dr. Emil
& K?ol)
3
16
SCHLESINGER
Kalman
3
30
SCHLESINGER
Nalta
Shared grave (Donsch
& Schlesinger)
3
27
SCHLESINGER
Regina
1
18
front
SCHLESINGER
Rosa
Shared grave (Rosa &
Joachin)
1
21
SCHLESINGER
Rosa
4
28
SCHLESINGER
Rozaria
4
6
SCHLESINGER
Samuel
4
26
SCHLESINGER
Simon
4
14
SCHLESINGEROVA
Marcela
3
15
SCHNELER
(not given)
Shared grave (Schneler
& Slansky)
1
22
SCHNIRER
Adolf
1
7
front
SCHNIRER
Arpad
1
7
front
SCHNIRER
Edith
1
18
SCHNIRER
Gisella
1
22
SCHNIRER
Gitel
2
16
SCHNIRER
Maria
3
22
SCHNURER
David
3
32
SCHONFELD
(not given)
4
29
SCHRAMM
Anna
4
30
SCHRAMM
Rosa
1
3
SCHRAN
Leopold
2
13
SCHULHOF
Lajos
4
8
SCHULZ
Anton
Shared grave (Moritz
Szanto, Anton & Margita Schulz)
4
8
R 26
SCHULZ
Margita
Shared grave (Moritz
Szanto, Anton & Margita Schulz)
1
20
SCHUSDEK
Fani
1
8
SCHUSDEK
Jakab
Jakob?
1
25
SCHUSDEK
Jotesl
4
23
SCHUSDEK
Katarina
1
12
SCHWARZ
Eduard
4
28
SCHWARZ
Milan
4
20
SCHWARZ
Moric
Shared grave (Moric &
wife)
3
28
SCHWARZ
Mrs. Hermann
4
4
SCHWARZ
Mrs. Jozef
Shared grave (Mrs. Jozef
Schwarz, Elenir & Eta Mares)
4
20
SCHWARZ
Mrs. Moric
Shared grave (Moric &
wife)
2
19
SCHWARZ
Pessi
2
6
SCHWARZ
Philip
3
18
SEBES
Arnost
1
19
front
SEIDNER
Scholem
4
11
SENSEL
Alexander
4
11
SENSELOVA
Nada
4
25
SILBERBERGER
Helena
3
1
SIMKO
Ignac
Shared grave (Ignac &
Ilona)
3
1
SIMKO
Ilona
Shared grave (Ignac &
Ilona)
3
15
SIMKOVA
Irena
4
15
SIMON
Mrs. Simon
4
15
SIMON
Simon
2
8
SINGER
Betti
2
17
SINGER
Hugo
4
18
SINGER
Jozefina
Shared grave (Pullitzer
& Singer)
4
27
SINGER
Jozefina
3
12
SLABINSKA
Zlatica
3
15
SLANSKY
Vojtech
Shared grave (Schneler
& Slansky)
3
8
SOLAR
Marcel
Shared grave (Solar &
Bribramova)
3
28
SPACIER
Moric
1
25
SPANYOL
Anna
4
9
R 28
SPANYOL
Dr. Hugo
Doctor
2
17
SPANYOL
Gabriel
Shared grave (Rosalia
& Gabriel)
1
25
SPANYOL
Josef
2
17
SPANYOL
Rosalia
Shared grave (Rosalia
& Gabriel)
4
30
SPAZIER
Netti
2
6
SPECKAUER
Leor
4
24
SPIEGEL
Dr. Leopold
Doctor
1
5
SPIERER
Armin
4
1
SPIERER
Dr. Ignaz
Doctor
1
4
SPIERER
Maria
1
20
SPIERER
Wilhelm
4
18
SPIRA
Katharina
Shared grave (Katharina
& Moric)
4
18
SPIRA
Moric
Shared grave (Katharina
& Moric)
1
9
SPIRER
Berthold
2
19
SPITZ
Berta
4
28
SPITZ
David
1
4
SPITZ
Julie
2
16
SPITZ
Lipot
2
20
SPITZ
Nathan
2
11
SPITZER
Adolf
Shared grave (Adolf &
Marie)
2
8
SPITZER
Anna
Shared grave (Max &
Anna)
2
12
SPITZER
Armin
Shared grave (Armin &
Katharina)
4
21
SPITZER
Dr. Arpad
Doctor
2
13
SPITZER
Fanny
2
16
SPITZER
Ignatz
4
29
SPITZER
Jozef
2
12
SPITZER
Katharina
Shared grave (Armin &
Katharina)
3
26
SPITZER
Leopold
2
11
SPITZER
Marie
Shared grave (Adolf &
Marie)
2
8
SPITZER
Max
Shared grave (Max &
Anna)
3
23
SPITZER
Moric
3
26
SPITZER
Mrs. Ludovit
4
17
SPITZER
Mrs. Philip
Shared grave (Philip
& wife)
4
17
SPITZER
Philip
Shared grave (Philip
& wife)
4
15
SPITZKOPF
David
4
20
SPITZKOPF
Rosalia
4
28
SPRONCZ
Bertha
4
11
SRAMM
Alex
Shared grave (Alex,
Cecilia, Magda)
4
11
SRAMM
Cecilia
Shared grave (Alex,
Cecilia, Magda)
4
11
SRAMM
Leopold
4
11
SRAMM
Magda
Shared grave (Alex,
Cecilia, Magda)
4
11
SRAMMOVA
Anna
Shared grave (Srammova
& Kolegarova)
4
23
STEIF
Mindel
4
21
STEIN
Cecilie
3
10
STEIN
David
Shared grave (David &
Irina)
3
11
STEIN
Elza
Shared grave (Viliam,
Elza, Lizelot)
1
13
STEIN
Ilona
3
19
STEIN
Ing. Julius
3
10
STEIN
Irena
Shared grave (David &
Irina)
3
14
STEIN
Julius
3
11
STEIN
Lizelot
Shared grave (Viliam,
Elza, Lizelot)
1
13
STEIN
Rosa
3
32
STEIN
Roza
3
11
STEIN
Viliam
Shared grave (Viliam,
Elza, Lizelot)
3
24
STEINBERGER
Arnost
1
14
STEINER
Abe
2
2
STEINER
Adolf
1
4
STEINER
Adolf
2
8
STEINER
Albert
3
14
STEINER
Gejza
Shared grave (Gejza &
Pavel)
1
14
STEINER
Jakob
2
3
STEINER
Josef
Shared grave (Josef &
Marie)
3
8
STEINER
Karol
2
3
STEINER
Marie
Shared grave (Josef &
Marie)
3
17
STEINER
Moric
3
14
STEINER
Pavel
Shared grave (Gejza &
Pavel)
2
4
STEINER
Sandor
1
4
STEINER
Sara
4
9
STEINER
Simon
1
8
STEINER
Terez
3
17
STEINER
Terezia
2
18
STEINER
Therese
Shared grave (Klauber
& Steiner)
3
27
STEINHAUER
Edzsi
Wife of Karol
4
32
STERK
Erika
2
7
STERK
Rosa
1
4
STERMAN
Regi
3
18
STERN
Armin
2
21
R 98
STERN
Dr. Rudolf
Doctor
2
19
STERN
Elzsebet
Shared grave (Elzsebet
& Piroska)
3
12
STERN
Pavol
1
3
STERN
Philip
Shared grave (Philip
& Sali)
2
19
STERN
Piroska
Shared grave (Elzsebet
& Piroska)
1
3
STERN
Sali
Shared grave (Philip
& Sali)
3
18
R
STERNOVA
Regina
4
3
STIGLITZ
Nathan
1
20
STLINER
Salomon
4
17
STOSSEL
Alexander
2
7
STOSSEL
Mrs.
1
13
back
STRASSER
Gyurika
3
3
STRAUSOVA
Vilma
3
9
STRAUSS
Armin
Shared grave (Armin &
Edith)
3
9
STRAUSS
Edith
Shared grave (Armin &
Edith)
1
20
STRELINGER
Ignatz
2
18
STRELINGER
Joseffa
4
30
STRELINGER
Wilhelm
3
15
SUCHY
Artur
4
16
SUSS
Salamon
3
22
SUSUTZOVA
Jozefina
(surname unreadable)
Shared grave (Polacek & Susutzova)
1
2
SVARC
Jakub
4
8
SZANTO
Moritz
Shared grave (Moritz
Szanto, Anton & Margita Schulz)
3
28
SZASZ
Dr. Alex
Doctor
1
13
SZEKELY
Laczi
4
2 & 3
SZEL
(not given)
Very large plot
4
28
SZENDROVIC
Aladar
3
26
SZIKLA
Mrs. Samuel
3
26
SZIKLA
Samuel
Block
Row
Number
Surname
Given Name
Notes
4
30
TAUB
Izrael
2
20
TAUB
Leon
3
20
TAUSEK
Adolf
3
23
TAUSEK
Juraj
3
25
TAUSIK
Erna
1
24
TAUSING
Betti
4
15
TAUSINGER
Maria
Mrs.
4
15
TAUSINGER
Moric
4
22
TAUSK
Hermine
4
25
TAUSK
Roza
3
22
TAUSPIGER
Armin
Shared grave (Ringwald
& Tauspiger)
2
8
TAUSZEK
Ahron
Shared grave (Julie &
Ahron)
1
1
TAUSZEK
Gizella
2
8
TAUSZEK
Julie
Shared grave (Julie &
Ahron)
2
2
TAUSZK
Josef
3
32
TELEK
Kati
4
14
TELEMANN
Izidor-Geza
1
19
back
TELEMANN
Josefine
4
14
TELEMANNOVA
Amalia-Margita
2
11
TELLEMAN
Paul
2
9
TELLEMANN
Betti
Shared grave (Samuel
& Betti)
1
19
back
TELLEMANN
Regina
2
9
TELLEMANN
Samuel
Shared grave (Samuel
& Betti)
1
1
TEMPELMANN
Day
2
18
TIEFENBRUNN
Moritz
4
24
TOMASCHOFF
Johanna
2
2
TOMASCHOFF
Rosa
3
23
TOMASHOFF
Dr. Max
Doctor
4
33
TROSTLER
(not given)
1
19
TROSTLER
Arnold
1
6A
TROSTLER
Eduard
1
5
TROSTLER
Herman
2
13
TROSTLER
Imre
3
20
TROSTLER
Juraj
Shared grave (Kolman
& Juraj)
3
20
TROSTLER
Kolman
Shared grave (Kolman
& Juraj)
2
13
TROSTLER
Ninka
1
6A
TROSTLER
Roza
1
16-17
TROSTLER
Sidonie
3
20
R
TROSTLEROVA
Mirzna(?)
1
KB
TROSZTLER
Bela
1
7
TROSZTLER
Regina
4
13
TURCAN
Alexander
4
13
TURCANOVA
Regina
3
12
UNGAR
Anna
Shared grave (Dezider
& Anna)
3
12
UNGAR
Dezider
Shared grave (Dezider
& Anna)
4
25
UNGAR
Margita
Shared grave (Rusnak
& Ungar)
3
21
R 68
UNGAROVA
Zlanca
2
18
URBACH
Armin
Shared grave (Armin &
Fanny)
2
18
URBACH
Fanny
Shared grave (Armin &
Fanny)
Block
Row
Number
Surname
Given Name
Notes
3
21
VALDNEROVA
Stefania
3
2
VALENT
Tibor
3
2
VALENTOVA
Liza
3
11
VARADIOVA
Helena
4
7
VAVRIN
Ing. Zigo
Shared grave (Vavrin
& Wertheimer)
4
6
VAVRINOVA
Julia
3
12
VENETIANER
(not given)
3
11
VENETIANER
Ivan
3
12
VENETIANER
Ladislav
3
11
VENETIANER
Martin
3
2
VERNA
Blza
3
16
VERNER
Helena
3
2
VERNY
Ludovit
4
8
R
VIDA
Oto
4
8
R
VIDOVA
Blanka
4
13
VINDHOLZ
Pavel
4
13
VINDHOLZOVA
Harsita
4
1
VOGEL
(not given)
4
25
VOGEL
Etel
2
7
VOGEL
Hermine
3
32
VOGEL
Matias
1
10
VORZIMMER
Moses
3
4
VOZAK
ML Dr. Alexander
Doctor
3
4
VOZAKOVA
Lea
4
11
VRCHOVINA
Ladislav
4
11
VRCHOVINOVA
Sarlota
2
16
WALDAFFEL
Janos
1
23
WALDAFPEL
Regina
1
14
WALTER
Bernhard
3
26
WASSERVOGEL
Ing. Richard
4
19
R 44
WEIDER
(not given)
Shared grave (Julius
& unknown)
4
17
WEIDER
Alexander
Shared grave (Weider
& Frankl & ?Stien)
2
14
WEIDER
Armin
1
15
WEIDER
Fanny
1
15
WEIDER
Jentl
1
20
WEIDER
Josef
4
19
WEIDER
Julius
Shared grave (Julius
& unknown)
2
14
WEIDER
Karolin
4
33
WEIL
(not given)
1
19
WEIL
Adolf
2
5
WEIL
Alex.
3
14
WEIL
Alica
Shared grave (Dr. Artur
& Alica)
1
20
WEIL
David
3
14
WEIL
Dr. Artur
Doctor. Shared grave (Dr.
Artur & Alica)
4
17
WEIL
Dr. Hugo
Doctor
4
29
WEIL
Franz
2
3
WEIL
Heinrich
1
25
WEIL
Hermann
2
20
WEIL
Hirson Nattan
2
20
WEIL
Jeanette
4
16
WEIL
Jolan
1
6A
WEIL
Josef
2
15
WEIL
Josefine
4
17
WEIL
Karl
1
5
WEIL
Karolin
1
7
front
WEIL
Laszlo
4
15
WEIL
Maria
Shared grave (Maria Weil,
Oskar Zuancia)
1
24
WEIL
Mendel
3
26
WEIL
Samuel
3
29
WEIL
Wilhelm
2
17
WEILL
Jozsa
Shared grave (Jozsa &
Netti)
2
17
WEILL
Netti
Shared grave (Jozsa &
Netti)
4
27
WEINBERGER
Rosalia
3
11
WEIS
Anna
3
15
WEISENSTEIN
David
3
15
WEISENSTEIN
Jozefina
4
32
WEISS
(not given)
3
25
WEISS
Eugen
Shared grave (Eugen &
Karol)
2
19
WEISS
Felix
3
25
WEISS
Helena
4
25
WEISS
Julia
3
25
R 61
WEISS
Karol
Shared grave (Eugen &
Karol)
4
18
WEISS
Ludwig
4
25
WEISS
Regina
3
19
WEISS
Zigmund
3
30
WEISSOVA
Mrs.
2
4
WEISZ
Abraham
3
14
WEISZ
Aladar
1
2
WEISZ
Fani
2
19
WEISZ
Fanni
2
10
WEISZ
Lajos
4
20
WELTHEIM
Anna
4
20
WELTHEIM
Ignatz
3
17
WELVARTS
Eugen
3
24
WELWART
Frant
1
23
WERNER
(not given)
4
12
WERNER
Alexander
1
7
front
WERNER
Josefine
3
14
WERNEROVA
Anna
4
7
WERTHEIMER
(not given)
Shared grave (Vavrin
& Wertheimer)
4
7
WERTHEIMER
Anna
2
5
WERTHEIMER
Geza
4
27
WERTHEIMER
Jozefina
2
19
WERTHEIMER
Lipot
4
30
WIENER
Fanny
1
25
WIENER
Felix
4
1
WIENER
Jakob
Shared grave (Jakob &
wife)
4
1
R 3
WIENER
Jarves
4
2
R 4
WIENER
Koloman
1
25
WIENER
Regi
3
25
WIENER
Viliam
4
1
WIENEROVA
Mrs. Jakob
Shared grave (Jakob &
wife)
3
25
R
WIENEROVA
Netty
2
5
WILHELM
(not given)
2
3
WILHELM
Markus
4
10
WILLMANN
Dr. Maxmillan
Doctor
1
6A
WIMMER
Albert
4
9
WITTENBERG
Anna
4
9
WITTENBERG
Samuel
1
22
WITTMAN
Adele
1
22
WITTMAN
Felix
1
22
WITTMAN
Resi
2
14
WITTMANN
Armin
2
11
WITTMANN
Berta
2
11
WITTMANN
David
2
10
WITTMANN
Margit
4
25
WOHLMUT
Jakub
4
29
WOLF
Bertha
4
24
WOLF
Paula
1
6A
ZACHER
Fulop
4
32
ZEICH
Minka
4
15
ZEISLER
Mrs. Ignac
2
13
ZEISLER
Regina
4
8
R
ZELINKA
Armin
4
8
R
ZELINKA
Irma
3
22
ZELINKA
Jozef
3
25
ZIMLICH
Gizela
3
20
ZLATTNER
Emilia
Wife of Samuel
3
24
ZLATTNER
Filipina
2
14
ZLATTNER
Ignatz
2
6
ZLATTNER
Jakob
2
14
ZLATTNER
Mally
3
25
ZLATTNER
Mrs. Jakub
2
2
ZLATTNER
Samuel
4
27
ZLATTNER
Siegfried
4
31
ZLATTNER
Viera
4
15
ZUANCIA
Oskar
Surname may be Weil.
Shared grave (Maria Weil, Oskar Zuancia)
2
6
ZUG
Adolf
Shared grave (Josefine
& Adolf)
2
9
ZUG
Geza
3
22
ZUG
Irma
Wife of Jakub
2
6
ZUG
Josefine
Shared grave (Josefine
& Adolf)
1
6B
ZUG
Rosa
2
8
ZWEIG
Fanny
2
8
ZWEIG
Filip
1
21
ZWEIGENTAAL
Charlotte
1
5
ZWEIGENTHAL
Fanny
1
22
ZWEIGENTHAL
Ignaz