We belong to a Shabbus potluck group that meets every month or two.  Yesterday, it was at our home.  Although Miriam (and I) can't have gluten, traces aren't an issue.  Unfortunately, it's not that way with egg.  Even a little crumb can give her symptoms.
Challah is a braided egg bread that plays an important role in the weekly Shabbat prayers.  As you pray, you touch the bread, or touch someone touching it.  Though of course I don't have any or allow Miriam to eat it, that isn't enough when it's happening in my house.  We can't leave the crumbs and contaminated surfaces behind when people go home.  And cleaning well often isn't 100%.
So I decided to make challah.  Or at least a bread-like substance that was challah-like.  Technically, challah should contain chametz (one of the 5 grains, also meaningful for Passover), but fortunately no one minded that it didn't.
I'm not much of a baker (i.e., I stink) so I just bought a mix.  The bread a friend made from Pamela's Amazing Wheat-Free mix was so good, I got that one.
Pamela's Amazing Wheat-Free Bread Mix
INGREDIENTS: Sorghum Flour, Tapioca Flour, Sweet Rice Flour, Brown Rice Flour, Organic Natural Evaporated Cane Sugar, Chicory Root, White Rice Flour, Millet Flour, Honey and Molasses; Rice Bran, Sea Salt, Xanthan Gum, Yeast Packet.
1 slice of bread (1/16th of loaf) has 25 usable grams of carbs (29 total minus 4 fiber).
As it happens, they even have a recipe for turning the mix into challah on their website.
We used the egg-free alternative directions but super-concentrated it.  So for 3 eggs, I used 1/2 cup of water and 4 tablespoons flaxmeal.  We also made it dairy-free
Recipe:
1 bag Pamela's Wheat-Free Bread Mix
Equivalent of 3 eggs
1/4 cup palm shortening, melted
1/2 cup soy milk (use anything)
1/4 cup sugar
1/2 cup warm water
1 yeast packet (enclosed)
The recipe calls for a stand mixer, which we don't have.  It recommends a whisk attachment, which we do have on our stick blender.  But that made the too-dry dough fly all over.  Even adding some water didn't help.  So Michael mixed it by hand with a large whisk then kneaded it with his hands.
Now the mixture was too sticky, so I added some brown rice flour as Michael kneaded.  And it turned out glossy and smooth and really nice.  It was so easy to handle I just braided it by hand instead of the plastic bag piping business the website recommends.
I think I could have easily done a true braid, but I started easy  by just making two long rolls and twisting them then sealing the ends.  I did this on a floured (rice) cutting board then moved it (with a dough scraper) to a greased baking pan.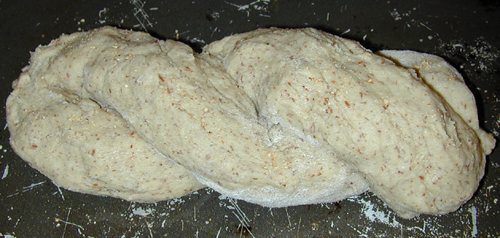 I wanted to put sesame seeds on the outside, but didn't have any.  So I did a light sprinkling of some ground sesame salt we had.  I didn't do anything in place of the egg wash for the outside.
I put this in the oven, turned it on to 150*F for a minute, then turned it off (it was a cool day), and let it rise for a little over an hour.  Then we turned the oven on to 350*F and let it bake for one hour.  The bottom got a bit over-brown, almost black, but was still edible, and the crust was strong and thick.  The insides were soft and luscious.  I didn't do a good job sealing one of the ends.  Also the two twists never really melded together and were like separate pieces of bread.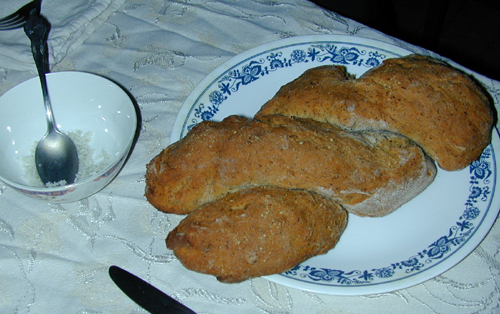 Our guests all loved the bread, though it didn't really taste like challah and all of them were wheat-eaters.  I'd gladly make it every week if it weren't so carby.  It's definitely a winner for special occasions.  I think dividing it into two loaves and baking it for less time would soften the crust while still cooking the insides.