Michael and I were in the terrific produce section of the new branch of Farmer Joe's market in Oakland last week. They had a wide chile selection and we got some that looked like poblanos, but turned out to be spicier. I made a filling for them the other night.
Recipe:
4 stuffing peppers (any kind you like, even bells), core
15 oz very firm tofu
A couple leaves of something firm and green (I used bok choy)
1 bunch fresh basil (leaves)
1/4 cup pine nuts
Salt & pepper to taste
Food process the tofu, greens, basil, and seasoning until fairly smooth. Add the pine nuts and process until chunky.
Stuff the peppers well with a spoon until full. I like to put a toothpick across the top to help keep them closed, though I'm not sure how much good it does. The middle pepper with the extra toothpicks had a bad bottom I had to slice off.
Tip: when you cut off the tops to prep the peppers, save the ring of flesh around the stem. Chop finely and save in fridge or freezer for future stir-fries.
I had leftover filling, so I grabbed a couple of mushrooms, removed the stems, and stuffed them too. Those are large criminis by the way, not small portabellas. What's the difference? about $3/lb.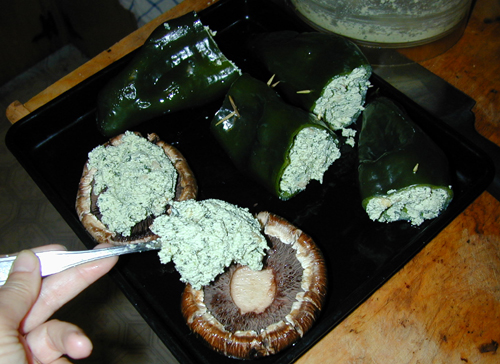 It was the tail end of our recent heat wave, and I didn't want to waste energy either, so I baked these in the toaster oven (larger style convection oven). 350*F for 30 minutes (turning peppers over every 10 minutes) then 10 minutes at 300*F. The details aren't important…just make sure the peppers are soft but not falling apart and don't let them brown too much.
I served it with a quickie salad. Sliced romaine lettuce (fine to cut with a knife if you eat it right away…it makes for a different mouth feel), hemp seeds, and a simple vinaigrette.
Aside from the over-abundance of green, it was a fast and lovely meal.