This recipe comes from Foodlab listmom Monica, who has graciously allowed me to post it here. She made them for our recent Los Angeles Foodlab potluck and I took some pictures.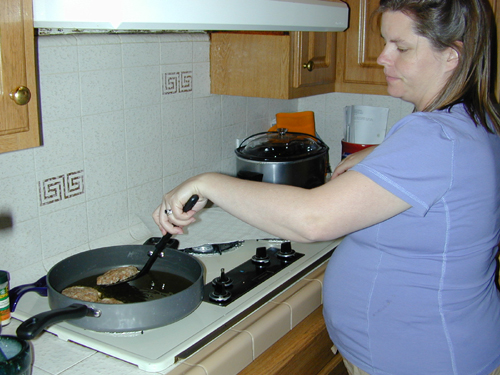 Not only are these cakes delicious, but they're free of eggs, dairy, gluten, soy, corn, and even low in carbs. Alas, they are not kosher (we keep our home kosher but eat shellfish when out), but Monica assures me that salmon or another fish would work well too. I recommend using undercooked fish if possible, so they'll cook up perfectly when fried. Canned or leftover fish should work too.
All the explanations below are Monica's.
Ingredients:
1 lb. crab meat
1 c. almond meal (subbed for bread crumbs)
1 Tbsp. flax meal in 3 Tbsp. hot water (subbed for 1 egg)
Hot sauce (to taste)
3 Tbsp. vegenaise (subbed for mayo)
1 Tbsp. seafood seasoning
1 Tbsp. Worcestershire sauce
1 tsp. dry mustard
2 tsp. lemon juice
2 tsp. prepared mustard
2 Tbsp. chopped parsley
Notes:
– I got the crab meat from Trader Joe's, canned in the refrigerated section. Brand name is Byrd. The recipe is on the back, but I made a couple of substitutions, so I'll recite what I did.
– Subbed out Worcestershire sauce with equivalent amount of a mix of everything I could get of the ingredients of Worcestershire sauce: namely, Thai Fish Sauce, molasses, balsamic vinegar, ground cloves, powdered onion and garlic. (Commercial Worcestershire sauce appears to always have soy in it. When I get ahold of some tamarind extract, I'm going to make a larger batch of my own home brew I think.)
– Vegenaise has soy in it so used the avocado vegenaise recipe posted by Andrew on Foodlab.
Instructions:
Soak the flax meal in the hot water for several minutes. (I dumped the flax meal into one of my Oxo 4-tablespoon angled measures… they're wonderful little doohickeys if you need to hint about stocking stuffers.)
Blend everything but the crab meat and almond meal in a largish mixing bowl.
After it's all mixed up, add the crab meat and mix it together gently (well, I wasn't that gentle, but I like my crab cakes more mixed and less lumpy).
When the crab is mixed into the sauce, add the almond meal and mix until blended.
Form into patties. Chill the patties for a couple of hours for easier handling.
Saute in olive oil, about 5-8 minutes a side should do it (but depends on how crispy you like them).