There are basically two ways to drive between the San Francisco Bay Area and Los Angeles or San Diego: 101 or 5. I took I-5 for years, and it is the fastest route, but it goes through hours of agricultural areas and just isn't safe for me anymore. Add in a 3 year old who doesn't understand the concept of "we'll stop in a couple of hours" and there is just no way.
Several years ago, I started taking 101 instead of 5 when heading to San Diego to clean out my mom's apartment over the course of several months. If you start from the South Bay, it's only an extra half hour or so, because it's an extra shlep to get over to 5. From the North Bay, where I am now, it's more like an extra hour.
Google Maps: Petaluma to Los Angeles

Via 5: 6:20, 413 miles.
Via 101: 7:42, 468 miles.
My experience, via 101: 7 hours each way, not counting stops.
A friend of mine who also has multiple chemical sensitivity (MCS) likes to drive 5 for the quickness factor, but does it at night, when they aren't out working the fields or dropping pesticides by plane (don't be fooled though…the crop irrigation sprinklers are on 24/7, and they put out chemicals too). This year though, even she said it was time to switch to 101. I like 101 better anyway. It's far prettier, with gorgeous views of the ocean, and there are real places to stop, not just highway food and gas stations. Now that I'm doing my travelling with a child, I appreciate the nicer stops too.
I have four stops along the way that are kid-friendly and good for adults too. All are reasonably MCS-safe and good places to picnic, with nontoxic bathrooms. There are plenty more possible stops, but I haven't checked them out.
MCS Notes: From just north of Salinas to a bit south of King City (around an hour's drive), the area is solid agriculture. Big corporate (Dole, etc) farms with huge flat fields that get massive amounts of pesticides. There are some scattered farms north and south of this area as well. I manage more or less by keeping windows shut, A/C or whatever to recirculate, oxygen on via nasal canula , and no talking (breathing air through my mouth). The pesticides/herbicides are so strong they will come into the car (Miriam got fairly ill from them) but these measures will help a lot. Be sure to plan your trip very carefully so that you will not need gas or bathrooms for that hour. Before and after you can find oasis's of clean air.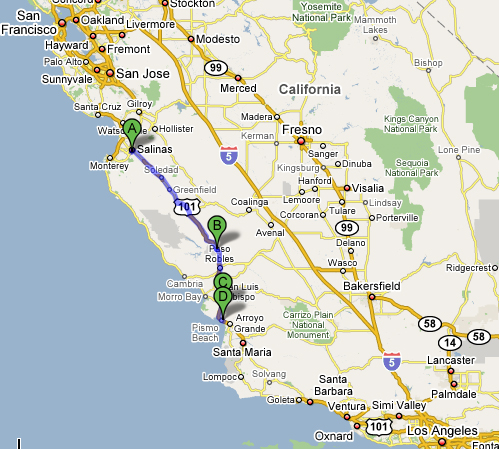 Stop #1 (A) – Toro Regional Park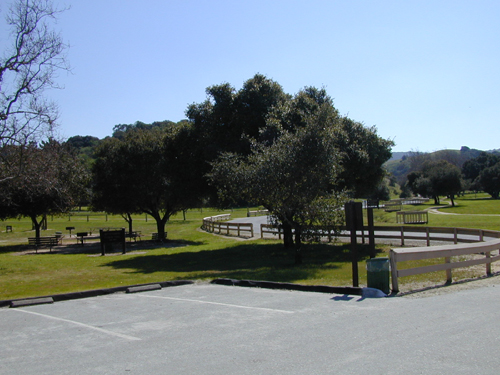 Toro Park – 501 Monterey-Salinas Highway 68, Salinas, CA 93908
Hours and contact info: http://www.co.monterey.ca.us/parks/toro.html

Detailed descriptions & photos: http://www.wildernet.com/pages/area.cfm?areaID=CAMOTO&CU_ID=1

Photos & map: http://www.mtycounty.com/pgs-parks/parks-cnty/toro.html

From the north: Take 101 S to Salinas, then get on to 68 S towards Monterey, and go about 6 miles.

From the south: Take 101 N to Chualar River Road a few miles south of Salinas. The road will curve around to the right and become River Road. Take to highway 68 and turn left, towards Monterey. The park is less than 2 miles down.
Picnic areas, playgrounds, and bathrooms are not far from the entrance. We didn't check out the hiking trails but the park has 4,756 acres to roam around in and 20 miles of trails. We stopped here a year ago and it was a great place for a picnic and to let Miriam play. Since it was a weekday in March, it was practically deserted.
The air quality is not perfect, as it does get some air flow from nearby agriculture. There is nothing directly there but you should keep your windows closed as you approach, especially along River Road. The bathrooms were fine and the playground nearest the entrance (pictured below), with the animals to ride on, was okay. The grass and roads also seemed okay. But some of the other playgrounds had a terrible chemical smell that I couldn't be near. I think it was the bark.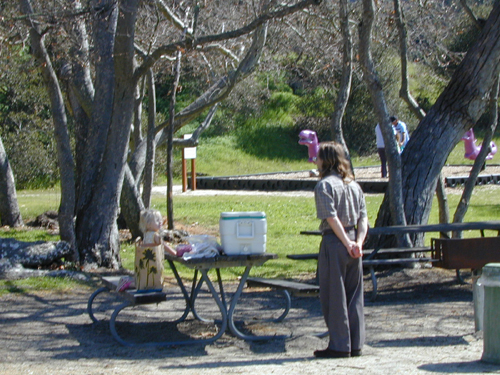 Stop #2 (B) – Camp Roberts Rest Stop
This is actually two stops, one northbound and one southbound. They are a short distance apart and aren't connected. The Camp Roberts area is a semi-wilderness oasis, just south of the pesticide/agriculture nastiness. A few farms are south of it, but they are spotty. So the air in Camp Roberts is pretty decent, though it is close to the freeway. I especially like this stop though because it is halfway between Petaluma and LA.
8.5 miles North of San Miguel. Monterey County. South of King City.
Both rest stops have large grassy areas with picnic tables. There is water and the bathrooms are moderately safe, with some residual cleaning chemical smell. No air fresheners. We stopped at the northbound area in March 2007, and the southbound both in 2007 and March 2008.
Northbound:
http://www.dot.ca.gov/hq/maint/ra/ra32.htm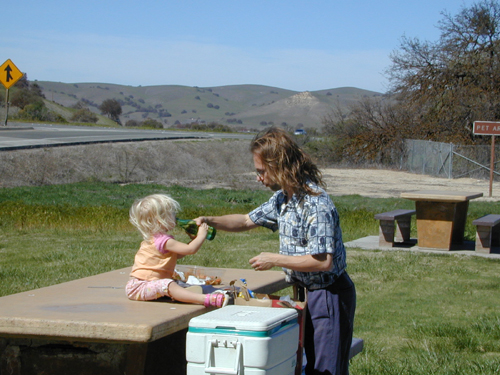 Southbound:
http://www.dot.ca.gov/hq/maint/ra/ra33.htm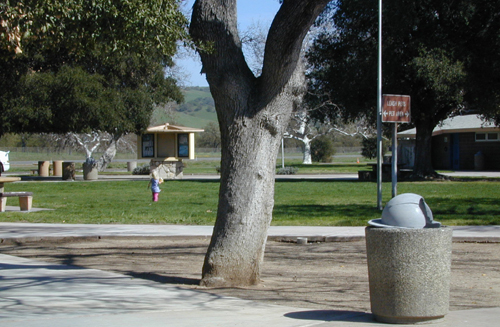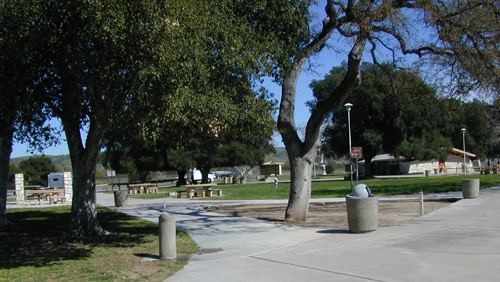 Stop #3 (C) – Mitchell Park, San Luis Obispo
Mitchell Park
1400 Osos St
(corner of Pismo & Santa Rosa)
San Luis Obispo, CA 93401

From the north: exit 101 S at Monterey Street. Turn left at Toro Street. Turn right at Pismo Street. To continue south: head northwest on Osos Street. Turn left at Higuera Street. Turn right on Marsh Street. Take 101 S.

From the south: exit 101 S at Marsh Street (202A). Turn right at Osos Street. To continue north: head northwest on Osos Street. Take 101 N.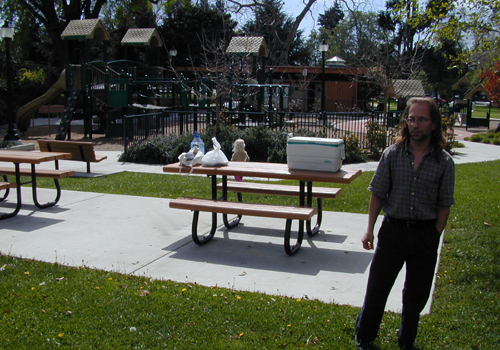 Looking on the map, there are tons of parks, with and without playgrounds, in SLO. Here is a great list of them, geared for parents, with photos: http://www.centralcoastkids.com/parks/san-luis-obispo.cfm.
We drove into SLO because I heard there was a good picnic area on the main downtown street (not sure which street they meant). We didn't find that but we stopped to ask someone to guide us to a playground and she sent us to Mitchell Park, which turned out to be perfect.
There was a nice picnic area, lots of grass to run around on, a large big-kids play structure, a smaller toddler structure, and bathrooms that had no smell of any kind. The overall air quality is pretty decent.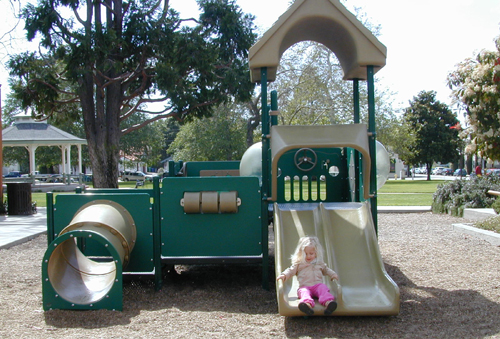 Stop #4 (D) – Shell Beach, Pismo Beach
This is very close to San Luis Obispo, so use one for northbound and the other for southbound. It's fairly easy to find going south, as you pass it and then can take the next exit and double back. But we missed it on the way north. By the time we saw the beach, the exit was right there and the next one was many miles up.

Dinosaur Caves Park
Shell Beach Rd at Cliff Ave
Pismo Beach, CA

From the north: 101 S to Shell Beach Road exit on north end of Pismo Beach. Go about 1.5 miles until you see a playground on a cliff to your right. To continue south: take the on ramp to 101 S that is right at the park (on Price Street).

From the south: 101 N to Shell Beach Road exit. Turn left on CA-1/Mattie Road. Turn right at Price Street.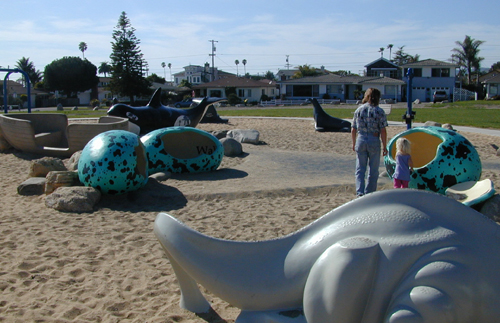 There are many beaches and parks in Pismo Beach but Shell Beach is right off the freeway and completely gorgeous. Here is a list of parks: http://www.centralcoastkids.com/parks/pismo-beach.cfm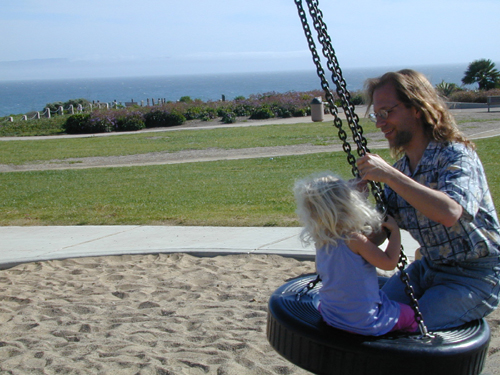 Air quality in this town is stellar. There is nothing bad directly around it and you get clean ocean breezes. The bathrooms at the park were fine, with a slight cleaning product smell, but I didn't need my mask.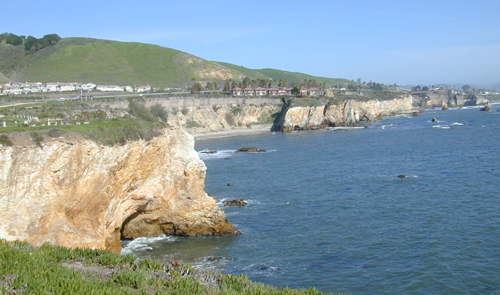 Other resources:
Central Coast Kids has lists of parks and beaches by city, with pictures and descriptions.