I make a lot of my food from scratch, but some things are just too difficult. There is a small subset of irreplaceable products…and when they're gone, I panic.
French Meadow Bakery's gluten-free tortillas are in that category. I eat them about 5 days a week for lunch (as wraps/burritos). They have two: Healthy Hemp and Women's. Both are organic, vegan, lowcarb, and high protein. And they taste good too. The Healthy Hemp are also soy-free.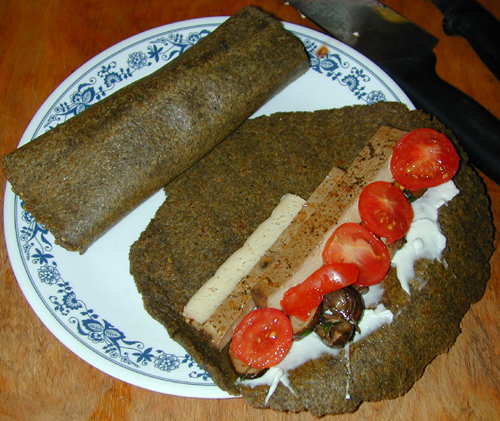 Except that they had two gluten-free tortillas. They are gone.
The problem was quality. They tended to spoil quickly (they shipped them to stores frozen but most stores wouldn't sell them frozen; they'd put them in the fridge), they stuck together, and they'd sometimes fall apart during use (microwaving worked better than toasting or heating on the stove). I didn't have these issues (except for spoilage) with the Women's, just with the Healthy Hemp, but French Meadow told me they got complaints about both.
I emailed them in February, and got this reply:
Subject: Re: What happened to your tortillas!!!?!?!?
Date: Mon, 25 Feb 2008 16:57:00 -0500
From: Dingmann, Emily <edingmann@frenchmeadow.com>

Hello Cyndi,
Thank you very much for your feedback, it truly is something we value here at French Meadow Bakery. I am sorry that these were some of your favorite tortillas, unfortunately they were not a top-seller, there were some quality issues and we are coming out with improved tortillas.

We have discontinued the Woman's Tortilla and Hemp Tortilla but we are currently working on new tortillas:
– Improved Gluten Free Tortilla
– Improved Hemp Tortilla (this will have gluten in it)

These should be out sometime this spring; we are aiming to have them ready at Expo, so hopefully you will have the opportunity to sample our new Gluten Free tortilla.

Please feel free to contact me with any other questions.
Thank you for Supporting French Meadow Bakery,
Emily
Emily Dingmann
Sales Coordinator, French Meadow Bakery
2604 Lyndale Avenue South, Minneapolis, MN 55408
Phone: 612-870-4740 x 17; Fax: 612-870-0907
www.frenchmeadow.com
So I stopped by their booth the other week at Expo West and spoke to them again. The tortillas weren't ready and there were no samples. It sounded like they hadn't worked through the reformulations.Unfortunately, they seemed to have no commitment at all to gluten-free. One woman told me that the old tortillas stuck together so they "had to add some wheat." In the same tone that you might tell someone you added some tapioca starch. I don't think they realize the market they have. The gluten-free community didn't really know about their tortillas, but the people I told thought they were great. Yes, the quality suffered and I'm glad they're fixing it. But adding a bit of wheat means the world to someone who can't have the slightest trace.
I explained to them that they had the only gluten-free tortilla on the market that wasn't filled with carbs. Lowcarb tortillas exist but they use wheat gluten. Corn tortillas are easy enough to find, but not everyone can have corn and they have a lot of starch and no protein (and they're small). There are rice tortillas but they are pure starch and taste horrible too.
I begged them to keep making gluten-free, lowcarb, vegan, organic tortillas. I also explained that, while I can eat soy, a lot of food restricted people can't, and the Healthy Hemp tortillas were the only alternative for a lot of folks.
So what was their response? they proudly trotted out their new gluten-free products. Cookies and brownies. Oh boy. Don't they understand that gluten-free cookies are a dime a dozen but real food is what we have trouble finding? Not that some folks won't appreciate a new source of gluten-free treats, after all, theirs are dairy-free and soy-free too (but contain eggs and aren't organic).
If you share my opinion of the matter, please contact French Meadow Bakery and politely ask them to reformulate their gluten-free tortillas to continue to be vegan, organic, and low in carbs (and soy-free, if that is important to you). Make sure they know there is a gluten-free customer base that loves their products and wants more.
2604 Lyndale Avenue South
Minneapolis, MN 55408
bread@frenchmeadow.com
612-870-4740 or 1-877-No-Yeast
Fax: 612-870-0907