I found these at Expo West earlier this month. This review got moved up higher on the list because they surprised me today with a box of samples in the mail.
I'm not sure what to make of them. They're billed as sports supplements (even the kids version) but what they really are is candy. I don't eat much candy (a couple pieces a year) so it's hard for me to categorize them, but they are like gummy bears or gumdrops. They're quite chewy but I don't know if those others are too.
"Sharkies are fun shaped, chewable source of carbohydrates and electrolytes – your body's preferred source of fuel during activities…Although children can and will consume Sharkies as a 'better for you' candy, none of the sugars in Sharkies are refined and half the product is rice syrup giving it complex carbohydrates for sustained energy."
In other words…sugar. "Fun" is a matter of opinion, but they are cute little sharks. They are definitely chewable. And the carbs, well, each 45 gram package contains a whopping 35 grams of usable carbs (36 total minus 1 gram fiber).
But what are they referring to when they say "electrolytes." Each package has 110 mg of sodium, which isn't enough to replenish salts if you're sweating. And 30 mg of potassium, which is, what? 1% of the daily requirement? No other electrolyte is mentioned (except calcium is at 0% RDA). They say: "The naturally occurring electrolytes in Sharkies come from the potassium in the fruit juice and the sodium in the rice and water."
So I can do without their misleading marketing. They're candy. Let's accept that and move on to the rest of the review.
The good news is they are gluten-free, soy-free, corn-free (except for citric acid, which is usually grown on corn and can be a problem for exceptionally sensitive folks), canola-free, vegan, and certified organic. They also taste pretty decent. They are so-so when you start eating them, but grow on you as you chew (they last about 30 seconds), and the aftertaste is good. I tried the watermelon.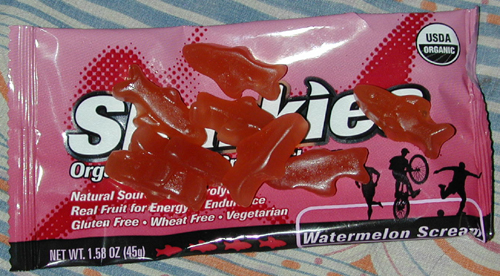 For someone looking for an all-natural candy, free of several major allergens, they're a good find.
The bad allergy news is they are pulling the "natural flavors" bit so it can be hard to know what is in what. They do list the flavor combos on the front of the package though, and I just hope they are accurate. The watermelon doesn't mention oranges and it didn't make Miriam sick, so I'm pretty confident it doesn't have oranges in it. The Fruit Splash has tangerine, so Michael took those away. Citrus Squeeze doesn't say which citrus. I will have to call them.
Sharkies, Inc.
10556 Combie Rd., Suite 6672
Auburn, CA 95602
Toll-Free Phone: 877.666.5377
Fax: 530.268.8010
email: Dwight@sgnllc.com