How do you turn a grain into a vegetable?  With spaghetti squash!  It's lowcarb, it's healthy, and it has a texture unlike any other squash.  Tastes good too.  It's also pretty easy to cook, with a few tips.
Every squash is different.  The size, density, and water content will all change the cooking time.  So test it, don't just go based on the timing.
Start with one or more firm and heavy squashes.  Wash them and poke holes all over with a knife.  About a dozen holes for each squash in the picture.  Don't skip this step!  Whole squashes can explode.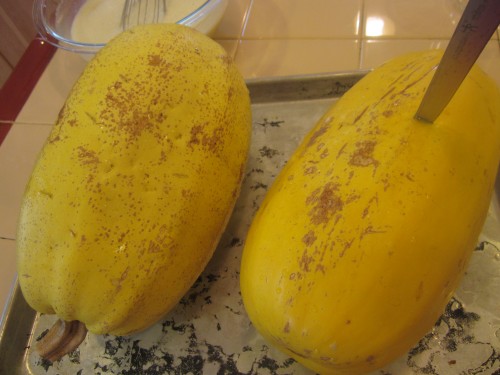 Put into the oven.  A variety of temperatures will work, but I generally use 350*F.   For a good-sized squash, expect total cooking time to be 1-2 hours.  It's done when you can stick a regular fork into the squash from the outside.  If the fork goes in with light pressure, the squash is done.  If the fork slides right in with no resistance, you've overcooked it.  Don't worry, it will still taste good.  Test it every few minutes so you don't miss your window and roll the squash over every half hour or so.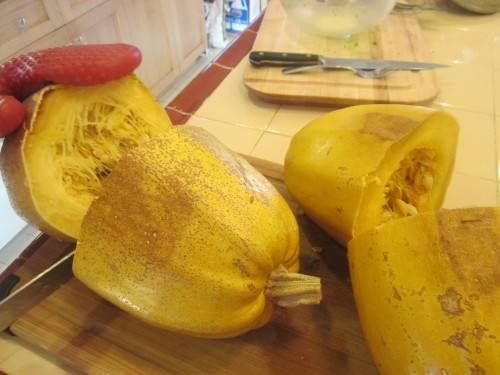 Cut the squash in half the short way and let it cool until you can handle it without pain.  You can also cut it lengthwise but the short way gives you longer strands as they're wrapped around the center.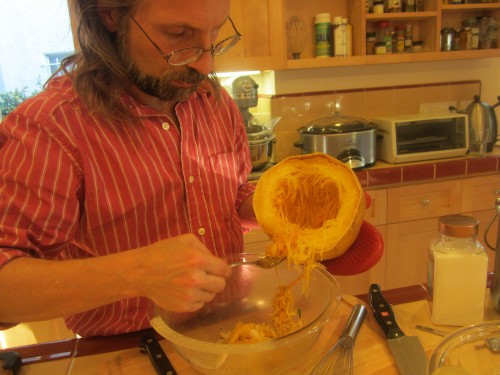 Remove the seeds and the "goo" around the seeds with a spoon or fork and compost.  Next, take a fork and gently tease away the strands from the skin.  Sometimes you'll end up with a squash you didn't time just right.  These came from the farmer's market and we had them on our kitchen counter for a while.  The large one overcooked a tad (hence the shorter strands) and the small one was still undercooked when we pulled it out (fork didn't work on it) and we had to put it back in the oven.  Both squashes had much thicker and harder skin than I've ever seen on a spaghetti squash before so it was hard to judge doneness.  Sometimes that's just the luck of the draw.  Occasionally you might even get one that went bad before it was cooked.  You can't do anything about that, but everything else you can salvage if you know what you're looking for.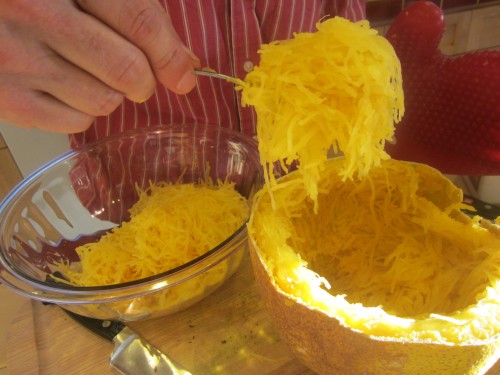 You'll end up with a big bowl of goodness.  Mix in some browned garlic in olive oil (or butter if you prefer) for a side dish.  Or make it the star of the plate with a topping of sauteed onions and pesto.   Leftovers are surprisingly good in omelets.  Overcooked spaghetti squash makes lovely latkes.