Thanksgivukah, Thanksgivukah
Come light the cranorah…
Friends, family, and a once in a lifetime holiday.  And how else to celebrate the first, and probably only, mashup of Thanksgiving and Chanukah but with sweet potato latkes and cranberry applesauce?
I'm no stranger to vegan latkes (due to my dairy allergy and my daughter's egg allergy) and I usually make them lowcarb too.  They're yummy, but I wanted something different.  So I searched the web and came up with a recipe from Sticky Fingers Sweets & Eats vegan bakery in Washington DC.  Healthy Hanukkah Recipe: Vegan Sweet Potato Latkes.
The "gosh it's healthy" angle is a bit annoying (and not the fault of the chefs) but then all my food is healthy by default.  And the recipe itself is a bit weird…cooked rice, really?  Since they're served by a restaurant, I figured they'd be well tested, but the clincher for me was the mouthwatering photos.
Bottom line?  These latkes are fan-freaking-tastic.  I made a double recipe (61 latkes) and they were inhaled by the 17 people at 2013's Environmental Health Network's Thanksgiving dinner.  Only a few people there cared about what they were missing (gluten, dairy, egg) but everyone raved about them.  They held together amazingly well and were good even when not piping hot.
I mostly followed the recipe.  My changes, in addition to doubling it, were I used all sweet potatoes (no white) (3 lbs garnet and 1 lb purple), used 1 cup dry arborio rice (one of the options), cooked.  I used brown rice flour for the flour and tapioca starch instead of cornstarch, left out the pepper, and oven fried in sunflower oil at 450*F.
Here's my version of how the recipe went down.  Giving the doubled one (feel free to halve it for smaller groups, or just freeze any leftovers…there won't be leftovers).
Ingredients:
4 pounds sweet potatoes
2 pounds yellow onion
1/2 cup scallions, finely chopped
1 cup dry sticky or arborio rice, cooked in 1 1/2 cups water
6 tablespoons ground flaxseeds
1 1/2 cups brown rice flour
2 tablespoons starch (I used tapioca)
2 teaspoons baking powder
2 teaspoons salt
Oil for frying (I used sunflower; traditional would be olive)
Notes: I wanted to make a low-amine/low-histamine version.  The only ingredient I'd need to change to make that 100% so is the flax.  Chia seed works and I didn't do it only because the flax was already ground and the chia wasn't.  If this isn't your food issue, go ahead and add back the black pepper (1 tsp for this recipe) and use the oil of your choice.
The original recipe calls for "flour" and doesn't specify.  I think most any flour would have worked.  It also calls for cornstarch, which is pretty much interchangeable with tapioca here.  If you need to avoid corn entirely, just swap out the baking powder for a corn-free, or homemade, one.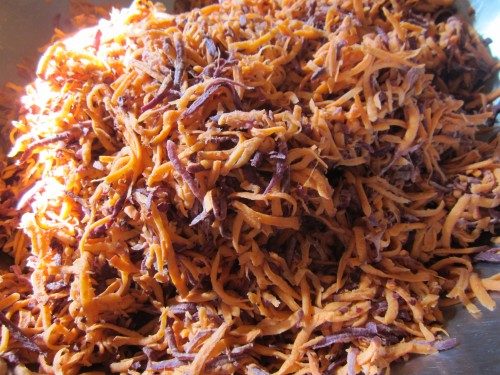 Scrub the sweet potatoes, cut off ends and any bad spots, and run through the grater attachment on a food processor (or grate by hand if you prefer).  No need to peel them.  I used 3/4 garnet sweet potatoes and 1/4 purple ones that the Whole Foods clerk told me is popular in Guam.  Salt liberally (several tablespoons), mix, and let sit for several hours or overnight.
Before you wash the processor, run your peeled and chunked onions through it as well.  If you're doing this the day before, put the grated onions in the fridge.  After they've sat a while, give the sweet potatoes a good rinse to remove excess salt then grab a handful, squeeze very well, and set in a really large bowl.  Repeat.  Discard the water.
Rinse your dry rice under the tap then drain and put in a pot with fresh water.  Bring to a boil, stir, then simmer on low until the rice is soft.  The amount of time this takes will vary with the size of the rice grains.  20-40 minutes.
Now add the rice, scallions, and onions to the sweet potato bowl.  Measure your flour into a container twice the needed size, add in the other dry ingredients, mix well.  Spread the flour mix over the vegetables and blend.  It looks very dry at this point and we wondered if it was going to work.  Then I saw the original recipe says to mix with your hands.  This was the magic step that brought it all together.  It "activates" the flax and sticky rice to make dough.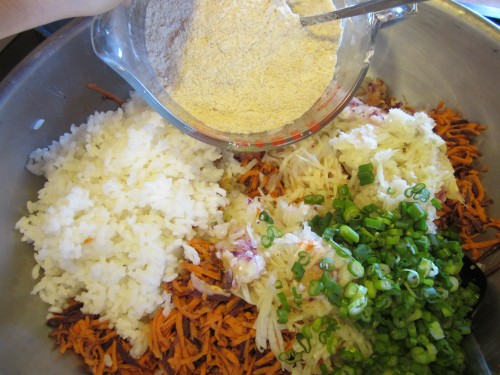 Because I knew I was going to have to reheat the latkes later, I decided to oven fry them instead of pan frying.  And I'm so glad I did.  Yes, it uses less oil but mostly it is a heck of a lot easier and less messy.  The recipe made 5 sheets worth, though I only own 4 (2 cookie sheets and 2 enameled broiling pans).
Knead the dough as you work and roll endless balls, each about the size of a ping pong ball.  I placed them on well-oiled pans (enough oil to move around when you tilt the pan) with plenty of space in-between.  Then smush them down to an inch or less thick.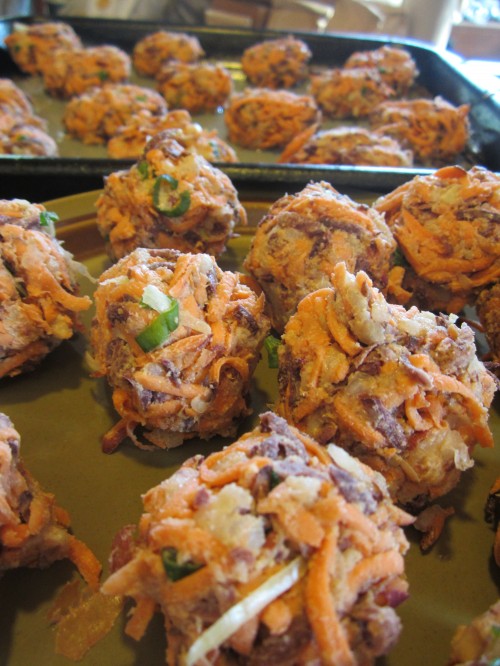 Bake at 450*F (yep, that's hot) until golden brown on the bottom, flip, and keep cooking until both sides are golden.  The insides should still be soft.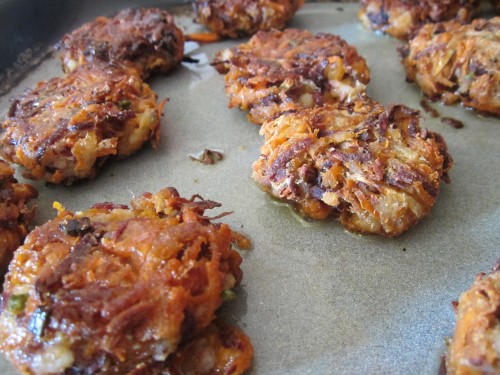 Remove to a paper towel on a pan or plate.  Serve immediately if you can.  Since I was taking them elsewhere, I put them all in a large baking pan, with paper towels between each layer.  I wiped clean the two broiling pans and brought them along.  To reheat, place in a single layer (touching is fine) in a 300*F oven until they are hot.
Delicious with cranberry sauce (mine was tart with plenty of lime zest) or applesauce or both.