Your traditional latkes are grated potato, diced onion, egg, matzoh meal, and seasoning all mixed together and fried in olive oil. But what do you do when all you can eat is fried salt and pepper? Well, alternative latkes have always been part of the tradition: despite what many think, it's not just about potato pancakes. Many vegetables work very well.
I've made lowcarb latkes for several years with good results. Now I've made them without eggs or gluten, due to family allergies. They came out great. But when you are working with different ingredients, you need to follow a few guidelines.
My absolute favorite veggie to use is turnip. Most people don't think much of this idea…until they try them. Turnip latkes have a lovely sharp flavor but they're not spicy like raw turnips can be. Zucchini, radish, and spaghetti squash all make fabulous latkes too. And, of course, you can always use potato.
With potatoes, you can just grate them and then mix in your other ingredients. But with lower-carb vegetables, you must remove some of the water or your finished product won't hold together.
Prepare the vegetables at least an hour ahead of time. Coarsely grate them in a food processor (or by hand if you're a culinary machocist). Don't grind or slice them, they will not come out right. Put in a bowl and salt them well (don't use more salt than you would for taste anyway, but use as much as you can). Toss to get the salt on all parts and let them sit for half an hour at the very least but an hour if possible. Several hours is even better, but there's no need to go beyond that.
Letting them sit allows some of the excess liquid to settle to the bottom. The salt pulls out even more liquid. This is essential for latkes; without this step you end up with a soggy mess. Just before mixing with the other ingredients, taste the veggies and see if there is more salt than you want in the finished latkes. If so, rinse with a bit of fresh water. Take the veggies one handful at a time, squeeze really well, and put the dry veggies in a fresh bowl. Discard the liquid.
Now it's time to mix in the other ingredients.
I don't often eat onions (or garlic or anything in the same family) but radishes make a fine substitute. They can be grated.
Your basic seasoning is salt and pepper. I like cumin with the turnip. You can add anything you like here. Most latkes are fairly simple, but there's no reason why you can't make them spicy or any flavor you wish.
If you eat egg, go ahead and use it. But if you don't, flaxseed makes a nice substitute. Take 1 tablespoon finely ground flax (store in freezer) and put into 1/3 cup of water. Nuke for 1-2 minutes in a much larger container and let sit for a while. This substitutes for one egg and will be the consistency of eggwhite. You can multiply the recipe as desired, just remember it will foam up so use a large container. Or you can cook it on the stove. Or let the flax sit in the water overnight.
The matzoh meal helps to bind the latke but the gluten in it isn't doing anything special. For a lowcarb latke, use soy flour. Rice flour (I've used brown) works very well.
Fry your pancakes in plenty of olive oil. Do not skimp. Chanukah is a holiday of olive oil in particular, oil in general. Traditionally, potato pancakes (made in the Jewish communities of Eastern Europe) were fried in goose fat (or, presumably, chicken fat). They couldn't get olive oil and of course didn't use lard like their non-Jewish neighbors. Substitute other vegetable oils at your own risk. Very few hold up to the high heat of frying. If you use bacon grease or pork fat, I do not want to hear about it.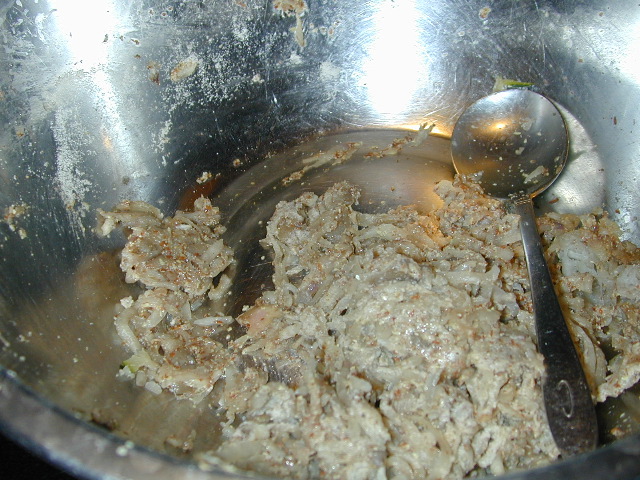 Recipes:
Turnip latkes
5 cups (about 2.5 lbs at market) shredded turnip
3-4 eggs or 3-4 TB flaxseed meal in 1 to 1 1/3 cups water
2 tablespoons flour
1 tablespoon cumin powder
Salt and pepper to taste
Zucchini & Radish Latkes
6 cups shredded zucchini (maybe 5 lbs)
1 bunch radishes, roots shredded
3-4 eggs or 3-4 TB flaxseed meal in 1 to 1 1/3 cups water
2 tablespoons flour
Salt and pepper to taste
After mixing everything together, use a spoon to drop balls of mix (about 1.5″ wide) in to a good amount of hot oil. Smoosh down with spatula. Let them brown on one side then turn, adding more oil as needed. Cook on medium-high heat. Turn more if they are not fully cooked. Don't let them burn but remember that these vegetables need to be cooked more than potatoes or they will taste raw.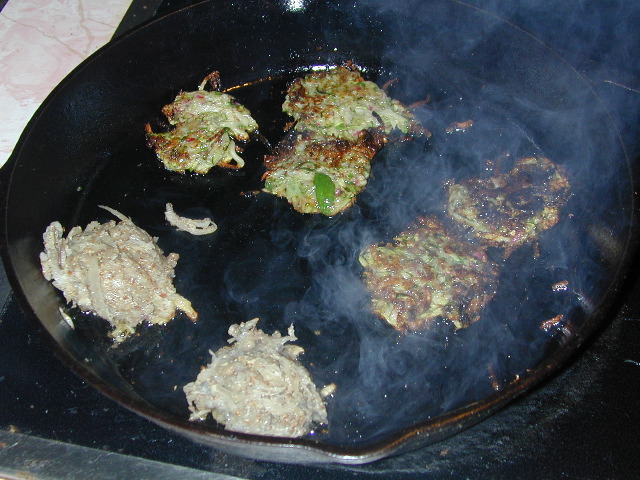 The traditional way to serve Chanukah latkes is with sour cream and/or applesauce. Sour cream (and other dairy) would only be used if the latkes were made without animal fat and were not eaten in the same meal with any meat or meat products (eggs and fish don't count as meat). You can use any topping of your choice, or eat them plain.
An earlier version of this recipe was posted to alt.support.diet.low-carb December, 29, 1998 and to my lowcarb website March, 1, 1999.
Other listings: Dmoz: Cooking: Fruits and Vegetables: Turnips, Nepszabadsag Online & here (Hungarian), eGullet Society, Half the Sins of Mankind (blog), World Culinary Institute, Jewish Search, plus a ton of "link pages" with identical lists.