I was at Whole Foods a couple of weeks ago and they had a tasting and a coupon for Toby's Tofu pate. Regular price was $4 for container that was 16 oz I believe. My daughter loved it and I thought it was decent, so I got some, thinking, ya know, I can make this better and cheaper.
The original variety has eggs in it (from the mayonnaise) but the other flavors use eggless mayonnaise and are vegan. The tofu is organic but the other ingredients are not. There are no preservatives but there are a few ingredients I'd rather not eat, like canola oil, soy protein isolate, and cornstarch. We bought the Classic Lemon Dill.
Trader Joe's has a product called Eggless Egg Salad with similar ingredients and texture.
The basic idea is to grind up tofu then add mayo and seasoning. Other ingredients are there to bind and soak up excess moisture. I figured if I started with my usual tofu, the Wildwood high-protein style (it's extra extra extra firm), I wouldn't need ways of dealing with excess water because there wouldn't be any.
The one ingredient I didn't use but want to is nutritional yeast. It adds a nice flavor to foods, often with a cheesy under-current. But I don't happen to have any in my pantry. I'm not fond of onion, so I left it out, and the other herbs weren't easily available, so I didn't use them.
Recipe:
15 oz tofu (extremely firm)
3 tablespoons apple cider vinegar
1 tablespoon lemon juice
1 teaspoon salt
2 teaspoons dill weed (dried)
1 tsp mustard (I used Annie's Horseradish Mustard, but anything not yellow will do)
1 teaspoon turmeric
3 oz (6 tablespoons) mayonnaise (I used Grapeseed Veganaise) (add up to twice this amount for a creamier consistency)
3 tablespoons water (or as needed to get it to blend well)
Put the tofu into the food processor with a regular blade and run it until it is cut up fine.
Add all the other ingredients and run the food processor until you mix them all together and end up with a creamy, but textured, mush.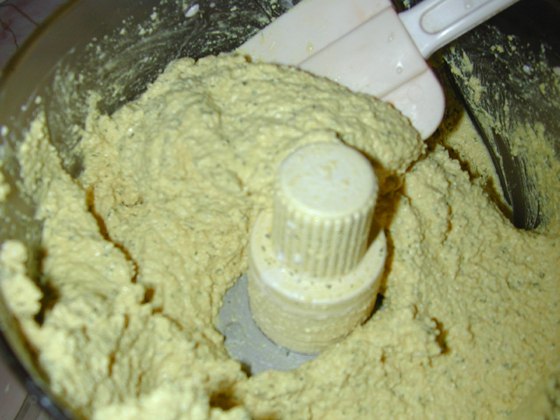 Put in container for serving or storing in the fridge. That is it! About half the price of the packaged product with full control of your ingredients. And it takes about 5 minutes to make (10 if you count washing the the food processor).