Although I adore basil, I usually make my pesto from other herbs, simply due to availability and cost.  My favorite combo is half cilantro and half parsley.  If I don't have cilantro, or I don't have enough of it, I will use spearmint to make up the difference.  All the herbs must be fresh.
Your classic pesto is herbs (usually basil), nuts/seeds (usually pine nuts, which are seeds), garlic, Parmesan or Romano cheese, and olive oil.  Like with any well-known dish, there are always variations, often related to different areas where the dish is made.
Since I can't eat dairy much anymore, and I'm not a fan of garlic, I just leave them out.  I don't even miss them.  I make up the cheese feeling with method and I use chipotle and cumin instead of garlic.
The two tools you can use for your pesto are a blender or a food processor.  The third is the mortar and pestle but, despite owning a nice one, I have never got the hang of it.  They aren't interchangeable.  The techniques and the outcome are slightly different.
The food processor is the simple method: put the ingredients (except oil) in.  Process until done.  Add oil, mix.  You end up with a thick wonderful spread that has texture to it (you can choose how much).
The blender is a bit harder to use but gives you a rich creamy pesto that melts in your mouth.  If you're not putting cheese into it, this is a good way to get some of that creamy mouth feel.
With the blender, you want to do the nuts/seeds first.  Pine nuts work very well here because they blend up smooth.  Blend a few of them dry at low speed to break them up.  Add small amounts of liquid (the olive oil or some lemon juice) until they are totally creamy.  Add more seeds/nuts then liquid as needed, until they are all as creamy as you can make them.  Put the seasoning in at some point during this process.
The last thing is the herbs.  Unless your blender is much better than mine, you can't just put them in.  You need to rough chop them first.  Especially anything with stems.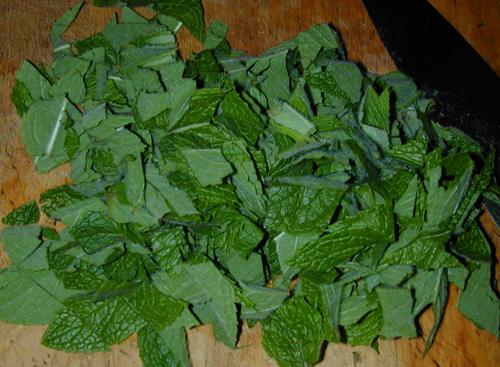 Add the herbs and blend until the sauce is green but the herbs still have some small pieces.
Recipe:
Notes: Amounts are approximations.  Use whatever tastes good. Pinch basil and mint leaves off the stems.  For parsley and cilantro, twist off the bottom half of the bunch and discard.  Don't bother removing stems beyond this, unless they are very thick or woody.

2 bunches herbs (all basil, 1 parsley and then either 1 cilantro, 1 spearmint, or both)
2 cups pine nuts (I use them straight from the freezer) or 1+ cups walnuts
Salt to taste
Black pepper if desired
Seasoning (a couple cloves of garlic or my favorite, chipotle pepper powder and cumin)
Fresh lemon juice if desired
Ways to serve pesto:
1) With tofu (or another firm protein) as a thick sauce.
I had it the other day with a big green salad as a base (with a light vinaigrette dressing), warm sauteed strips of tofu, then creamy blender pesto (cilantro, parsley, spearmint and pine nuts).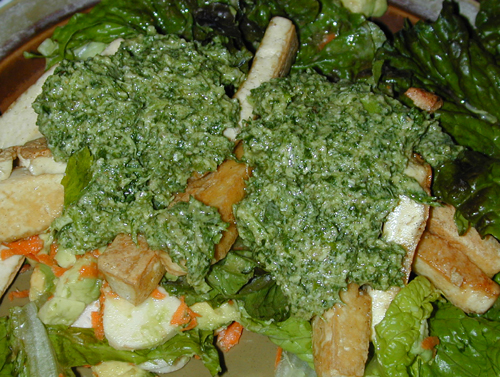 2) On pasta.
Here's a recipe of mine from 2005:
1 package Nutrition Kitchen black soybean pasta, boiled and drained
6 large mushrooms (crimini, not white, and they were very large), sliced
1/4 cup red wine
Several handfuls fresh spinach
1/8 cup pine nuts
Salt and pepper
About 1 cup pesto (mine was frozen)
Saute the mushrooms until soft and flavorful
Add wine and simmer
Add pesto (I would add it at the end if not frozen)
Add spinach, put lid on pan, steam
Season with salt and pepper
I added a bit of water to thin out the very thick sauce.
Serve over the pasta.  Fed two adults plus tastes for the baby (she loves mushrooms and seemed to really enjoy the pesto sauce–Miriam was 9 months old when I wrote this).
Another easy 30 minute meal (minus the cleanup).  Even if I had to make the pesto from scratch, it wouldn't add much time.  I'd do it while the water was boiling and the mushrooms were sauteing.
3) In wraps, on sandwiches.
4) As a dip for vegetables, cold leftover sauteed tofu, on on a spoon.
5) On fish.  Or meat if you eat it.
6) On salad (I'd make it with lemon juice).
7) Any way you want.