I made this lovely torte (or is it a tart? or maybe a cheesecake?) for Passover this year. It was a gamble, since we had never made it before, and didn't have much of a recipe to go on, but it came out wonderful. Many thanks to Jessica of Foodlab for the idea.
The original recipe was:
"For dessert, I'm going to make a fruit tart. The shell will be ground nuts (I'll use almond meal, but any will do), coconut oil and honey pressed into a tart shell with removable bottom. I'll bake the shell a bit and when cooled I'll fill it with lemon flavored macadamia nut cream (soak nuts in water for half a day, drain and blend with enough water to make a 'cream' and add flavorings if you desire). Then I'll top it with fresh berries and fruit."
We're not sure what a tart shell with a removable bottom is, so we decided to just make it in a springform pan. We've done nut crusts and nut creams before, so putting them together shouldn't be too hard.
The day before the seder, I soaked the macadamia nuts in water.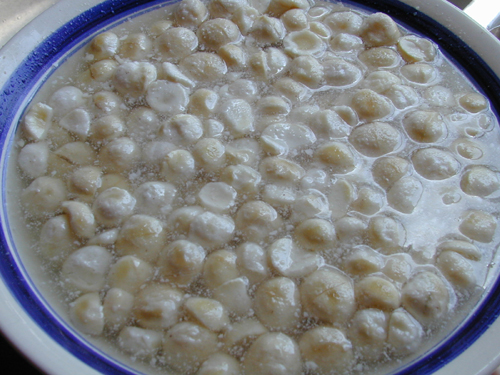 After about 18 hours, they come out pretty scuzzy looking. But, don't worry, they clean up good.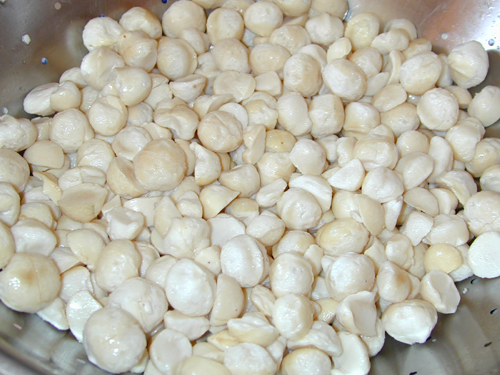 The day of the seder, we made the crust. First we ground the almonds into meal.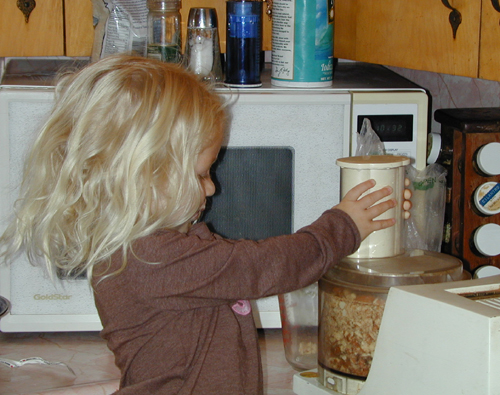 Next, Michael measured the meal in the springform pans (we used two) to gauge the correct amount.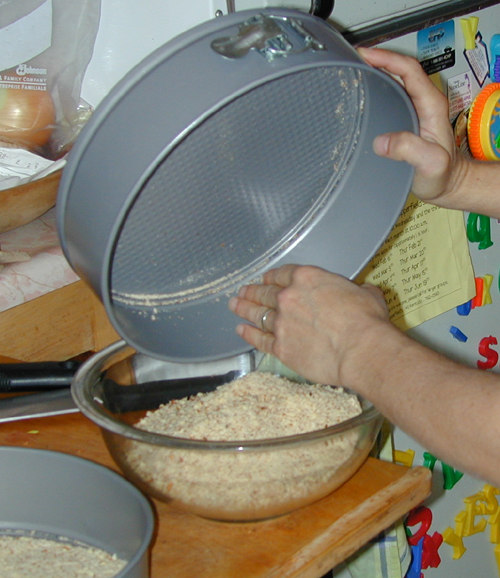 Crust Recipe:
6 cups almond meal
9 TB solid oil (we used a combo of coconut and palm shortening)
1 1/2 TB honey (I'd use 3 TB next time)

Makes enough to fill two 10.5″ diameter springform pans
Press finished crust into springform pans, making a lip of about 3/4″ up the sides.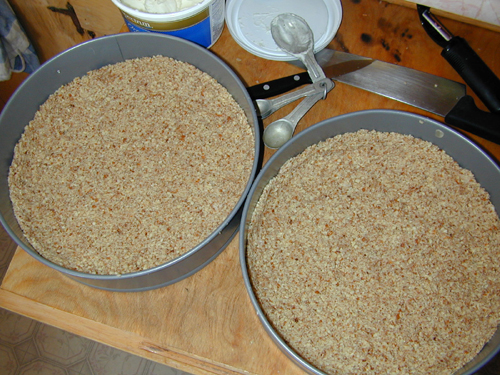 We baked the crusts at 350*F for about 10 minutes. If you want a totally raw dish, leave the crusts out for a few hours or pop into a dehydrator, just to help them stick together (and slightly tweak a couple ingredients).
Macadamia Cream Filling Recipe:
18 oz raw macadamia nuts (soaked overnight then rinsed)
Zest from 2 lemons (about 1 TB)
Juice from 1 lemon
3 TB honey
Several dashes stevia powder (to boost sweetening)
1 TB vanilla (we accidentally left this out)
1 tsp salt
2 1/4 cups water (use more or less, as needed)

Makes 7 1/2 cups.
Soak and rinse nuts. Grate the lemon peel to make zest.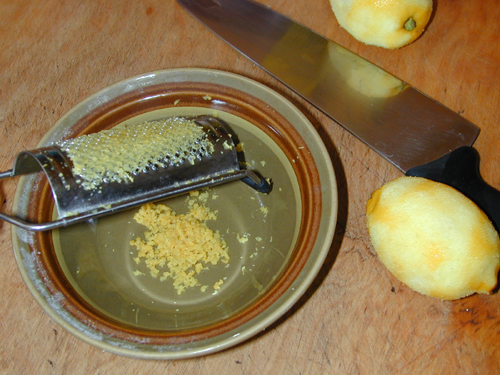 Add the rest of the ingredients (except all of the water, which should be added as needed) to the blender and blend until very smooth. It helps to do it in small batches, starting with very little liquid at low speeds. Add enough liquid to get it moving, increase the speed, and add more nuts. It's hard to get this fully creamy–it had more of a ricotta texture than a cream cheese one–and I suspect we might need a better blender. But do make sure there is no grit, which takes several minutes. Put cream in fridge to solidify.
Put the cream into the crusts and pop everything back into the fridge until you're ready to serve.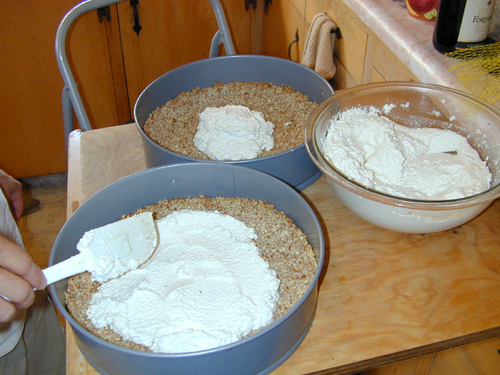 Remove the springform ring and you're ready to cut and serve. Best with some berries or other fruit on top. We used blueberries.
Some notes: the crust could have been sweeter. Some extra honey would have done that and helped it stay together more. Or you can put dates into the food processor with the nuts. The nut crust was good but a bit chewy. Next time, I'll leave some nuts as they are in the pictures but process others more finely. We also should have had more fruit, though it was great without any too.