A couple of months ago, I found myself at the Berkeley Farmer's Market, by the Primavera Tortilla stand. Primavera is a Sonoma County-based company that makes their own masa (tortilla/tamale dough) from organic stoneground corn. The handmade tortillas looked good but were pricey (and the fancy flavored ones had dairy) so I bought a bag of masa instead.
Primavera
17070 Sonoma Hwy. (Hwy. 12)
Agua Caliente, CA
(707) 939-9350

Some good articles:
Tortillas a mano
Rancho tamales are a family affair
Primavera in the San Francisco Ferry Plaza Farmers Market
Tortilla Spat: How Mexico's iconic flatbread went industrial and lost its flavor
The seller told me it would keep in the fridge for a few days but I could freeze it too. I didn't get to it right away, so I stuck it in the freezer. Between then and now, I had my tortilla-making adventures using masa harina (flour you mix with water). I defrosted the Primavera masa about a week ago.
Various articles I've seen talk about how it freezes well (both the dough in general and Primavera's in particular), but mine didn't fare as well. When I tried to form it, it was both soggy and dry. Tortillas made with it came out tasting good, with decent texture, but they are very thick (not a bad thing!) and fall apart.
I had better luck adding a bit of water and kneading the dough for a minute or two, as if it were being made from flour. Then letting it sit for a couple minutes. It still sticks to the tortilla press (despite using plastic covers) and falls apart, but not as badly.
So, tonight, I came up with a different plan. I added water to the rest of the masa, kneaded it, and set it aside. Then I divided it in two for top and bottom. The idea? a giant pupusa.
First, I sauteed some sliced onions (on a mandolin) in olive oil. My original idea for the filling was to saute onions and also fry up some tofu bits with curry. But I forgot and was too tired, so it was just onions.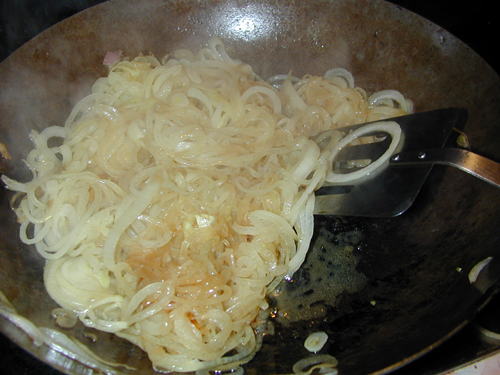 Next, I put oil, then some cornmeal, in a hot cast iron pan, and plopped in half the dough, flattening it the best I could with the spatula.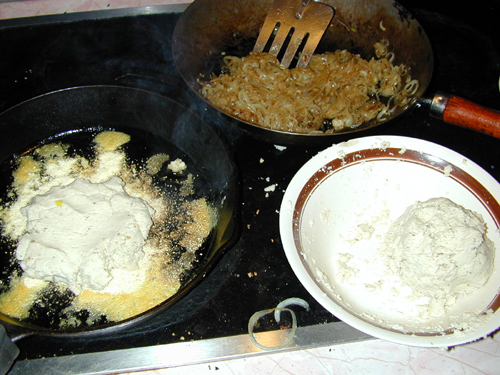 Topped it all with a healthy dollop of onions.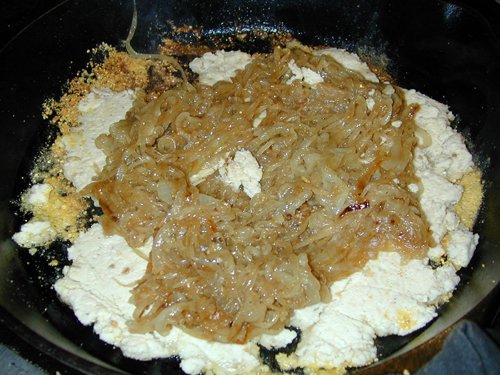 Then added the rest of the dough on top, spreading it out first with the spatula, then with my fingers.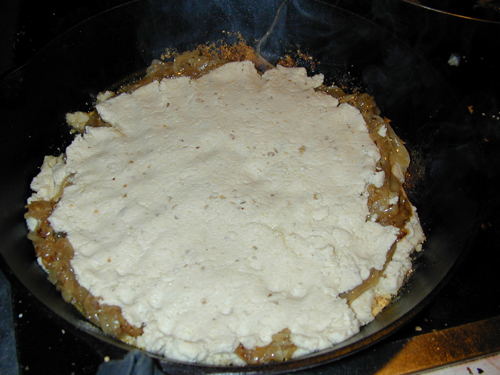 As I took pictures, I kept thinking that I should post it all anyway, as an example of failed meals. I get ideas in my head and, trust me, sometimes they come out pretty awful. I was sure this was another of those times.
Then I realized I needed to turn the pie over. I cut it in quarters (chop hard to get through the onions) and flipped them one at a time, adding more olive oil underneath. I stood back and looked and knew I had made something good.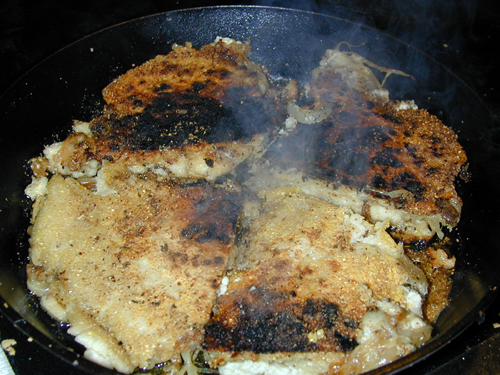 Yep, these taste as good as they look. You can use any filling you want. The plain onions were a bit bland, though savory. Cheese would be amazing, if you eat it. You could make this a main dish by adding meat or tofu or another protein.
Serve it for breakfast…for the first time in 2 years, I felt like I could have omelets again. This is the closest I have come without actually eating eggs. It would be fabulous brunch food too. But I enjoyed it for dinner, with a big salad.