When it came time for Miriam's 3rd birthday party, we didn't know where to hold it. Our house is too small and full of cats. The weather is too iffy to plan something outdoors. And we can't stand most of the venues that turn children's parties into entertainment extravagances.
Fortunately, we discovered the Boys and Girls Club. They are national, and Petaluma alone has 10 clubhouses. We used the main Petaluma location:
Boys & Girls Club Petaluma
Lucchesi Park Clubhouse
203 Maria Dr., Petaluma, CA 94954
(707) 769-5322
http://www.petalumabgc.org/
This is a large building with several function rooms, a gymnasium, a commercial kitchen, a teen room, and a central space with game tables. Most are for rent by the hour. We chose the multi-purpose room, which is quite large, with plenty of tables and chairs. There are lights and electrical outlets, but no water. Bathrooms are across the hall. The kitchen is a couple rooms down.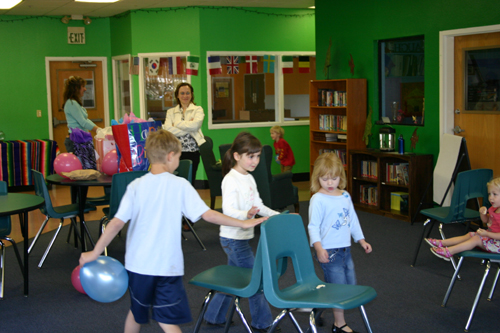 (Miriam watching her friends play musical chairs)
The cost? $40/hour for the room and $10/hour for a staff person to be on site. We chose Sunday, March 2, 2008, and had the place completely to ourselves. These folks are very accommodating. I didn't even have to negotiate but they gave us kitchen privileges and an extra half hour before and after the party at no additional cost. They even allowed us to have the gym as a backup for the piñata if the weather was bad. So, for a two hour party and an hour of setup/cleanup, the total was $110 (2 hours for the room, 3 hours for the staff person).
One wrinkle: to rent the space, you must provide a liability insurance waiver. If you have homeowner's insurance (or possibly renter's insurance), you simply go to your provider and they give you the waiver for next to nothing. But ours said they didn't do that. The only other solution was to go with the independent insurance the club recommended. But they wanted $175!! For a two-hour children's party! Others were similar.
After a day or two of sheer panic, we simply switched homeowner's insurance companies. We ended up saving hundreds of dollars a year on our premium and the waiver cost a whopping $4.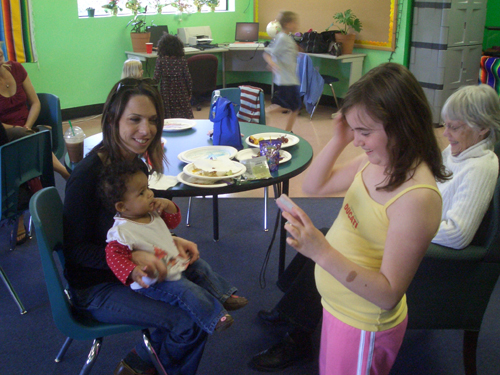 (Miriam in background with her cousin Jaiden. In front, from left, Aunt Kim, cousin Kalea, cousin Stephanie, Grandma Julie)
A rare trait among public buildings: The Boys and Girls Club doesn't use pesticides or herbicides inside or outside. They also don't have air fresheners. (The director couldn't understand why anyone would consider using stuff like this around kids.) When I went during the week to check it out, the bathrooms and other rooms had little to no scent at all (except for some paint smell in the art room). It was very nice.
The day of the party though, the whole place had a mild but persistent cleaning chemical scent. We opened the windows in the party room and wiped down the tables (they were thick with cleaning residues) with our own cleaner. This made a big difference and the chemically sensitive among us survived.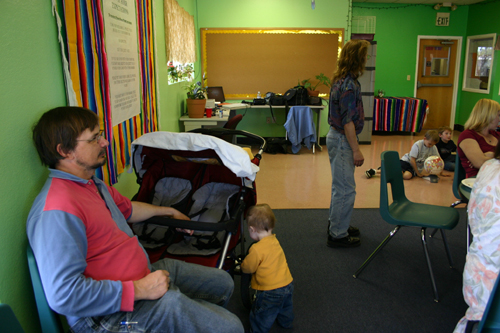 It's important to me to be able to provide my own food (too many allergies to risk it) and that was no problem here. Just no alcohol (you can…but it costs extra). And I liked having our own games and other activities, not orchestrated by staff or a preset menu of options.
Partway into the party, some of the older kids (age 6 or so) told me they were bored (they loved the games I had but they weren't nonstop so they didn't know what to do with themselves). I resisted the urge to fix it and entertain them. I expressed sympathy and told them what was coming up and went to work on something else. Before I even turned back around, they had discovered the crayons I brought and a stack of paper plates make great fun.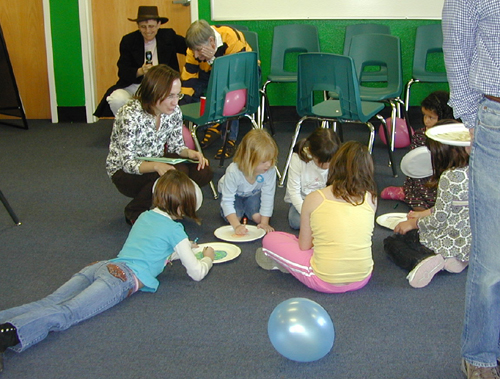 The one thing I wasn't crazy about with the rental is that you're required to clean up, or you forfeit all or part of your hefty deposit (ours was $400). That sounds reasonable in theory…until you're rushing to get folks outside for a piñata (without them going home) and, in addition to picking up, wiping off food residue, and putting the chairs back, you have to scrub all the tables, vacuum the floor (they loaned us a vacuum), and even take out the trash (hey, at least they didn't make us clean the bathrooms, though I was required to check them). I would have gladly paid the staff person another $5 for a half hour of cleaning, but it wasn't an option. On the bright side, I totally forgot to take out the trash (it was all in one bag in the can) and they didn't ding us for it.
The club had some nice outdoor space too. Since it was a gorgeous day, we had our piñata outside. It was a huge errr…hit.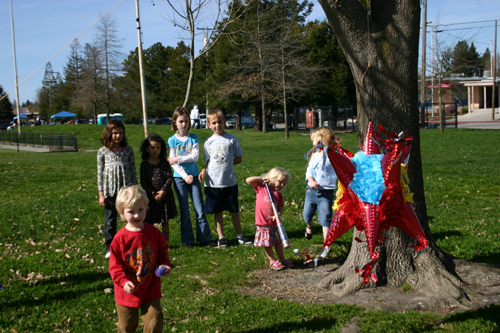 All in all, I was happy with the space. The room fit our needs perfectly. I would have preferred another hour though (people showed up late so there wasn't enough time to do everything; we skipped present opening and held the piñata bash after the official end time). From an MCS (multiple chemical sensitivity) perspective, it was a decent choice, though I'd look into the possibility of providing them with some cleaning products ahead of time for a larger event.