When I was at the Marin County Fair on July 4th, 2007, one of the booths was promoting healthy eating for kids and they had samples of a blender drink. All fruit (no juice) and no added sugar. It was fabulous on that blindingly hot day (about 100*F).
Their slushie recipe:
Ice cubes (between 1/3 and 1/2 of the blender)
Fresh watermelon (a cup or so)
Fresh strawberries (a cup of so)
Lime juice (freshly squeezed, maybe 1 lime's worth)
I've made a lot of smoothies, usually with soy milk, but only rarely have made slushies. The difference is the ice. Slushies are very cold and have that wonderful bumpy texture.
My recipe is more intense because 1) I like it that way and 2) I can't find my ice cube trays. But the diluted (with ice) kind would be better on a very hot day so you could drink more of it.
Soon after the fair, a vendor at the Farmer's Market had a ton of organic strawberries they were practically giving away. They said they had been rejected from Whole Foods because they were too ripe. Indeed, they were at their peak and wouldn't have lasted overnight without refrigeration. So we got a whole flat (12 overflowing baskets) for a mere $9. I gave away 2 baskets, put 3 in the fridge, and froze the remaining 7.
I poured the strawberries into a bowl of cold tap water (no chlorine in ours). Then I pulled off the caps by hand and put them on a clean dish towel on a cookie sheet. When they were done (I did this in two batches), I put them back into a fresh bowl of water, swished, and scooped them back on to the towel. Then I poured them off the towel on to the cookie sheet. It's best if you don't wash them, but these were a bit older and I felt it was necessary.
I used 2 big cookie sheets. Ideally, you don't want the strawberries to touch each other, but at least keep them in a single layer. The drier they are, the better. Freeze overnight, then transfer to zipper bags (they will take some prying) or your container of choice and store in the freezer. My 7 baskets made 2 stuffed gallon bags worth.
My slushie recipe:
Fresh melon (leftover from a holiday fruit salad: cantaloupe, honeydew, chopped mint, a touch of salt, and some liquid in the bottom of the bowl, about 1/3 blender full)
Frozen strawberries (about the same quantity as the melon)
It came out really well. We do have watermelon in the fridge, and I liked the watermelon/strawberry blend a lot, but I wanted to use up the melon salad first. I also want to do some with peaches (we have some older ones in the fridge). Lime or lemon juice would be good too.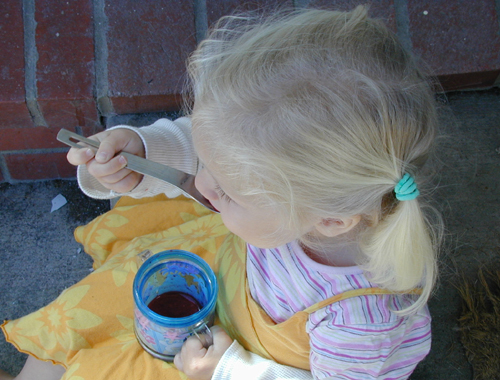 I love that it is pure fruit. Juice is promoted as a healthy food but it's just not. It's stripped of fiber and a lot of the best nutrients. Commercial brands are extremely sweet (even if they don't add sugar; they either use sweet fruits or add white grape or apple juice), use peeled fruits, are filtered, and are pasteurized. Ick . If you make your own juice, that's different. though I recommend eating the pulp too (can be in a different recipe) so you get the whole fruit).
For a lower carb slushie, choose berries, melon (not watermelon), or stone fruit, and use ice cubes or water to dilute it some.
These blends would make great popsicles, by the way. Our usual source of strawberries says she puts her unwashed strawberries in the blender (she only removes the caps) and then puts the unadulterated puree into popsicle molds.
Now I have frozen strawberries to use in drinks or slushies all summer long. Slicing them would be easier on my blender (a couple got left whole) but it's more work and takes more trays for freezing.
Since then, I've made slushies every which way. You need something frozen (ice cubes or fruit) mixed with very liquid fruit or firmer fruit with liquid added.
One recent recipe:
Frozen raspberries (a couple cups)
A couple squeeze of lemon
Various leftover fruit (a few slices of mango, half an overripe banana)
Water to make it blend and thin it out