I am slowly starting to make my way through the big bag full of product samples and information I got at last year's Expo West. If I'm lucky, I'll do most of it before I go again this year.

Stem Ginger Cookies
Sunstart Bakery
"Cookies made from ingredients naturally free from gluten and wheat"
"Sunstart Bakery is a dedicated wheat-free facility located in the beautiful glens of Antrim in Northern Ireland. Sunstart Bakery is accredited with the higher British retail council award and is the recipient of the British Bakery award for innovation. Sunstart Bakery USA was established in 2004 and our USA facility is centrally located near Chicago."
$4.20 per 7 oz (10 cookie) box or $3.00 each if you buy a case of 12.
They have several flavors:
Chocolate Chip
Coconut
Raspberry
Stem Ginger
Chocolate & Orange
I've only tasted the ginger.
Ingredients: Flour base (brown rice flakes, millet flakes, soya flour, corn starch, xanthan gum), desiccated coconut, naturally evaporated cane sugar, stem ginger, molasses, monounsaturated safflower oil, rice syrup, sea salt.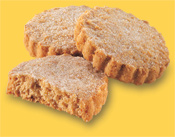 For all of the cookies, they state they are free of wheat, gluten, eggs, nuts, potato, vege (don't know what that is), and transfats. For the following, they list them as things the cookies are not free of: dairy, corn, soy.
But the ingredients do not mention dairy at all. The box does say "contains milk & soya." I am not sensitive enough to dairy to be able to tell if there are trace amounts there. They are definitely and totally gluten-free from what I can tell, not just their ingredients but Codex compliance and a dedicated facility.
Okay, here's the fun part, the nice people at the booth last year gave me a whole box to take home. We made them last. They are some of the best boxed cookies I've ever had. They are flaky and melt in your mouth with intense flavor. They are big and substantial enough that one is a dessert. Miriam loves them too and considered a cookie to be adequate compensation for not getting cake at a friend's birthday party.
Although they are hardly lowcarb (though not terrible at 10 grams usable carbs (12-2 fiber) per 20 gram cookie), I'm seriously considering ordering a case.