So easy and so good. These cultured onions are great on burgers, wraps, or anyplace you might think of adding onions.Thinly slice (I use a mandolin) peeled red onions into rings. They should be quite thin, so they don't hold their shape well.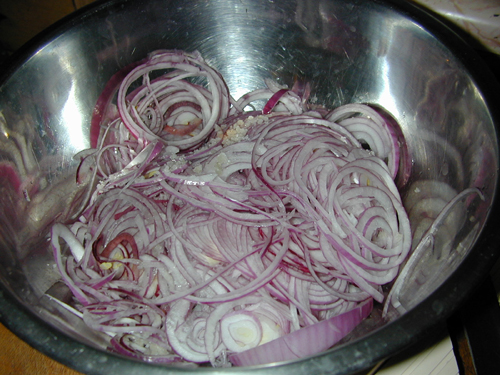 Add salt to taste. Let sit and/or knead a bit with one hand.
Pack onions tightly into a clean glass jar. Pour in any leftover onion juice. Label the jar with the product and the date.
Take a clean glass jar with a diameter smaller than the opening of the onion jar. Fill the smaller jar with water and put on a lid. Place it inside the onion jar to keep the onions submerged under the liquid. (The pan of water, and a touch of soap, is to keep out ants.)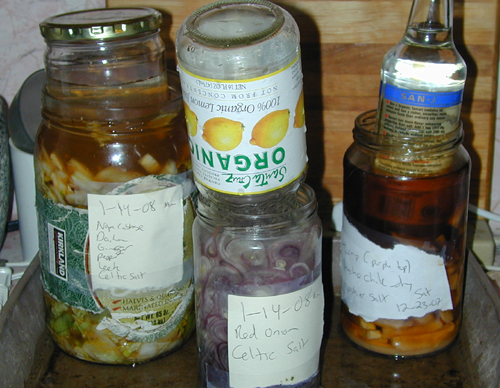 Cover the whole thing with a dish towel (to keep out flies) and check it the next day. If the water level has not come up high enough to completely cover the onions, add a bit of salt water, or juice leftover from previous ferments.
Check the onions daily to make sure they are not exposed to air. Bubbles in the jar are a good thing; it means that fermentation is happening. If you get a bit of mold on the top, scrape it off and continue.
I've made them twice now. The first time I used kosher salt and let it sit for a week. They were perfect: crisp and delicious and slightly sour. The second time I used celtic sea salt and added a little bit of the juice from the first batch. I also let it sit for a week. The juice helped the fermentation process start up faster, so this batch is more fermented than the first. I think I like the first one better, but they're both very good.
4 medium sized onions packs a quart jar. I didn't measure the salt but I'd guess about a tablespoon total, maybe more.
You can cook the onions but, if you eat them raw, you get all the benefits of the cultures. Just like with youghurt.