At two years and ten months (she'll tell you her age upon request), Miriam knows pretty much all her letters but isn't actually reading or writing yet. She can't sound anything out. The one word she knows though is "off" ("O F F spells 'off'!"). Because it's a button on our phone.
She can on occasion read the word when we write it out or see it somewhere, but she generally has to be reminded to say the letters, then she recognizes it.
Miriam loves to "write" and will scribble happily and tell you it's a certain word (or picture) and she enjoys her refrigerator magnet letters and will arrange them randomly and say they have particular meanings.
But today she said she was going to write the word "off" and then she did it! I didn't help at all and it was her idea, not mine. The letters were all over the place and she moved them up out of the way and brought down the ones she wanted. Never mind that it's backwards (she couldn't understand why I said it was "F F O"), it's a word I tell you!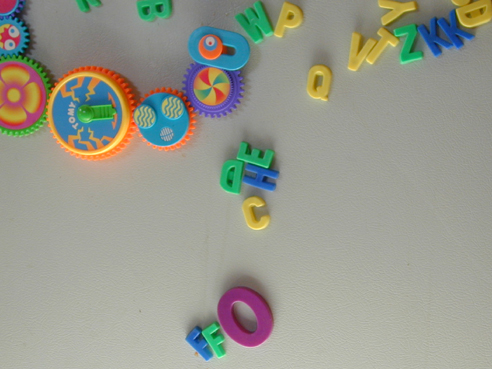 And here's a bonus picture from a couple days ago. I couldn't resist!