Passover 2008: the year of the gefilte fish disaster.
This is only the second time we've made gefilte (gelfilte, gelfelte, gefelte) fish. The stuff in jars is pretty good (some people hate it but I grew up on and adore the stuff) but every last brand has eggs in it. And pretty much all have gluten (matzoh meal), many have MSG, and some even have preservatives. The eggs make it forbidden food in our house.
For Passover 2006, we used a recipe I adapted from two found online:
We used 3 lbs of halibut (I made the mistake of getting it on the bone–what a pain!–though it did mean we had skins for the stock) and simmered it in stock for a couple of hours. It came out well, with good texture (not as compact as the jarred kind, but still firm) but quite bland. With extra seasoning and horseradish, they were quite acceptable.
I would have liked to use carp, but the only decent source is 45 mins away and we didn't have time. So this year I decided to use rockfish. Partly because it has more flavor than halibut and partly because we were serving halibut for the main course.
I used less fish because it was boneless. And I doubled most of the seasonings.
Gefilte Fish Recipe:
2.5 lbs fresh fish fillets (you can use any white fish or even non-white; we used 2.57 lbs of rockfish
6 large carrots
4 large onions
4 eggs or flaxseed goo replacement (we used 4 TB flaxmeal in 1 1/3 cups water, heated
8 TB almond meal
3 TB salt
1.5 TB white pepper
3 TB sugar
3/4 cup ice water (or as needed)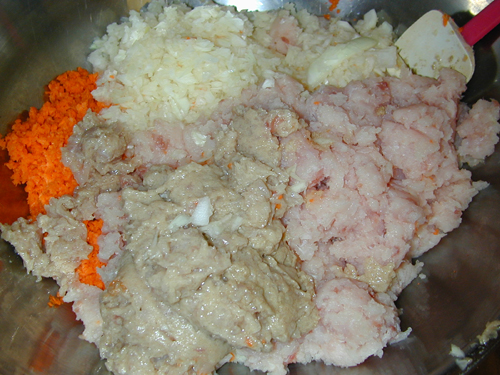 Bone and skin fish, if necessary (save for stock). Food process carrots and onions until fine, transfer to large bowl. Gently pulse fish in small batches. You don't want total mush but it should be chopped well. Add seasonings in with a fish batch to distribute them more evenly.
Add the almond meal and cooled flax goo to the bowl and mix well with a pastry blender to break up chunks. As you mix, add the water as need to make the consistency right. Don't add it all unless you need it.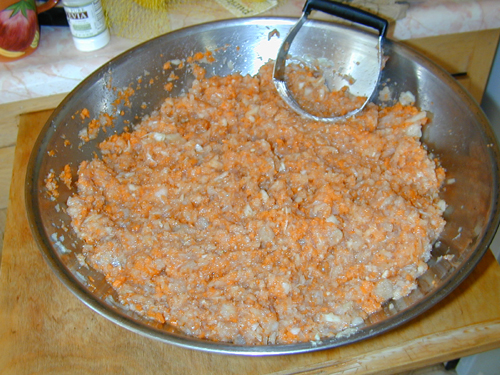 Get the stock going (we didn't have stock prepared so we used plain water). Then form the mix into small firmly packed ovals.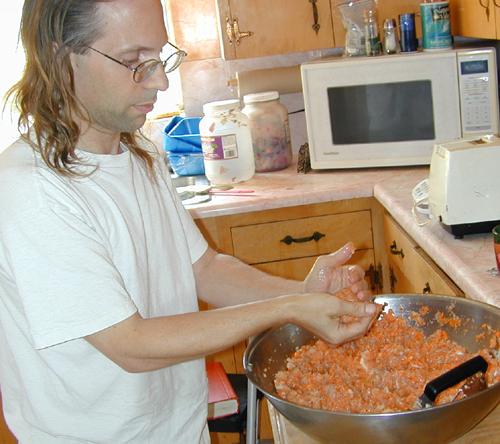 Gently drop into the simmering water.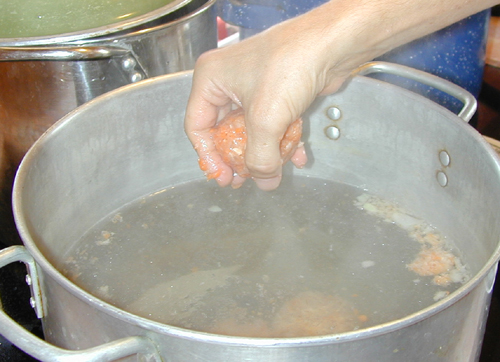 Okay, so now you simmer (meaning medium-low heat, no boiling) for 2 hours, remove with a slotted spoon, and chill completely before serving. Easy, right?
Well, no. Our balls totally and utterly fell apart. I figured out that much of the problem was that the water got up to boiling and the pressure of it (all those bubbles) destroyed the fragile balls. But what made them so fragile?
I have a few theories
I made Michael a cup of water (chilled in the fridge), with strict instructions to add a little bit at a time, as needed, and not use it all. He misheard me and dumped it all in at once.
The almond meal was homemade (most of it went into the dessert) and pretty coarse. Almond flour would have been better.
Maybe there were too many carrots and/or onions.
Whatever the reasons, we had fish soup on our hands. Even the best balls were a mess. So I decided to try straining the fish (with pressure on it to squeeze out as much liquid as possible) and sticking it in a mold to chill. I saved the fish broth and froze it.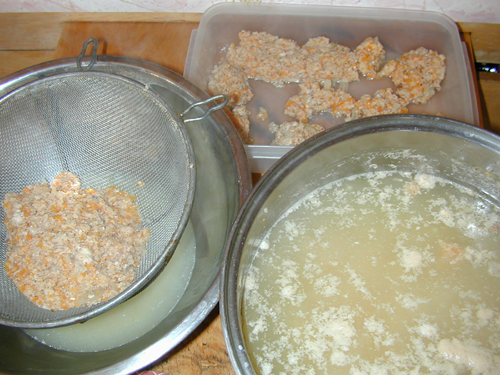 Guess what? it worked! I would have loved a pretty mold, but couldn't find one (aside from a plastic Christmas mold I have no idea how I got). So I used a glass Pyrex baking/storage dish and cut the gefilte fish into squares.
It came out pretty good. Decent flavor and texture. But next year I'm going to stuff it in a mold and use the water bath method to cook it. Without eggs and wheat (and fancy machinery), it is always going to be a delicate dish.
Serve with plenty of fresh horseradish.