Success with horseradish has been extremely variable, both due to variation in the flavor of the unprocessed horseradish roots, and the fact that it is too strong to sniff or taste during preparation to make small modifications. The ones I made for Passover this year were pretty good.
I started with two horseradish roots. They were 8 – 12 inches in length, and fairly skinny, maybe an inch or two in diameter. I chopped them into inch-long segments like so: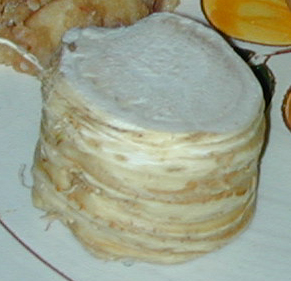 Then I loaded them into the food processor. Prepared Horseradish is either white or red, the latter colored by the addition of a small amount of beet; I find it augments the taste in a subtle but pleasant manner. I added in a small piece, maybe equivalent in size to one or two of the horseradish root slices.
A splash of white vinegar serves two purposes. First off, it lubricates the food processing so that the blades actually grind up the root slices; otherwise, they simply get moved around and jam the blades. Also. it acts as a preservative. The finished horseradish quickly loses its heat when exposed to air, and the more vinegar you add, the better it will retain its heat (although you don't want to add too much, as it will be excessively moist and vinegary-tasting).
Process until it is finely ground, with no chunks of white root visibly remaining. Occasionally stop the blades so you can scrape the sides with a butter knife. But be careful … the mix at this stage is extremely powerful and it will bring tears to your eyes.
Once it's done, immediately dish a few tablespoons out into small serving bowls. This should be one of the last tasks you do before the meal, because if it loses too much of its heat while sitting on the open table it will be bland and uninspiring. In the past, I have been shy about adding vinegar, and the result was almost tasteless by the time our guests bit into it (compensation perhaps for one year in which I somehow made it far too strong, and nearly killed all our guests simultaneously in the process).
After it's served, be sure to return the lid of the food processor to its place so the mix is kept away from air as much as possible.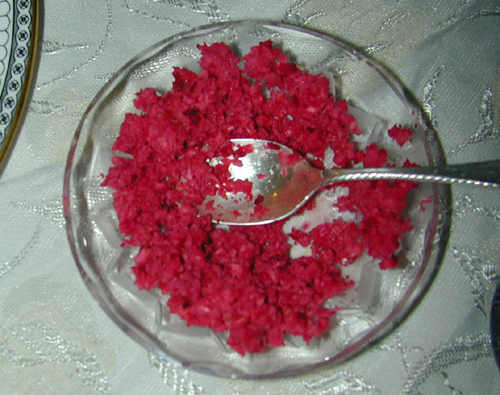 When we have leftovers, I transfer them again to glass jars, and make sure the lids are sealed tightly on at all times when they are not in immediate use.