One of my pet peeves is when people tell me that buying produce at a local farm or farmer's market is too expensive. Because they can go to Lucky's or Safeway and get "the same thing" for less per pound.
Except it's not the same thing.
Most supermarket produce comes from far away. Here in California we have many farms, from tiny to huge, but supermarkets favor huge and that's a few hundred miles from here. Though some comes from Florida or other countries too.
When you ship produce from far away you make sure to grow varieties that ship well. Varieties that ship well tend not to taste great. And you pick them under ripe, so they won't be mush when they arrive. Not only does ripe produce taste better, but it has more nutrients.
Most supermarket produce uses a lot of pesticides and herbicides and antifungals during the growing process, and some for shipping too. Some might even be genetically engineered. Organic produce avoids all that but, if it comes from a big farm, it is probably still the same boring varieties.
Our local farms grow heirloom varieties that are bred for flavor and nutrition, not shipping power or long post-picking life. And not uniformity or perfect outsides either.
The local produce tastes fantastic, and has a lot more nutrition than the supermarket varieties.
And here's the kicker, it's not more expensive. Sure, sometimes it is. And you have to buy in season and only what grows locally.  But if you shop carefully, you can do very well.
My favorite local farm is Green String Farm in Petaluma, California.
And this is what I bought today: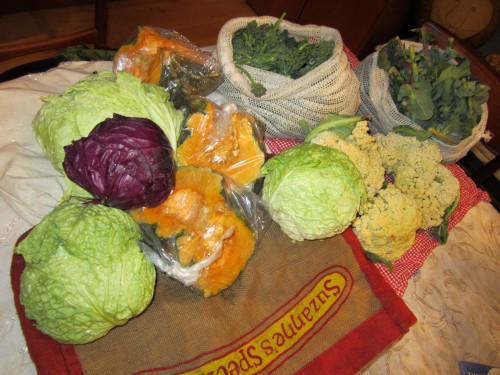 That's 3 savoy cabbages (the one in the back is about 9″ across), 1 red cabbage, 3 big pieces of buttercup squash, 3 cauliflower, 1 large bag stuffed with collard greens (would be 3-4 bunches in the store), and 1 large bag stuffed with baby broccoli.
Total cost?  $20 even.
Can your supermarket do better?