I'm loving this dehydrator a coworker of Michael's gave him.  So far, I've made Fruit Leather and a bunch of dried fruits and vegetables.  Below are some of my experiments.  Everything was dried at 115*F to keep it raw.  I run the dehydrator all day then turn it off at night (or when going out) and run it again the next day.  Most things took 12-15 hours.
Bananas:
I sliced the bananas in half (thirds for longer ones) then lengthwise into 3 or 4 strips, and placed them on the tray.  As close together as possible without overlapping.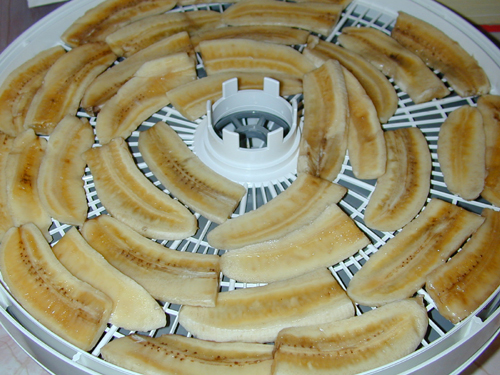 They came out smaller but not as tiny as some of the other foods.  I couldn't get them crispy though, even though I ran them through the dehydrator for several days.  They were leathery and chewy and really delicious.  They were also dried plenty for safe storage.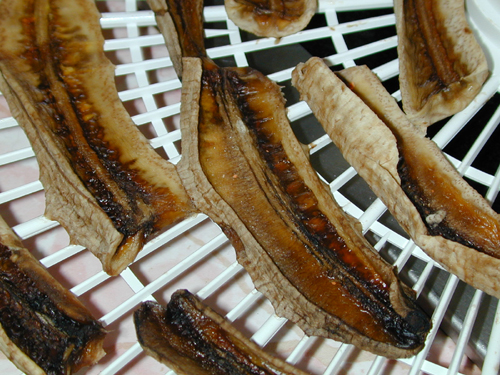 My first attempt to make them was with banana chips.  The results were similar but arranging all those chips on the tray was a pain, so the strips are easier.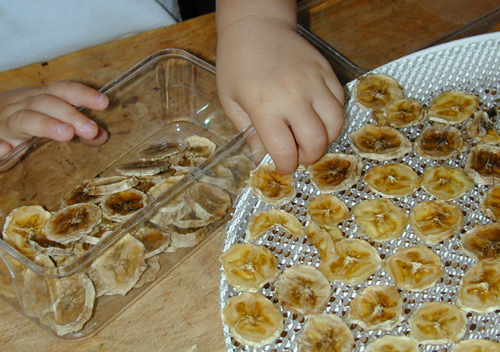 Carrots:
I tried both chips and strips here.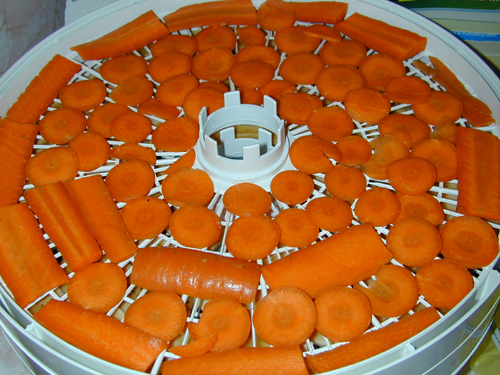 Like with the bananas, I never managed to get them crispy, though they were close. These shrunk up like crazy and some of the chips fell through the grate.  The chips would be good in soup I think.  These were tasty.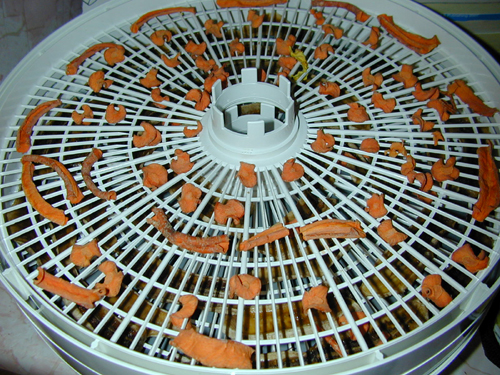 Beets:
I've made beet chips, with both red and golden beets, many times, and they have come out reasonably well.  I got them crispy and firm and able to be used for eating hummus.  I cut them by hand and dried them in the oven, at 150*F (the lowest I could go).  They work well in a convection oven.  But I had trouble with some burning or over-drying and also with the thickness.
I have been looking forward for a long time to making the chips with a mandolin (which I bought a few months ago) and a dehydrator.  But these were a disappointment.  The chips I made in the past tasted wonderful, but these were bitter.  Maybe it was the beet I used, not the method.  I think the slices were too thin also.  I can set the mandolin thicker, or I can cut by hand.
And I never got them past the leathery stage.  Maybe I'm being impatient, but it did seem that they got to leathery and then stayed there for hour upon hour of additional drying.  The other items were the same.
I'll keep experimenting though, because I really do love beet chips.
This is one large beet.  It covered two trays.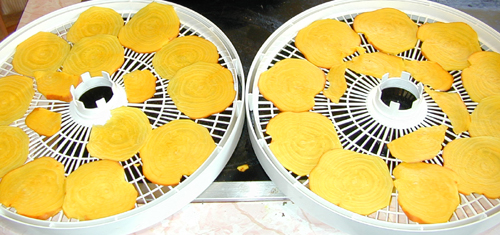 This is what it it came down to.  You can see the other tray under the top one.  This is about the amount of shrinkage I got from oven drying.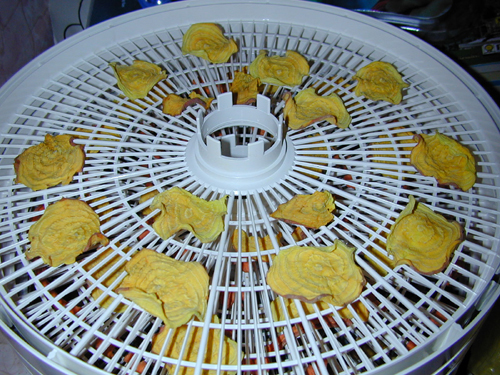 Strawberries and Peaches:
A few apricots made it into the mix too.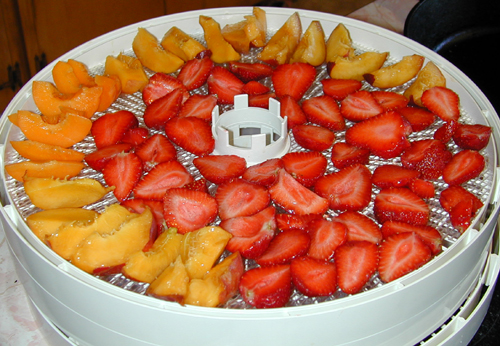 Oh wow, these were amazing.  The peaches stayed a bit juicy (but were still storage safe) and all the fruits were chewy and stick-to-your-teeth delicious.  Despite having plenty of the fresh versions around to eat, Miriam is begging me to make more.  "Can you make some more of these chips?…Will you do it right now?"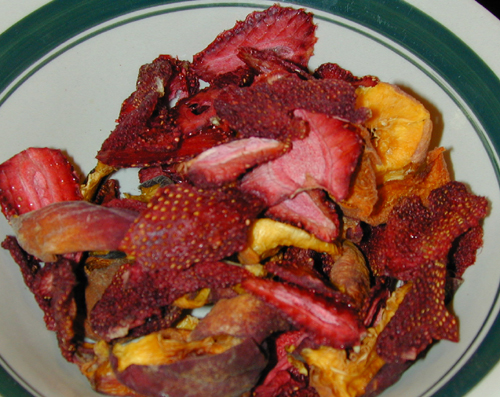 Happiness is a dried peach.