If you ask an Ashkenazi Jew (of Eastern/Central European origin, most American Jews) the recipe for charoset, you will generally get one answer: chopped apples, honey, wine, nuts (walnuts and pecans are popular), and (often) cinnamon. This version is so popular that many Haggadahs list it as such and I've had Jews tell me it isn't charoset if it's not made this way.
Fortunately for our taste buds, variety is allowed. This may be the most popular recipe in the US, but it's far from the only possibility. Charoset is a ritual food used during the Passover seder so there are some qualities it needs to have. It is the reminder for mortar, which Jews in ancient Eqypt used to make bricks, one of the main tasks set upon them during centuries of slavery, according to the Torah.
I've had some wonderful non-apple-based charosets over the years, and I thought about making one of them for Passover this year (2008) but we were making several new dishes and that was too much. I love the traditional kind though.
No exact measures here. So much is personal preference. This recipe makes enough for 20 people, often with some leftovers. It depends how much your family and guests like to eat. And if you want enough to last you all week (makes a nice dessert, or works as a side dish with dinner, especially with leftover horseradish).
Recipe:
6 large apples (I've found Braeburn to be the best)
A bit of fresh lemon juice (optional, if you're working with a lot of apples)
2 cups walnuts
Honey to taste
Splash of red wine (or grape juice; we'd use more wine if there weren't children)
1 TB or so cinnamon
The rest is pretty simple. Chop the apples. Michael generally does half to a semi-paste in the food processor and half chopped by hand. You can add some nuts too to make a paste or grind them coarsely.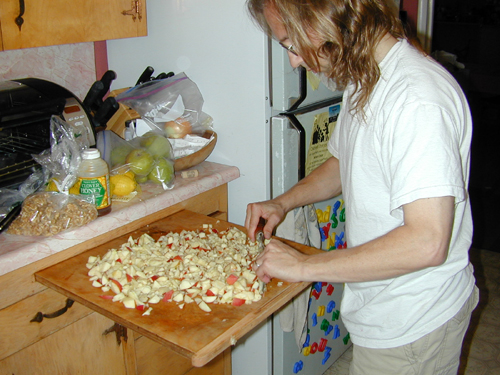 Then mix in the other ingredients. Serve chilled or at room temperature. Because of nut-allergic guests, we always make a nut-free version. Sometimes we make a grape juice one too.