Miriam has been planning her birthday party all year. When we would ask what she wanted, all she would say was: "Carrot cake and all my friends to be there!" That would be the same carrot cake we had last year, for her 2nd birthday party. Fortunately, she loves it.
When you're dealing with food allergies, it can be hard to come up with traditional foods without making them seem like substitutes. Miriam's allergic to gluten (wheat), eggs, oranges, and chocolate. And we eat very little dairy and little to no artificial stuff. Oh and low sugar, but that one goes out the window with a birthday.
But this cake is amazing. It has soy and nuts, so doesn't work for all food allergic people, but it does avoid what we can't have. It's so good that people with no dietary restrictions love it. A week before the party, a friend told me her husband asked if we were going to have "that yummy cake" we had last year.
Cake:
Many thanks to Danielle Nelson of Foodlab for turning us on to the recipe (which she doesn't remember the author of). Below is the version we actually used, which is slightly adapted from the original.
Recipe:
1/2 cup golden raisins
1/3 cup water
3/4 cup brown rice flour
1/4 cup SWEET rice flour (white)
1 tsp baking powder
1 tsp baking soda
1 tsp cinnamon
1/2 tsp xanthan gum
1/4 tsp salt
1/3 cup sunflower (or other bland) oil
2/3 cup maple syrup
4 oz silken tofu
1.5 cups grated carrots
2/3 cup chopped, lightly toasted walnuts

Substitution notes: regular raisins can be used instead of golden; the recipe calls for orange juice to soak the raisins in, instead of water, guar gum can be used instead of xanthan gum (which has traces of corn); the recipe calls for canola oil, which we don't use.

We double the recipe and use two pans.
Preheat the oven to 325*F. Lightly grease an 8″ round cake pan or equivalent.
Soak raisins in water for 10 min. Drain. Mix together flours, baking powder and soda, cinnamon, gum and salt.
Whisk oil, maple syrup and tofu until smooth. Stir into dry ingredients. Fold in the grated carrots, nuts and raisins.
Spoon batter into prepared pan. Bake for 1 hr or until done.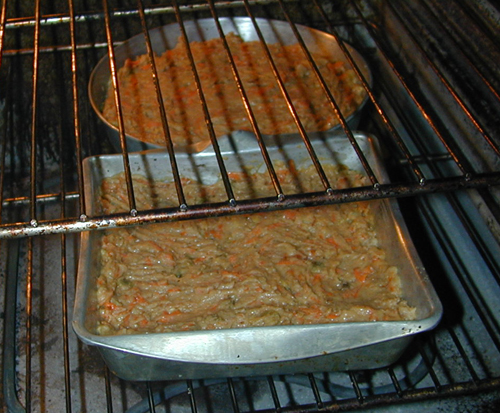 Frosting:
Now for the frosting. It's not strictly necessary but it does make it look more like a birthday cake. I am not happy with either of the frostings we made. Last year we used a standard cream cheese frosting from Joy of Cooking. The cake is already very sweet though and this just compounded it.
This year I wanted a vegan frosting so I used the recipe for Vegan Fluffy Buttercream Frosting.
INGREDIENTS
1/2 cup nonhydrogenated shortening (palm oil)
1/2 cup nonhydrogenated margarine (Earth Balance)
3 1/2 cups powdered sugar
1 1/2 teaspoons vanilla extract
1/4 cup plain soy milk or soy creamer

INSTRUCTIONS
Beat the shortening and margarine together until well combined and fluffy. Add the sugar and beat for about 3 more minutes.
Add the vanilla and soy milk, and beat for another 5 to 7 minutes until fluffy.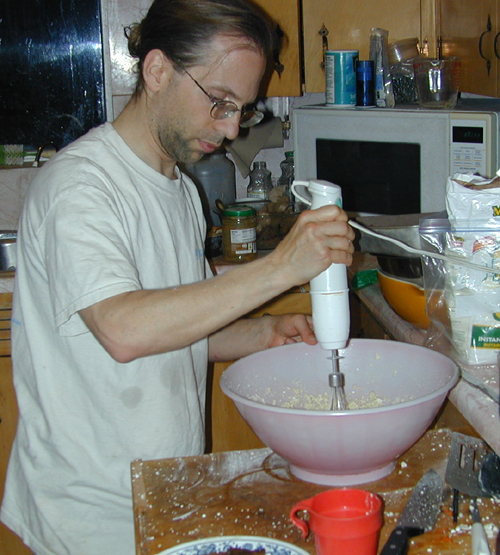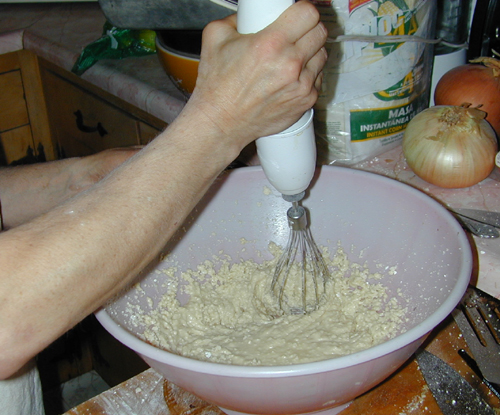 It was decent when first made, though not fluffy. But Michael had to make it the night before and put it in the fridge and it came out flat, even after warming to room temperature. It didn't spread evenly and basically tasted like sweet grease (which I enjoy but Michael was not so thrilled with). Next time we're either going to forgo the frosting or work on a different version, something vegan and not so sweet.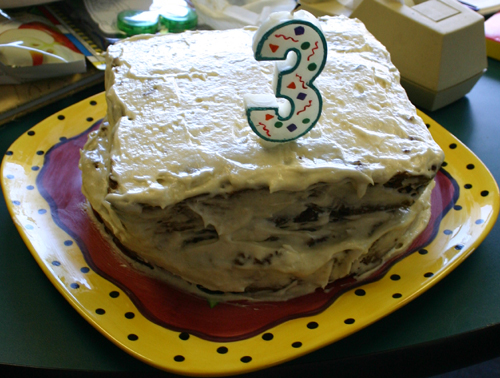 Here's a shot of the same cake (in the same pans, though the top cake is trimmed), with cream cheese frosting and decorated with golden raisins and dried cranberries, from Miriam's 2nd birthday party, Feb 2007.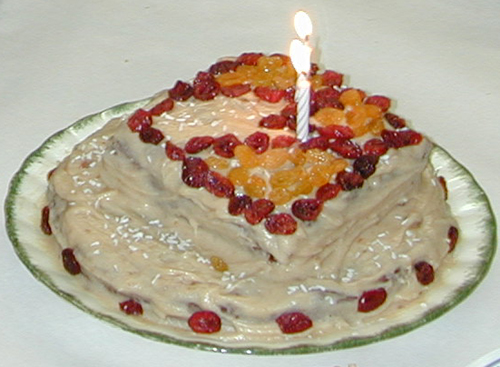 If you're wondering why one cake is square and the other round…there is no reason, just a lack of cake pans.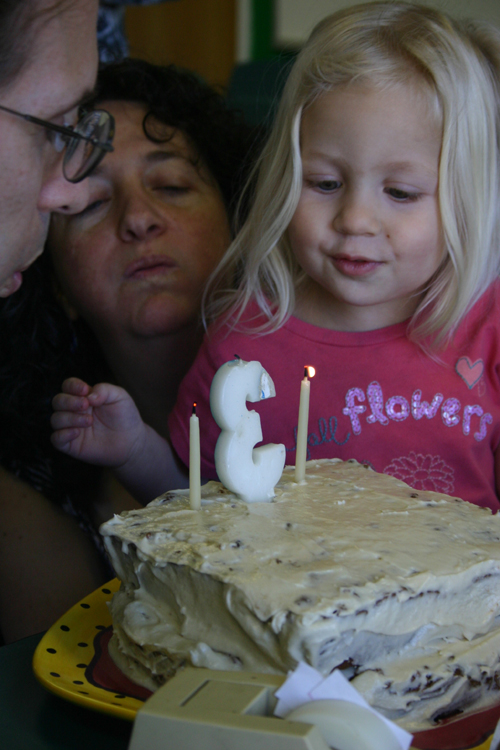 Our birthday girl needed some help with the candles. Below, Michael cuts the cake, as the children wait.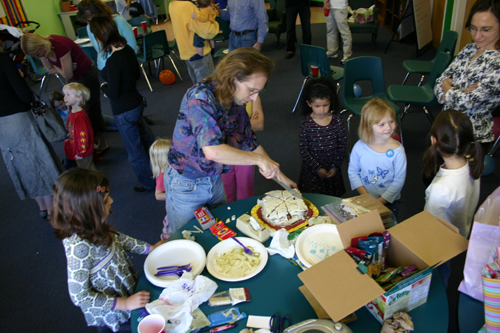 (many thanks to Yorick Phoenix for several of the photos)