I have many versions of hummus because I make it so often. This one is my basic recipe made with dried chickpeas. Other recipes use canned beans, larger amounts, different flavorings, etc. I even have one made with edamame instead of chickpeas.
Recipe:
2 cups dried chickpeas, soaked and cooked
1 1/3 cups (10-11 oz) tahini
2/3 cup (5-6 oz) lemon juice
Salt to taste
Chilpotle pepper powder to taste (I use around 1 TB)
Cumin powder to taste (I use around 2 TB)
Olive oil (I use maybe 3-4 TB) – the good stuff only
Parsley, fresh and finely minced (optional but lovely)
Note: 2 cups dried chickpeas makes the equivalent of 4 cans of chickpeas. My basic canned chickpea hummus recipe calls for 3 cans, hence the odd measurings.
First, cook the chickpeas:
Measure 2 cups of dried chickpeas into a large container
Cover with water plus several inches
Leave overnight (at least 4 hours, up to 12 hours, though you can get away with 24)
Drain out water (do not reuse) and put soaked chickpeas into a cooking pot
Add water sufficient to cover plus 1/2″ or so more (do not add salt)
Cook until peas are soft but not falling apart (an hour or so)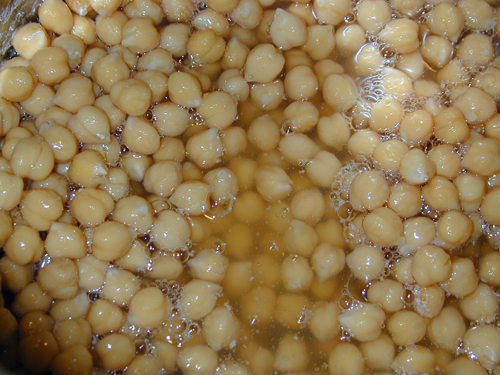 Next, use a food processor to mix all the ingredients together, except for the olive oil and parsley. I find that 3 cans of beans fits perfectly with the rest of the ingredients in my food processor. If yours is the same, process this recipe in two batches and mix together in a large bowl. Try to balance the other ingredients so it will be easier to decide on levels of seasoning. Also, if you like your hummus a bit chunky, hold back some chickpeas and liquid (but not seasoning or tahini) for the end and lightly process them before adding to the mixing bowl.
Do not use all the chickpea cooking water. Use a slotted spoon for transferring the chickpeas and only add water as needed for processing. Leftover water is great for soup stock, just freeze in a zipper bag or glass jar.
Put everything into a large bowl and stir, adjusting seasoning as needed (it may take more salt than you think).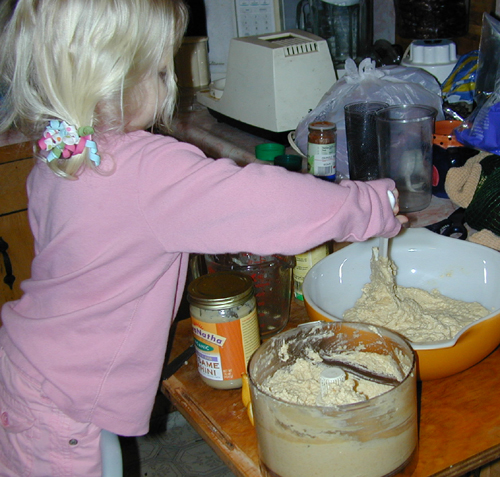 Chill the bowl of hummus (it's fine to serve at room temp also). Before serving, add olive oil and mix. If you're using parsley, you can mix it in or sprinkle on top.