A favorite dinner of mine is a big salad with lots of finely chopped vegetables and warm protein on top. For those of us who want to eat more raw foods but feel better with something both physically warm and solid, this is a great combination.
The salad works on its own too, as a low-protein meal (or add nuts and seeds) or a side dish. I've made it completely without lettuce, but I usually put in some lettuce as a base.
My most handiest dandiest tool is the chopper attachment of my stick blender. Fairly easy to clean and it performs well. I just wash and trim the vegetables then cut into manageable chunks.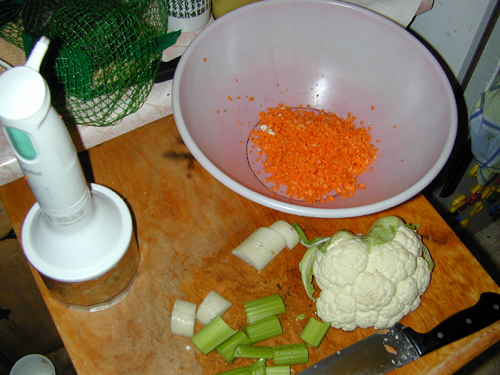 The chopped part of this salad was carrots, cauliflower, celery, and daikon radish. I love to add beet, but didn't have any. Broccoli stems (not the flowers!), collard greens or chard (all or stems only), and regular radishes are all good. Try to vary the colors some.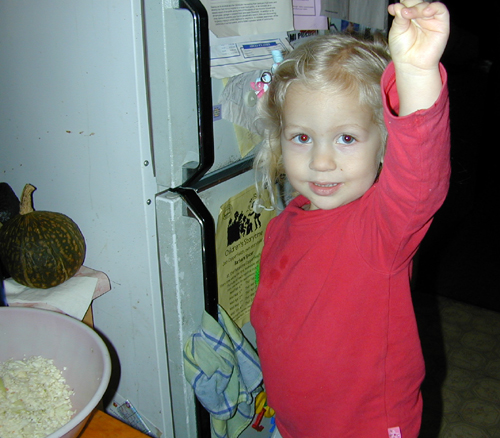 The rest of the salad included romaine lettuce (torn by hand, though slicing into fine strips is a nice variation) and avocado (diced by hand). Use what you have. Sprouts, sunflower seeds, anything you like.
I often make the dressing in the chopper too (hold tightly while on to avoid spills). This one came out exceptionally well. I had made a quick olive oil and apple cider vinegar combo the night before (didn't end up needing it then) and stuck it in the fridge. When I made the dressing, I spooned out some of the softening olive oil and poured the vinegar into the chopper. I mixed the chopper contents back into the dressing jar and shook.
This recipe had: fresh cilantro, sun-dried tomatoes in olive oil, mustard (Annie's horseradish), hemp seed (can also go straight on the salad), and some salt and pepper.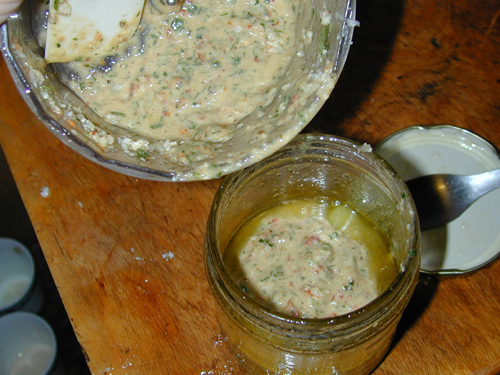 You can use anything you like as a protein topper. This time I sliced very firm tofu into thin strips then fried in olive oil with salt, pepper, cumin seed, and dried dill weed.