For dinner tonight I made a simple but elegant meal. Each item wasn't hard to make, though having four of them took more time. The details make a difference too. Nicer plates, eating at the dining room table (something we should do every night, but don't), using wine glasses.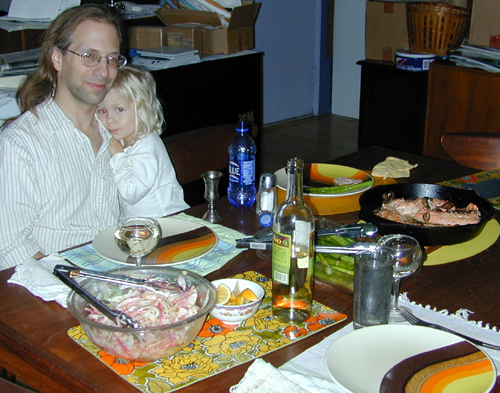 Miriam and I went to Whole Foods today and found asparagus on sale, so we got a lot of it, because it's good leftover. Then we went to the fish section to see what they had. There was some inexpensive coho (king) salmon (previously frozen from local catches over the summer). This was an uncut half salmon, so I did what I did last time and got the fish filleted with the leftovers in a bag for fish stock.
Then we went back to the produce department to pick vegetables that went with the fish. I decided to roast the asparagus then I talked out loud to myself for a while (confusing the produce worker) before deciding to make a raw marinated salad.
This is what we had:
Baked salmon
I bake salmon all the time. I love the stuff but it can get a little old to cook it the same way. So I decided to try something different. I lightly seared the fish skin side of the fillets in a cast iron skillet with some olive oil. Then I added sliced crimini mushrooms and turned the fish over to lightly sear the other side, adding more oil as needed. "Sear" implies browning but I didn't do that; I just lightly cooked it so that it would seal in some of the moisture. Then I turned off the heat, turned the fish back skin side down, added a bit of salt and pepper, put some white wine in the pan, and stuck the whole thing in a 350*F oven. It came out absolutely amazing.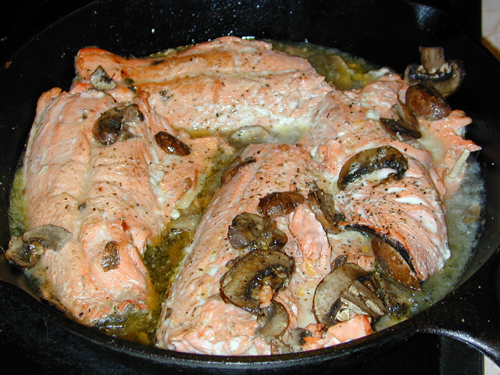 Roasted asparagus
Very simple. Rinse asparagus, remove tough parts of ends, toss in baking dish with olive oil and salt (I used coarse celtic salt), bake until done (turn every few minutes). I started off in a 350*F oven then turned it up to 400*F after the fish was out.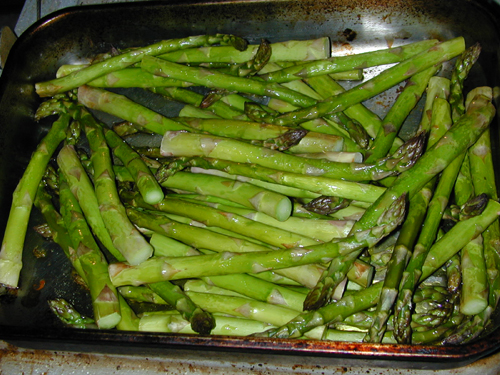 Fennel salad
Using my mandolin, I sliced a fennel bulb (saved the stalks for later), one red daikon radish (also called watermelon radish), and 1/4 jalapeno pepper (couldn't taste it; I should have used 2-3 times as much). I added a bit of chopped fennel leaf and dressed the salad with the juice of 1 fresh lemon, olive oil, and some salt. Subtle flavors but a perfect complement to the rest of the meal.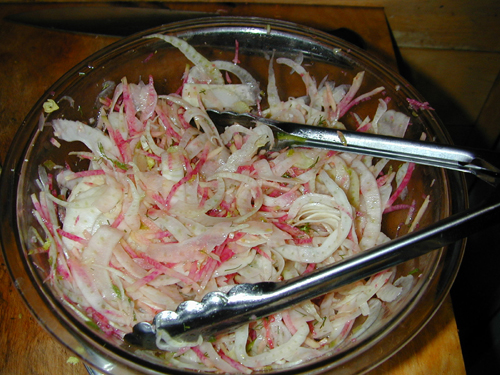 Additional Foods
Lemon wedges, white wine, and strawberry ice cream for dessert.
As we ate this meal, I thought back to a comment a newcomer to an allergy list made today: how can I live without cheese! No disrespect intended to the poster; we've all been there with our additive foods and patterns. But here we are, eating this amazing meal with no dairy, no eggs, no gluten, no legumes, no grains, lowcarb and mostly all organic. Go on, ask me if I feel deprived 🙂