Popsicles are an easy summer treat that feels like dessert but can be very healthy if made with the right ingredients.  I always use whole fruit, never juice.  And I don't sweeten them either.  But you can make them any way you wish.
The basic recipe is:
Pureed fruit
Liquid to make them pourable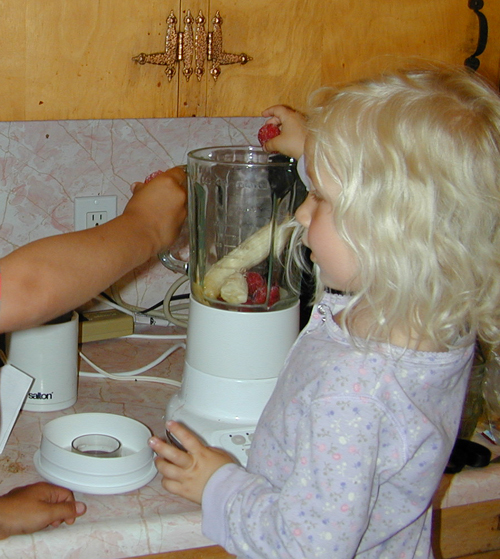 For this batch, I used frozen strawberries (because that's what we had) and a banana.  I thinned it with water.  That's it.  For a lowcarb treat, use lowcarb fruits like berries and melon (not watermelon) and stone fruit (peaches, plums).
My stepmother tells me she made popsicles for me and my brother as kids with orange juice and yoghurt.  Instead of the water I used, you could use cow's milk, yoghurt, cream, soy milk, rice milk, nut milk, or juice.  Nearly any fruit would work well.  You can also make an ice cream base and freeze that.
Just mix it up and pour it into your molds, setting it up as appropriate.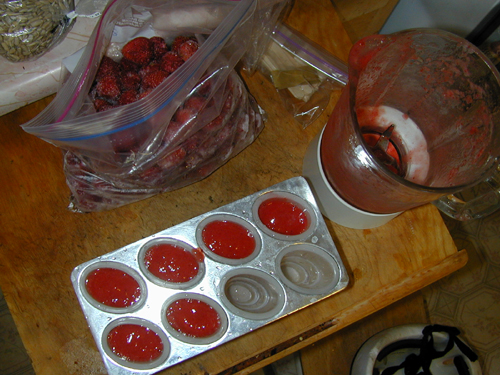 I have some all metal molds but they're harder to use and the sticks are not standard and are something you can't substitute for or replace.  I'm not crazy about using plastic but it's the easiest to find.
1.5 cups of puree filled 6 of my 8 molds.  Next time I'll make 2 cups.  If you write down the total amount needed for your molds, it will make it very simple to whip up a new batch.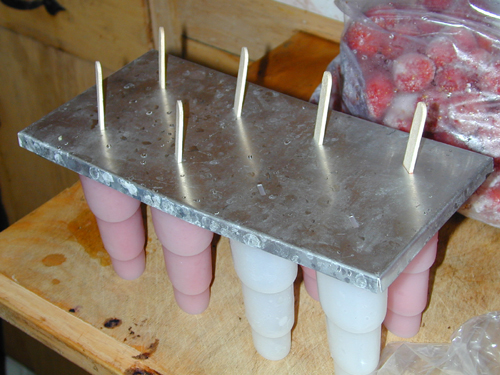 Let them freeze for several hours.  The stick should be firmly in place.  Dip the mold in very hot water (I used tap) for a few seconds then slide the popsicle out.  This may take a couple dips.
Eat on a blistering hot day for best effects.