Kim Chee (aka kimchi) is a wonderful collection of vegetables and spices brought together to ferment. This was my first attempt at making it. I used the recipe from Wild Fermentation, adapted a bit.
Recipe:
Napa cabbage (aka Chinese cabbage), 1 head chopped
Daikon radish, 3
Leeks, 2
Dried chile pepper, 3
Ginger (I used frozen that I had grated from fresh root), a couple tablespoons
Celtic salt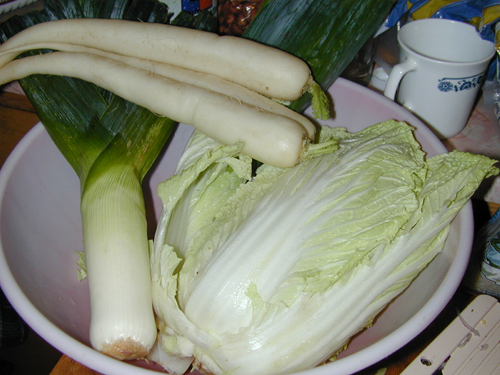 Prep all the ingredients into a large bowl. I chopped the cabbage by hand and used my mandolin on the leek bottoms and daikon radish. I decided not to use the attachment to julienne. I just sliced. So the radish pieces are thin but large. In retrospect, I should have cut them in half or fourths. I used all the extra veggie bits to make a lovely fish stock.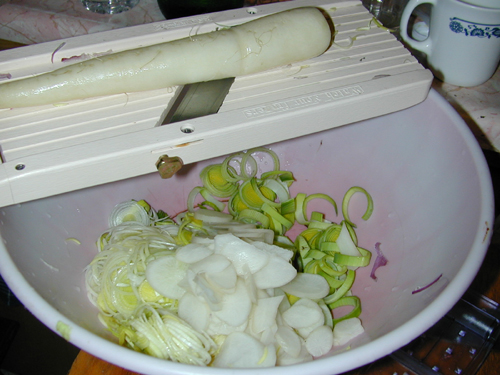 Add salt and knead the mixture (or let it sit) to release the juices.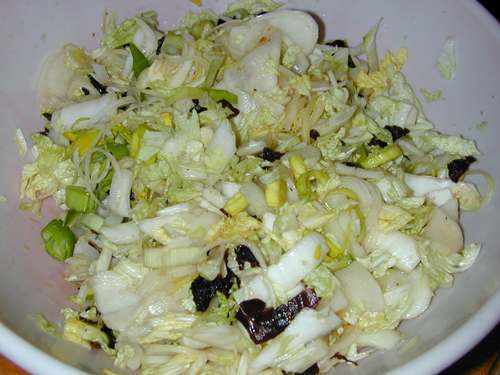 Next, pack the veggies tightly into a clean glass jar or other container. Pour the juice into the jar. Put a weight into the jar to keep the veggies submerged (I used a clean jar with water in it). Cover the whole thing with a towel and check it the next day. If there isn't enough liquid, add some salt water.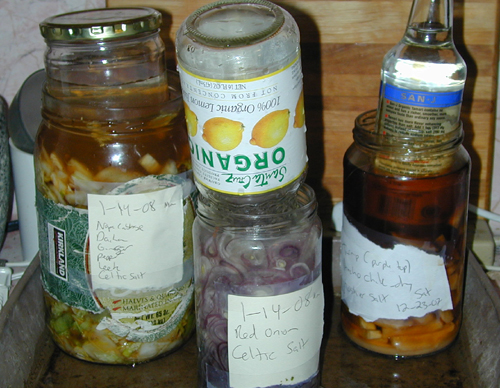 Kim Chee, Red Onions, and Turnips
The pan of soapy water is to keep out ants
Then let it sit for a week, two, three, or as long as you like. If there is mold, just wipe/spoon it away and clean the weight too. When you are ready to decant, work carefully so that you keep any mold on top where it is easy to get rid of it. This batch had a little bit of mold on top so I removed those bits that were affected. Don't be afraid of mold; there is so much good bacteria in the mix that the mold isn't going to hurt you, it just can add an off taste.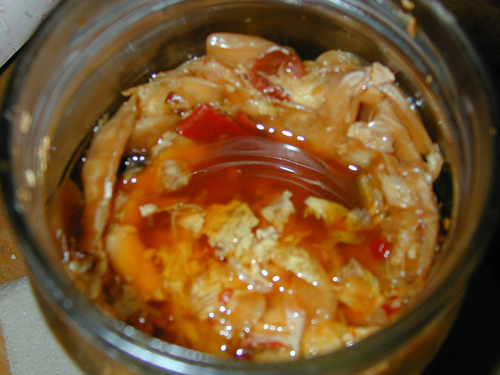 The kim chee came out great. I left it to ferment for 3 weeks. The veggies are still reasonably crisp and they have a fabulous sour ginger flavor. Not much heat but you can taste it.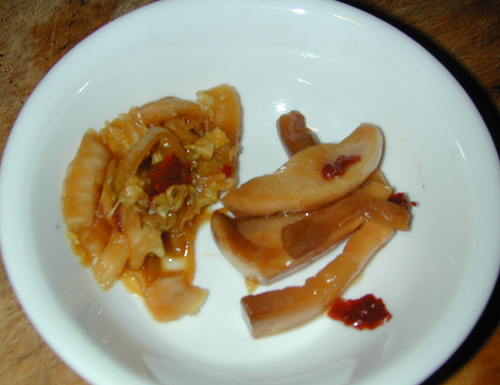 This picture is of the kim chee I made (on left) and the turnip pickles (on right).