Most of our Thanksgiving dinners are in the community room of Ecology House, an 11-unit government (HUD) complex for people disabled with chemical sensitivity. Every year, with the help of the Environmental Health Network, the residents there host a (supplemented) potluck dinner for the entire chemical sensitivity community. It's great fun. I share the disability but live 20 minutes north. We understand the value of organics: organic food is our medicine!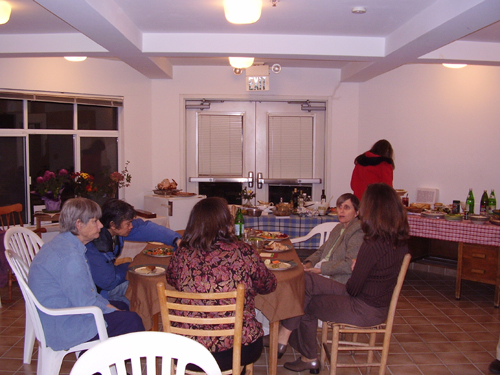 A few of the guests sharing their meal.
There was an organic turkey, stuffing, a variety of side dishes, desserts, and more.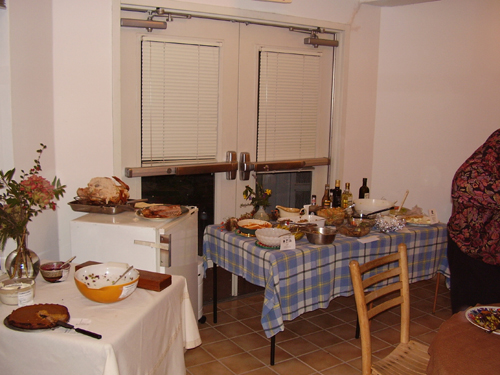 Main food tables.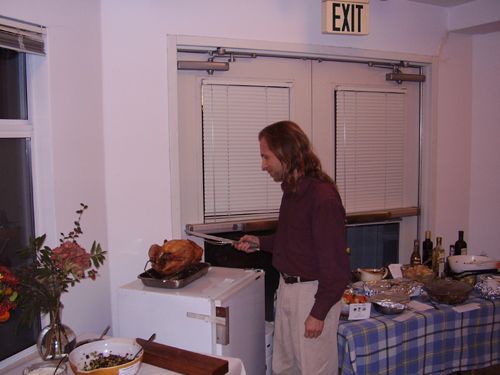 Michael carving the turkey.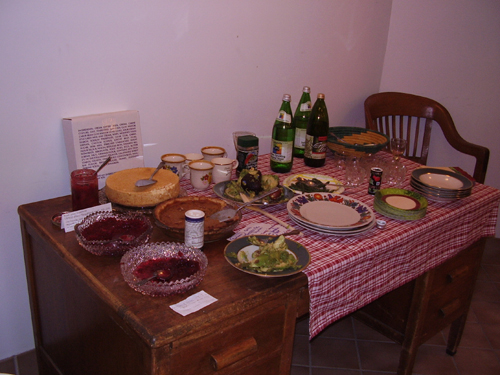 Dessert Table.
I brought five offerings, all homemade (from scratch), organic, and vegan: 1) Cranberry sauce (made with lemon instead of orange due to my daughter's allergy); 2) pumpkin pie with a pecan crust (I cooked and pureed pumpkins from the farm across the street from me); 3) cashew cream; 4) edamame salad with roasted red cabbage; and 5) two vases of flowers and greenery from my (certified organic) property.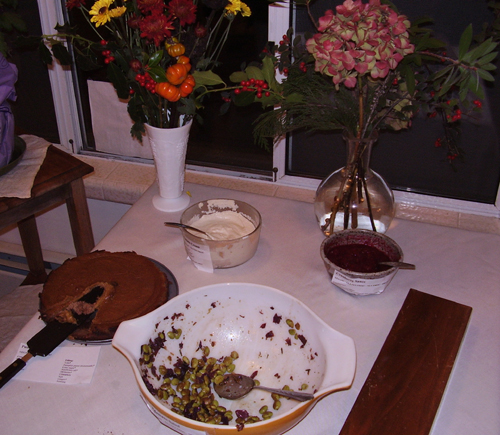 My food offerings plus one of my flower arrangements (the one on the right). Note how they're on a special table to avoid cross-contamination with potential allergens. All foods at Ecology House or Environmental Health Network events are labelled with ingredients.
Organic isn't just about the food either. Ecology House was built with lower-toxin materials and uses no pesticides, herbicides, carpets, or VOC-containing products. All residents and guests are required to use fragrance-free nontoxic personal care products (we buy organic when possible). Most of us can't afford all organic clothing, but it's all my daughter wore for her first 6 months, with a large percentage of organic fiber afterwards.
How wonderful it was to celebrate the holiday not just with good friends and good food, but in a place with clean unpolluted air.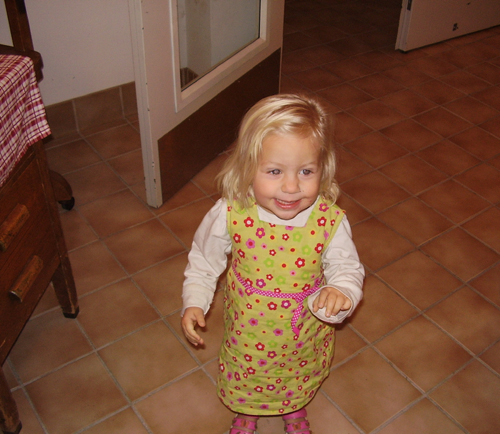 Ending on a cute note. Miriam having fun (age 2 1/2).