Bytča Archives Jewish Records
Sorted by Microfilm Number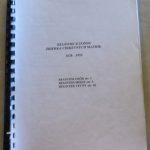 On a recent trip to Slovakia, my cousins and I visited the Slovakian state archives in Bytča, one of 7 regional archives in the country.  Their paper documents are generally for researching the nobility and other things not relevant to Jewish history.  The main records are on microfilm.  They have a book listing their microfilm holdings, mostly sorted by place name (they also have listings by person's name, with no obvious Jewish entries, and by subject, which might have topics of interest).
Each place name entry gave the religion of the records, as they are generally recorded by the local place of worship.  Žid means Jewish and there are a lot of them.  There are also records without any religion mentioned.  I don't yet know if these are civil records (which could include Jewish residents) or non-vital record information on the given town.  A few of the towns with no religion mentioned records do not have religiously-based records, but most have both.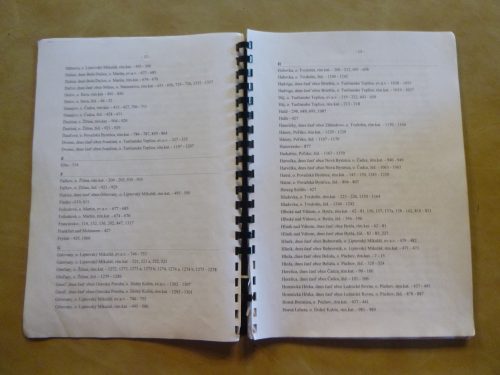 Below are the Jewish (Žid) entries, organized by microfilm number (given as a small group of films).  I've also sorted them by place name, the same order as in the book, in a separate post.  In many cases, the same location is represented in more than one set of microfilms.  I put those as separate entries, listed as such under Notes.
There are 129 microfilms of Jewish records.
If you'd like my original Excel document, it is below.  Note the two sheets inside it, one for sorting by place name, one for sorting by microfilm number.
| | |
| --- | --- |
| Glossary: | |
| dnes časť obce | today the villiage of |
| dnes | today |
| o. = oblasť | area |
| Žid | Jewish |
Bytca
Archives Jewish Records
Registre K Fondu,
1628-1955
Register Miest str. 5
(Register of Places pages 5-45)
Sorted by microfilm #
Microfilm Rolls 46-52
(7 rolls)
Place name
District/Region
Religion
Microfilm #s
Notes
Červený Kameň
o. Ilava
Žid
46-52
Part I of II
Dulov
o. Ilava
Žid
46-52
Horné Srnie
o. Trenčín
Žid
46-52
Horovce
o. Púchov
Žid
46-52
Part I of II
Kameničany
o. Ilava
Žid
46-52
Krivoklát
o. Ilava
Žid
46-52
Mikušovce
o. Ilava
Žid
46-52
Part I of II
Podvažie
dnes Savčina-Podvažie,
časť obce Pruské o. Ilava
Žid
46-52
Pruské

 

o. Ilava
Žid
46-52
Part I of II; Unsure of town
name
Savčina-Podvažie
dnes časť obce Pruské
o. Ilava
Žid
46-52
Part I of II
Skala
dnes časť obce Skalka
nad Váhom, o. Trenčín
Žid
46-52
Skalská
Nová Ves
dnes časť obce Skalka
nad Váhom, o. Trenčín
Žid
46-52
Slavnica
o. Ilava
Žid
46-52
Tuchyňa
o. Ilava
Žid
46-52
Part I of II
Vršatské
Podhradie
o. Ilava
Žid
46-52
Part I of II
Microfilm Rolls 82-85
(4 rolls)
Place name
District/Region
Religion
Microfilm #s
Notes
Hliník nad Váhom
dnes časť obce
Bytča
Žid
82-85
Part I of II
Brvnište
o. Považská Bystrica
Žid
82-85
Part I of II
Bytča
Žid
82-85
Part I of II
Dlhé Pole
o. Žilina
Žid
82-85
Part I of III
Hrabové
dnes časť obce
Bytča
Žid
82-85
Part I of II
Jablonové
o. Bytča
Žid
82-85
Part I of II
Jasenica
o. Považská Bystrica
Žid
82-85
Part I of II
Kolárovice
o. Bytča
Žid
82-85
Kotešová
o. Bytča
Žid
82-85
Part I of II
Makov
o. Čadca
Žid
82-85
Part I of II
Papradno
o. Považská Bystrica
Žid
82-85
Petrovice
o. Bytča
Žid
82-85
Pšurnovice
dnes časť obce
Bytča
Žid
82-85
Semeteš
osada obce Vysoká nad Kysucou,
o. Čadca
Žid
82-85
Setechov
dnes časť obce
Petrovice, o. Bytča
Žid
82-85
Štiavnik
o. Bytča
Žid
82-85
Part I of II
Stupné
o. Považská Bystrica
Žid
82-85
Part I of II
Veľké
Rovné
o. Bytča
Žid
82-85
Part I of III
Microfilm Rolls
101-106 (6 rolls)
Place name
District/Region
Religion
Microfilm #s
Notes
Čadca
Žid
101-106
Čierne
o. Čadca
Žid
101-106
Horelica
dnes časť obce
Čadca
Žid
101-106
Krásno nad Kysucou

 

o. Čadca
Žid
101-106
Part I of II
Kysucký Lieskovec
o. Kysucké Nové Mesto
Žid
101-106
Part I of II
Oščadnica
o. Čadca
Žid
101-106
Raková
o. Čadca
Žid
101-106
Skalité
o. Čadca
Žid
101-106
Stará
Bystrica
o. Čadca
Žid
101-106
Part I of III
Staškov
o. Čadca
Žid
101-106
Part I of II
Svrčinovec
o. Čadca
Žid
101-106
Vysoká
nad Kysucou
o. Čadca
Žid
101-106
Part I of II
Zákopčie
o. Čadca
Žid
101-106
Zborov
nad Bystricou
o. Čadca
Žid
101-106
Part I of II
Microfilm Rolls
173-174 (2 rolls)
Place name
District/Region
Religion
Microfilm #s
Notes
Beňova Lehota
dnes časť obce
Dolný Kubín
Žid
173-174
Malý Bysterec
dnes časť obce
Dolný Kubín
Žid
173-174
Veľký Bysterec
dnes časť obce
Dolný Lieskov
Žid
173-174
Chlebnice
o. Dolný Kubín
Žid
173-174
Part I of II
Dlhá nad Oravou
o. Dolný Kubín
Žid
173-174
Part I of II
Dolná Lehota
dnes časť obce
Oravský Podzámok, o. Dolný Kubín
Žid
173-174
Dolný Kubín
Žid
173-174
Istebné
o. Dolný Kubín
Žid
173-174
Jasenová
o. Dolný Kubín
Žid
173-174
Kňažia
dnes časť obce
Dolný Kubín
Žid
173-174
Kraľovany
o. Dolný Kubín
Žid
173-174
Part I of II
Leštiny
o. Dolný Kubín
Žid
173-174
Malatiná
o. Dolný Kubín
Žid
173-174
Medzibrodie nad Orav

ou

o. Dolný Kubín
Žid
173-174
Medzihradné
dnes časť obce
Dolný Kubín
Žid
173-174
Mokraď
dnes časť obce
Dolný Kubín
Žid
173-174
Oravský Podzámok
o. Dolný Kubín
Žid
173-174
Part I of II
Osádka
o. Dolný Kubín
Žid
173-174
Párnica
o. Dolný Kubín
Žid
173-174
Pribiš
o. Dolný Kubín
Žid
173-174
Pucov
o. Dolný Kubín
Žid
173-174
Revišné
dnes časť obce
Veličná o. Dolný Kubín

 

Žid
173-174
Stankovany
o. Ružomberok
Žid
173-174
Part I of II
Valaská
Dubová
o. Ružomberok
Žid
173-174
Veličná
o. Dolný Kubín
Žid
173-174
Vyšný
Kubín
o. Dolný Kubín
Žid
173-174
Zábrež
dnes časť obce Oravská
Poruba, o. Dolný Lieskov
Žid
173-174
Záskalie
dnes časť obce
Dolný Kubín
Žid
173-174
Žaškov
o. Dolný Kubín
Žid
173-174
Zázrivá
o. Dolný Kubín
Žid
173-174
Microfilm Rolls 227 (1
roll)
Place name
District/Region
Religion
Microfilm #s
Notes
Hliník nad Váhom
dnes časť obce
Bytča
Žid
227
Part II of II
Bytča
Žid
227
Part II of II
Hrabové
dnes časť obce
Bytča
Žid
227
Part II of II
Veľké
Rovné
o. Bytča
Žid
227
Part II of III
Microfilm Rolls
320-324 (5 rolls)
Place name
District/Region
Religion
Microfilm #s
Notes
Malé Košecké Podhradie
dnes časť obce
Košecké Podhradie o. Ilava
Žid
320-324
Veľké Košecké Podhradie
dnes časť obce
Košecké Podhradie, o. Ilava
Žid
320-324
Beluša
o. Púchov
Žid
320-324
Dolné Kočkovce
o. Púchov
Žid
320-324
Dolný Lieskov
o. Považská Bystrica
Žid
320-324
Dubnica nad Váhom
o. Ilava
Žid
320-324
Hloža
dnes časť obce
Beluša o. Púchov
Žid
320-324
Ilava
Žid
320-324
Klobušice
dnes časť obce Ilava
Žid
320-324
Kolačín
dnes časť obce Nová
Dubnica
Žid
320-324
Kopec
dnes časť obce
Košecké Podhradie o.Ilava
Žid
320-324
Košeca
o. Ilava
Žid
320-324
Košecké Rovné
dnes časť obce
Zliechov o. Ilava
Žid
320-324
Ladce
o. Ilava
Žid
320-324
Mojtin
o. Púchov
Žid
320-324
Nosice
dnes časť obce Púchov
Žid
320-324
Part I of II
Podskalie
o. Považská Bystrica
Žid
320-324
Prejta
dnes časť obce Dubnica
nad Váhom, o. Ilava
Žid
320-324
Pružina
o. Považská Bystrica
Žid
320-324
Unsure of town name
Slopná
o. Považská Bystrica
Žid
320-324
Sverepec
o. Považská Bystrica
Žid
320-324
Part I of II
Trenčianska
Teplá
o. Trenčín
Žid
320-324
Tŕstie
dnes časť obce
Dolný Lieskov, o. Považská Bystrica
Žid
320-324
Tunežice
dnes časť obce Ladce,
o. Ilava
Žid
320-324
Zliechov
o. Ilava
Žid
320-324
Part I of II
Microfilm Rolls
394-396 (3 rolls)
Place name
District/Region
Religion
Microfilm #s
Notes
Divina
o. Žilina
Žid
394-396
Part I of II
Divinka
o. Žilina
Žid
394-396
Dlhé Pole
o. Žilina
Žid
394-396
Part II of III
Dolný Hričov
o. Žilina
Žid
394-396
Hlboké nad Váhom
o. Bytča
Žid
394-396
Horný Hričov
o. Žilina
Žid
394-396
Hričovské Podhradie
o. Žilina
Žid
394-396
Kotešová
o. Bytča
Žid
394-396
Part II of II
Kysucké Nové Mesto
Žid
394-396
Part I of II
Ovčiarsko
o. Žilina
Žid
394-396
Part I of II
Svederník
o. Žilina
Žid
394-396
Veľké
Rovné
o. Bytča
Žid
394-396
Part III of III
Microfilm Rolls
428-431 (4 rolls)
Place name
District/Region
Religion
Microfilm #s
Notes
Považský Chlmec
dnes časť obce
Žilina
Žid
428-431
Part I of II
Dolný Vadičov
o. Kysucké Nové Mesto
Žid
428-431
Dunajov
o. Čadca
Žid
428-431
Horný Vadičov
o. Kysucké Nové Mesto
Žid
428-431
Kotrčiná Lúčka
o. Žilina
Žid
428-431
Part I of II
Krásno nad Kysucou

 

o. Čadca
Žid
428-431
Part II of II
Kysucké Nové Mesto
Žid
428-431
Part II of II
Kysucký Lieskovec
o. Kysucké Nové Mesto
Žid
428-431
Part II of II
Lutiše
o. Žilina
Žid
428-431
Part I of II
Nesluša
o. Kysucké Nové Mesto
Žid
428-431
Part I of II
Ochodnica
o. Kysucké Nové Mesto
Žid
428-431
Oškerda
dnes časť obce Kysucké
Nové Mesto
Žid
428-431
Povina
o. Kysucké Nové Mesto
Žid
428-431
Radoľa
o. Kysucké Nové Mesto
Žid
428-431
Rosina
o. Žilina
Žid
428-431
Part I of II
Rudinka
o. Kysucké Nové Mesto
Žid
428-431
Rudinská
o. Kysucké Nové Mesto
Žid
428-431
Zástranie
dnes časť obce
Žilina
Žid
428-431
Zborov
nad Bystricou
o. Čadca
Žid
428-431
Part II of II
Microfilm Rolls
593-599 (7 rolls)
Place name
District/Region
Religion
Microfilm #s
Notes
Dohňany
o. Púchov
Žid
593-599
Part I of II
Dubkova
dnes časť obce Lazy
pod Makytou, o. Púchov
Žid
593-599
Handwritten addition
Hoštiná
dnes časť obce Púchov
Žid
593-599
Part I of II
Lazy pod Makytou
o. Púchov
Žid
593-599
Lúky
o. Púchov
Žid
593-599
Lysá pod Makytou
o. Púchov
Žid
593-599
Mestečko
o. Púchov
Žid
593-599
Vydrná
o. Púchov
Žid
593-599
Záriečie
o. Púchov
Žid
593-599
Zbora
dnes časť obce
Dohňany o. Púchov
Žid
593-599
Microfilm Rolls
630-637 (8 rolls)
Place name
District/Region
Religion
Microfilm #s
Notes
Horný Turček
dnes Turček, o.
Turčianske Teplice
Žid
630-637
Belá
dnes Belá-Dulice o. Martin
Žid
630-637
Benice
o. Martin
Žid
630-637
Blatnica
o. Martin
Žid
630-637
Borcová
o. Turčianske Teplice
Žid
630-637
Bystrikca
o. Martin
Žid
630-637
Ďanová
o. Martin
Žid
630-637
Diaková
o. Martin
Žid
630-637
Dolná Štubňa
dnes časť obce
Turčianske Teplice
Žid
630-637
Dolný Kalník
o. Martin
Žid
630-637
Dražkovce
o. Martin
Žid
630-637
Horný Kalnik
o. Martin
Žid
630-637
Jasenovo
o. Turčianske Teplice
Žid
630-637
Košťany nad Turcom
o. Martin
Žid
630-637
Lipovec
o. Martin
Žid
630-637
Part I of II
Martin
Žid
630-637
Necpaly
o. Martin
Žid
630-637
Príbovce
o. Martin
Žid
630-637
Priekopa
o. Martin
Žid
630-637
Slovenské
Pravno
o. Turčianske Teplice
Žid
630-637
Socovce
o. Martin
Žid
630-637
Trnovo
o. Martin
Žid
630-637
Turčiansky
Peter
o. Martin
Žid
630-637
Valča
o. Martin
Žid
630-637
Veľký
Čepčín
o. Turčianske Teplice
Žid
630-637
Vrícko
o. Martin
Žid
630-637
Vrútky
o. Martin
Žid
630-637
Part I of II
Žabokreky
o. Martin
Žid
630-637
Záborie
o. Martin
Žid
630-637
Záturčie
dnes časť obce Martin
Žid
630-637
Microfilm Rolls
668-673 (6 rolls)
Place name
District/Region
Religion
Microfilm #s
Notes
Babín
o. Námestovo
Žid
668-673
Beňadovo
o. Námestovo
Žid
668-673
Bobrov
o. Námestovo
Žid
668-673
Hruštín
o. Námestovo
Žid
668-673
Klin
o. Námestovo
Žid
668-673
Krušetnica
o. Námestovo
Žid
668-673
Lokca
o. Námestovo
Žid
668-673
Lomná
o. Námestovo
Žid
668-673
Mútne
o. Námestovo
Žid
668-673
Námestovo
Žid
668-673
Part I of II
Novoť
o. Námestovo
Žid
668-673
Oravská Jasenica

 

o. Námestovo
Žid
668-673
Oravská Lesná
o. Námestovo
Žid
668-673
Oravská
Polhora
o. Námestovo
Žid
668-673
Oravské Veselé
o. Námestovo
Žid
668-673
Rabča
o. Námestovo
Žid
668-673
Rabčice
o. Námestovo
Žid
668-673
Sihelné
o. Námestovo
Žid
668-673
Vaňovka
dnes časť obce
Hruštín o. Námestovo
Žid
668-673
Vasiľov
o. Námestovo
Žid
668-673
Vavrečka
o. Námestovo
Žid
668-673
Zákamenné
o. Námestovo
Žid
668-673
Zubrohlava
o. Námestovo
Žid
668-673
Microfilm Rolls
804-807 (4 rolls)
Place name
District/Region
Religion
Microfilm #s
Notes
Považská Teplá
dnes časť obce
Považská Bystrica
Žid
804-807
Považské Podhradie
dnes časť obce
Považská Bystrica
Žid
804-807
Zemianska Závada
dnes časť obce
Prečín o. Považská Bystrica
Žid
804-807
Zemiansky Kvašov
dnes časť obce
Považská Bystrica
Žid
804-807
Bodiná
o. Považská Bystrica
Žid
804-807
Brvnište
o. Považská Bystrica
Žid
804-807
Part II of II
Dolná Mariková
o. Považská Bystrica
Žid
804-807
Domaniža
o. Považská Bystrica
Žid
804-807
Hatné
o. Považská Bystrica
Žid
804-807
Horný Moštenec
dnes časť obce
Považská Bystrica
Žid
804-807
Hvozdnica
o. Bytča
Žid
804-807
Jablonové
o. Bytča
Žid
804-807
Part II of II
Jasenica
o. Považská Bystrica
Žid
804-807
Part II of II
Kardošova Vieska
dnes časť obce
Domaniža, o. Považská Bystrica
Žid
804-807
Kostolec
o. Považská Bystrica
Žid
804-807
Maršová
dnes Maršová-Rašov, o.
Bytča
Žid
804-807
Milochov
dnes časť obce
Považská Bystrica
Žid
804-807
Orlové
dnes časť obce
Považská Bystrica
Žid
804-807
Unsure of town name
Plevník-Drienové
o. Považská Bystrica
Žid
804-807
Počarová
o. Považská Bystrica
Žid
804-807
Podmanin
dnes časť obce
Považská Bystrica
Žid
804-807
Podvažie
dnes časť obce
Považská Bystrica
Žid
804-807
Považská Bystrica
Žid
804-807
Praznov
dnes časť obce
Považská Bystrica
Žid
804-807
Prečín
o. Považská Bystrica
Žid
804-807
Predmier
o. Bytča
Žid
804
Handwritten addition
Prosné
dnes časť obce
Udiča, o. Považská Bystrica
Žid
804-807
Unsure of town name
Rašov
dnes Maršová-Rašov, o.
Bytča
Žid
804-807
Sádočné
dnes časť obce
Domaniža, o. Považská Bystrica
Žid
804-807
Šebešťanová
dnes časť obce
Považská Bystrica
Žid
804-807
Štiavnik
o. Bytča
Žid
804-807
Part II of II
Stupné
o. Považská Bystrica
Žid
804-807
Part II of II
Súľov-Hradná
o. Bytča
Žid
804-807
Sverepec
o. Považská Bystrica
Žid
804-807
Part II of II
Udiča
o. Považská Bystrica
Žid
804-807
Upohlav
dnes časť obce
Udiča, o. Považská Bystrica
Žid
804-807
Vrchteplá
o. Považská Bystrica
Žid
804-807
Microfilm Rolls
857-858 (2 rolls)
Place name
District/Region
Religion
Microfilm #s
Notes
Bohunice
dnes časť obce Pruské,
o. Ilava
Žid
857-858
Part II of II
Červený Kameň
o. Ilava
Žid
857-858
Part II of II
Horovce
o. Púchov
Žid
857-858
Part II of II
Kvašov
o. Púchov
Žid
857-858
Mikušovce
o. Ilava
Žid
857-858
Part II of II
Pruské

 

o. Ilava
Žid
857-858
Part II of II; Unsure of town
name
Savčina-Podvažie
dnes časť obce Pruské
o. Ilava
Žid
857-858
Part II of II
Sedmerovec
o. Ilava
Žid
857-858
Tuchyňa
o. Ilava
Žid
857-858
Part II of II
Vršatské
Podhradie
o. Ilava
Žid
857-858
Part II of II
Microfilm Rolls
878-887 (10 rolls)
Place name
District/Region
Religion
Microfilm #s
Notes
Dohňany
o. Púchov
Žid
878-887
Part II of II
Dolná Breznica
o. Púchov
Žid
878-887
Horenická Hôrka
dnes časť obce
Lednické Rovne o. Púchov
Žid
878-887
Horné Kočkovce
dnes časť obce Púchov
Žid
878-887
Hoštiná
dnes časť obce Púchov
Žid
878-887
Part II of II
Lednica
o. Púchov
Žid
878-887
Lednické Rovne
o. Púchov
Žid
878-887
Mostište
dnes časť obce
Dohňany, o. Púchov
Žid
878-887
Nimnica
o. Púchov
Žid
878-887
Nosice
dnes časť obce Púchov
Žid
878-887
Part II of II
Púchov
Žid
878-887
Streženice
o. Púchov
Žid
878-887
Zubák
o. Púchov
Žid
878-887
Microfilm Rolls
921-929 (9 rolls)
Place name
District/Region
Religion
Microfilm #s
Notes
Bytrcica
dnes časť obce
Žilina
Žid
921-929
Čičmany
o. Žilina
Žid
921-929
Ďurčiná
o. Žilina
Žid
921-929
Fačkov
o. Žilina
Žid
921-929
Jasenové
o. Žilina
Žid
921-929
Kamenná Poruba
o. Žilina
Žid
921-929
Kľače
o. Žilina
Žid
921-929
Konská
o. Žilina
Žid
921-929
Kunerad
o. Žilina
Žid
921-929
Lietava
o. Žilina
Žid
921-929
Malá Čierna
o. Žilina
Žid
921-929
Podhorie
o. Žilina
Žid
921-929
Poluvsie
dnes časť obce Rajecké
Teplice o. Žilina
Žid
921-929
Rajec
o. Žilina
Žid
921-929
Rajecká
Lesná

 

o. Žilina
Žid
921-929
Rajecké
Teplice
o. Žilina
Žid
921-929
Rosina
o. Žilina
Žid
921-929
Part II of II
Stránske
o. Žilina
Žid
921-929
Part I of II
Šuja
o. Žilina
Žid
921-929
Turie
o. Žilina
Žid
921-929
Višňové
o. Žilina
Žid
921-929
Zbyňov
o. Žilina
Žid
921-929
Zliechov
o. Ilava
Žid
921-929
Part II of II
Microfilm Rolls
972-980 (9 rolls)
Place name
District/Region
Religion
Microfilm #s
Notes
Biely Potok
dnes časť obce
Ružomberok
Žid
972-980
Černová
dnes časť obce
Ružomberok
Žid
972-980
Hrboltová
dnes časť obce
Ružomberok
Žid
972-980
Hubová
o. Ružomberok
Žid
972-980
Ivachnová
o. Ružomberok
Žid
972-980
Kalameny
o. Ružomberok
Žid
972-980
Komjatná
o. Ružomberok
Žid
972-980
Korytnica
miestna časť obce
Liptovská Osada o. Ružomberok
Žid
972-980
Likavka
o. Ružomberok
Žid
972-980
Liptovská Lúžna
o. Ružomberok
Žid
972-980
Liptovská Osada
o. Ružomberok
Žid
972-980
Liptovská Štiavnica
o. Ružomberok
Žid
972-980
Liptovská Teplá
o. Ružomberok
Žid
972-980
Liptovské Revúce
o. Ružomberok
Žid
972-980
Lisková
o. Ružomberok
Žid
972-980
Ľubochňa
o. Ružomberok
Žid
972-980
Lúčky
o. Ružomberok
Žid
972-980
Ludrová
o. Ružomberok
Žid
972-980
Madočany
dnes časť obce
Liptovská Teplá, o. Ružomberok
Žid
972-980
Martinček
o. Ružomberok
Žid
972-980
Partizánska Ľupča
o. Liptovský
Mikuláš

 

Žid
972-980
Ružomberok
Žid
972-980
Sliače
o. Ružomberok
Žid
972-980
Stankovany
o. Ružomberok
Žid
972-980
Part II of II
Štiavnička
o. Ružomberok
Žid
972-980
Švošov
o. Ružomberok
Žid
972-980
Turík
o. Ružomberok
Žid
972-980
Microfilm Rolls
1063-1065 (3 rolls)
Place name
District/Region
Religion
Microfilm #s
Notes
Harvelka
dnes časť obce Nová
Bystrica o. Čadca
Žid
1063-1065
Klubina
o. Čadca
Žid
1063-1065
Lodno
o. Kysucké Nové Mesto
Žid
1063-1065
Nová Bystrica
o. Čadca
Žid
1063-1065
Radôstka
o. Čadca
Žid
1063-1065
Unsure of town name
Riečnica
dnes časť obce Nová
Bystrica, o. Čadca
Žid
1063-1065
Part I of II
Stará
Bystrica
o. Čadca
Žid
1063-1065
Part II of III
Microfilm Rolls
1099-1105 (7 rolls)
Place name
District/Region
Religion
Microfilm #s
Notes
Krpeľany
o. Martin
Žid
1099-1105
Part I of II
Lipovec
o. Martin
Žid
1099-1105
Part II of II
Nolčovo
o. Martin
Žid
1099-1105
Part I of II
Podhradie
o. Martin
Žid
1099-1105
Sklabiňa
o. Martin
Žid
1099-1105
Sučany
o. Martin
Žid
1099-1105
Turany
o. Martin
Žid
1099-1105
Part I of II
Turčianska
Štiavnička
o. Martin
Žid
1099-1105
Turčianske
Kľačany
o. Martin
Žid
1099-1105
Vrútky
o. Martin
Žid
1099-1105
Part II of II
Microfilm Rolls
1165-1166 (2 rolls)
Place name
District/Region
Religion
Microfilm #s
Notes
Námestovo
Žid
1165-1166
Part II of II
Trstená
o. Tvrdošín
Žid
1165-1166
Microfilm Rolls
1167-1170 (4 rolls)
Place name
District/Region
Religion
Microfilm #s
Notes
Brezovica
o. Tvrdošín
Žid
1167-1170
Bukovina-Podskalie
Poľsko
Žid
1167-1170
May currently be

 

Podszkle, Poland.

 

May also be Bukovina in
Liptovský Mikuláš district, Žilina region)
Chyžné
Poľsko
Žid
1167-1170
Currently Chyżne, Poland
Čimhová
o. Tvrdošín
Žid
1167-1170
Dolná Lipnica
Poľsko
Žid
1167-1170
Currently Lipnica Dolna, Poland
Hamry
Poľsko
Žid
1167-1170
Likely to currently be Staré
Hamry, Czechia
Harkabúz
Poľsko
Žid
1167-1170
Currently Harkabuz, Poland
Jablonka
Poľsko
Žid
1167-1170
Currently Jabłonka, Poland
Liesek
o. Tvrdošín
Žid
1167-1170
Nižná Zubrica
Poľsko
Žid
1167-1170
Currently Zubrzyca Dolna, Poland
Oravice
dnes časť obce
Tvrdošín
Žid
1167-1170
Pekelník
Poľsko
Žid
1167-1170
Currently Piekielnik, Poland
Podvlk
Poľsko
Žid
1167-1170
Currently Podwilk, Poland
Sŕnie
Poľsko
Žid
1167-1170
Currently Podsarnie, Poland
Suchá
Hora
o. Tvrdošín
Žid
1167-1170
Ústie
nad Priehradou
dnes časť obce
Trstená, o. Tvrdošín
Žid
1167-1170
Vitanová
o. Tvrdošín
Žid
1167-1170
Vyšná
Zubrica
Poľsko
Žid
1167-1170
Currently Zubrzyca Górna, Poland
Microfilm Rolls 1185
(1 roll)
Place name
District/Region
Religion
Microfilm #s
Notes
Kraľovany
o. Dolný Kubín
Žid
1185
Part II of II
Krpeľany
o. Martin
Žid
1185
Part II of II
Nolčovo
o. Martin
Žid
1185
Part II of II
Šútovo
o. Martin
Žid
1185
Turany
o. Martin
Žid
1185
Part II of II
Microfilm Rolls
1225-1228 (4 rolls)
Place name
District/Region
Religion
Microfilm #s
Notes
Divina
o. Žilina
Žid
1225-1228
Part II of II
Dlhé Pole
o. Žilina
Žid
1225-1228
Part III of III
Nesluša
o. Kysucké Nové Mesto
Žid
1225-1228
Part II of II
Staškov
o. Čadca
Žid
1225-1228
Part II of II
Turzovka
o. Čadca
Žid
1225-1228
Microfilm Rolls
1240-1242 (3 rolls)
Place name
District/Region
Religion
Microfilm #s
Notes
Chlebnice
o. Dolný Kubín
Žid
1240-1242
Part II of II
Dlhá nad Oravou
o. Dolný Kubín
Žid
1240-1242
Part II of II
Dolný Štefanov
dnes Štefanov nad Oravou,
o. Tvrdošín
Žid
1240-1242
Habovka
o. Tvrdošín
Žid
1240-1242
Hladovka
o. Tvrdošín
Žid
1240-1242
Horná Lehota
o. Dolný Kubín
Žid
1240-1242
Horný Štefanov
dnes Štefanov nad Oravou,
o. Tvrdošín
Žid
1240-1242
Krásna Hôrka
dnes časť obce
Tvrdošín, o. Tvrdošín
Žid
1240-1242
Krivá
o. Dolný Kubín
Žid
1240-1242
Medvedzie
dnes časť obce
Tvrdošín, o. Tvrdošín
Žid
1240-1242
Nižná
o. Tvrdošín
Žid
1240-1242
Oravský Biely Potok
o. Tvrdošín
Žid
1240-1242
Oravský Podzámok
o. Dolný Kubín
Žid
1240-1242
Part II of II
Podbiel
o. Tvrdošín
Žid
1240-1242
Tvrdošín
Žid
1240-1242
Zábiedovo
o. Tvrdošín
Žid
1240-1242
Zemianska
Dedina
dnes časť obce
Nižná, o. Tvrdošín
Žid
1240-1242
Zuberec
o. Tvrdošín
Žid
1240-1242
Microfilm Rolls
1279-1286 (8 rolls)
Place name
District/Region
Religion
Microfilm #s
Notes
Mojšova Lúčka
dnes časť obce
Žilina
Žid
1279-1286
Belá
o. Žilina
Žid
1279-1286
Dolná Tižina
o. Žilina
Žid
1279-1286
Gbeľany
o. Žilina
Žid
1279-1286
Horná Štubňa
o. Turčianske Teplice
Žid
1279-1286
Part I of II
Kotrčiná Lúčka
o. Žilina
Žid
1279-1286
Part II of II
Krasňany
o. Žilina
Žid
1279-1286
Lutiše
o. Žilina
Žid
1279-1286
Part II of II
Lysica
o. Žilina
Žid
1279-1286
Mojš
o. Žilina
Žid
1279-1286
Nededza
o. Žilina
Žid
1279-1286
Riečnica
dnes časť obce Nová
Bystrica, o. Čadca
Žid
1279-1286
Part II of II
Stráňavy
o. Žilina
Žid
1279-1286
Stránske
o. Žilina
Žid
1279-1286
Part II of II
Strečno
o. Žilina
Žid
1279-1286
Teplička
nad Váhom
o. Žilina
Žid
1279-1286
Terchová
o. Žilina
Žid
1279-1286
Varín
o. Žilina
Žid
1279-1286
Microfilm Rolls
1345-1346 (2 rolls)
Place name
District/Region
Religion
Microfilm #s
Notes
Makov
o. Čadca
Žid
1345-1346
Part II of II
Stará
Bystrica
o. Čadca
Žid
1345-1346
Part III of III
Vysoká
nad Kysucou
o. Čadca
Žid
1345-1346
Part II of II
Microfilm Rolls
1419-1496 (8 rolls)
Place name
District/Region
Religion
Microfilm #s
Notes
Bánová
dnes časť obce
Žilina
Žid
1419-1426
Považský Chlmec
dnes časť obce
Žilina
Žid
1419-1426
Part II of II
Budatín
dnes časť obce
Žilina
Žid
1419-1426
Hôrky
o. Žilina
Žid
1419-1426
Horná Štubňa
o. Turčianske Teplice
Žid
1419-1426
Part II of II
Ovčiarsko
o. Žilina
Žid
1419-1426
Part II of II
Strážov
dnes časť obce
Žilina
Žid
1419-1426
Závodie
dnes časť obce
Žilina
Žid
1419-1426
Žilina
Žid
1419-1426
TOTAL REELS
129
Glossary:
dnes časť obce
today the villiage of
dnes
today
o. = oblasť
area
Žid
Jewish