It had been about 5 years since my last serious summer garden.  But for 2013, I planted summer squash, cabbage, lettuce, carrots, beans, chard, and a few miscellaneous items with mixed results. My best success was about 100 pounds of Romanesco (summer squash that is like zucchini, with stripes and more flavor) plus others from a bed with 12 seedlings.
Then there were the volunteers.  A boatload of tomatoes and several squash plants, mostly winter.  I got two lovely sugar pie pumpkins, a box load of Delicata, and a mystery vine.
It looked like a bulbous yellow summer squash at first but, picked young, it had no flavor.  I left it on the vine to see what would happen, gave some to the neighbors, and, just before the first frost, ended up with one giant.
17.8 pounds!!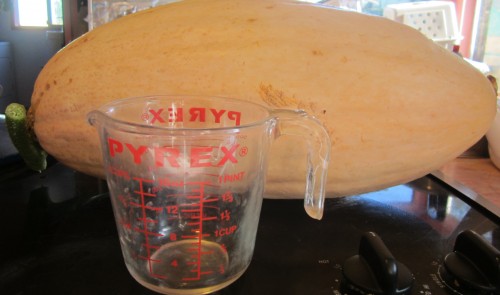 Could it be a banana squash?  We had indeed bought a banana squash to try from the same local farm a few years ago that the rest of the volunteers seemed to have come from.  But theirs are the pink kind.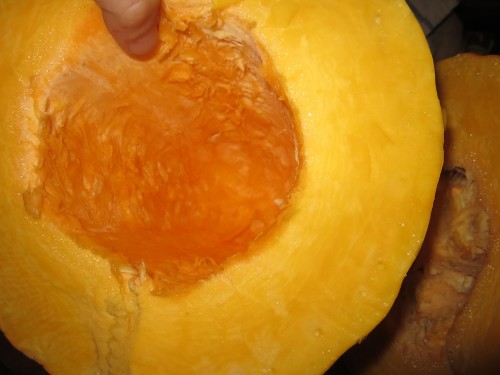 Cut open, it was a pretty yellow, with a dry core and huge pumpkin-like seeds.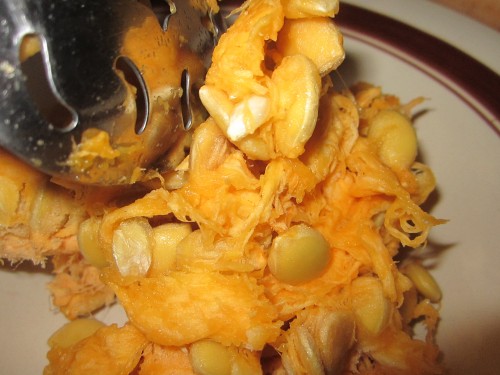 Cooked, it was slightly stringy, but not as much as an (overcooked) spaghetti squash.  It tasted like a mild butternut.  The skin was edible too.  Very thin with a surprisingly nice flavor.  Not my first choice in squashes but quite good.  We wrapped up most of it for the freezer.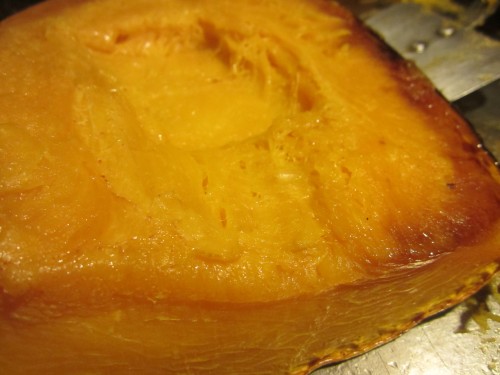 So what do you think?  Yellow banana squash?  Random cross between a spaghetti and butternut?  Or something else entirely?